Media Inquiries
Latest Stories
The Warren Center for Neuroscience Drug Discovery at Vanderbilt University has produced a documentary, Speaking Through Me, that sheds light on adolescent mental health and the impact substance use can have on the developing brain. The film premiered at The Franklin Theatre on Aug. 15.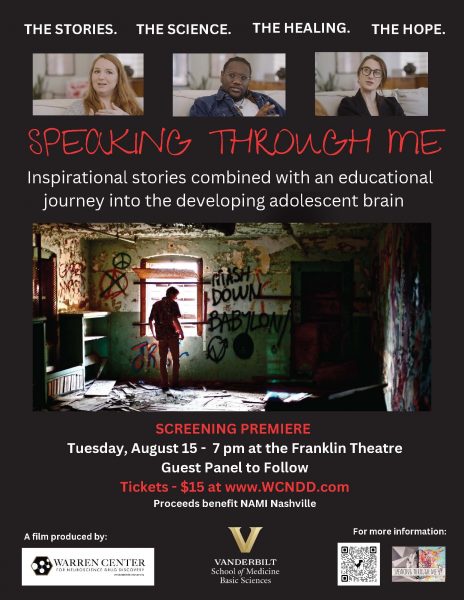 The project was spearheaded by Kristen Gilliland, director of outreach and advocacy programs at the WCNDD. In 2019, Gilliland lost her 22-year-old son, Anders, to an accidental drug overdose. Anders also struggled with schizophrenia, which he had developed five years earlier—most likely brought on by his ingesting high-potency cannabis in his early teens.  
This unimaginable loss propelled Gilliland, then a professor who taught the chemistry of drugs and poisons and neurochemistry, to change the trajectory of her career and life. She decided to leverage her scientific teaching and research background to educate teens about their developing brain and about how to approach stress and adversity with mindful coping strategies and self-compassion—as opposed to escaping with substances or self-harm. 
"No child ever grows up wanting to be addicted to a substance or suffer from depression, anxiety or self-harm issues," Gilliland said. Her goal for the film is to prevent the heartbreaking tragedy she experienced from happening to other families. She hopes the film will educate teenagers about some of the misunderstood impacts of drug use and about how to build healthy brains and self-compassionate minds.  
After the film's premiere, a panel discussion on the film's themes took place. Panelists included three of the film's stars and Dr. Tyler Barrett, executive medical director of emergency services at Vanderbilt University Medical Center, and Sheila Tully, a behavioral change specialist and life coach.  
Warren Center for Neuroscience Drug Discovery's film Speaking Through Me premiered at The Franklin Theatre. (Photos by John Amis)
Speaking Through Me tells Anders' story, reflecting Gilliland's mission to allow her son to speak through her, and it profiles how several other young people overcame mental health and addiction challenges. It also shares proven coping techniques for stress and anxiety, including rewiring thoughts and adopting mindfulness strategies. The documentary has been selected to screen at this fall's Tarzana International Film Festival in Los Angeles, and it is a semifinalist in the short form documentary category.   
Created and led by Gilliland, the WCNDD Community Outreach Program is designed to further prevention of substance use and mental illness through education and compassion–not fear. With regular speaking engagements at the First Time Drug Offenders Program through Metro Public Schools, University School of Nashville and across Middle Tennessee, Gilliland teaches how the brain changes; how neuroplasticity works and can be used to build healthier brain connections; the danger and prevalence of fentanyl and synthetic opioids; how to build self-compassion and mindfulness; and other interrelated connections between substance use disorder and mental health.  
"The Warren Center's efforts on drug addiction showcase Vanderbilt's dedication to crafting impactful solutions for society's critical issues," said C. Cybele Raver, provost and vice chancellor for academic affairs. "With our exceptional scholars and partnership with Vanderbilt University Medical Center, we're shaping a transformative 21st-century university model that will have a global scientific impact."