Media Inquiries
Latest Stories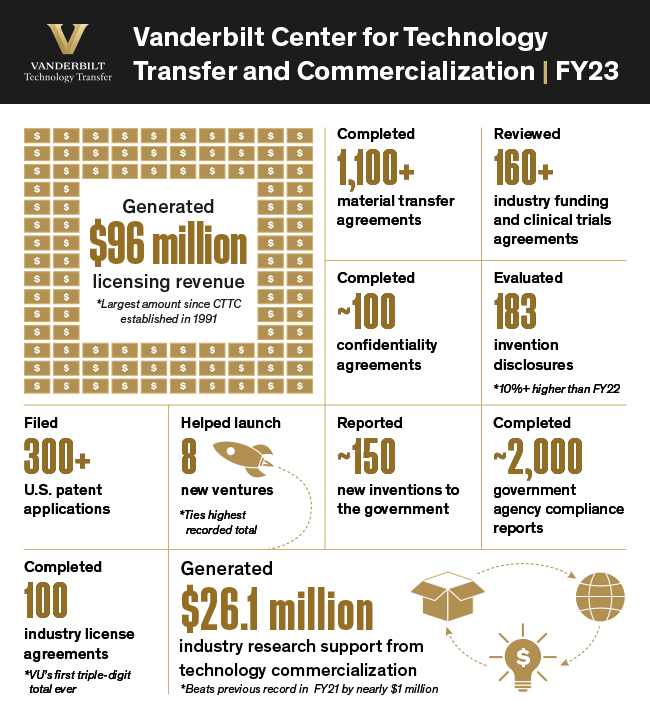 The Vanderbilt Center for Technology Transfer and Commercialization raked in $96 million in licensing revenue in the 2023 fiscal year, exceeding last year's record income totals (as measured on a cash basis). That revenue total is the largest amount generated through technology licensing in any year since CTTC's establishment in 1991.
The achievement comes on the heels of 2022 being a record-setting fiscal year according to the Association of University Technology Managers, which publishes the premier source of academic tech transfer data in the country. The AUTM FY22 Licensing Survey reports that Vanderbilt ranked sixth nationally for adjusted gross income from technology licensing, totaling $86.7 million. This figure is the best showing in the university's history and suggests that the FY23 $96 million licensing revenue total is expected to rank Vanderbilt in the top 10 for a second year in a row.
These numbers reflect the growth of output and activity being completed by the CTTC. In support of research within the university and Vanderbilt University Medical Center, in FY23 CTTC completed more than 1,100 material transfer agreements; reviewed more than 160 industry funding and clinical trials agreements; completed nearly 100 confidentiality agreements; evaluated 183 invention disclosures; filed more than 300 U.S. patent applications; and facilitated the launch of eight new ventures—tying its highest recorded total. The quantity of invention disclosures is more than 10 percent higher than in FY22. As part of the university's compliance obligation under its federal funding agreements, CTTC reported nearly 150 new inventions to the government and completed nearly 2,000 compliance reports to government agencies.
"While generating knowledge is as vital as it has ever been, a research university in the 21st century needs to translate that knowledge into applicable solutions for society's most urgent problems," Chancellor Daniel Diermeier said. "By continuing to break records for licensing revenue, Vanderbilt has once more demonstrated our growing capacity for making a difference in the world."
Vanderbilt set another significant technology transfer record in FY23 by completing 100 license agreements with industry. This is the first time the university reached triple digits for licensing transactions for Vanderbilt technologies. Vanderbilt also generated $26.1 million in industry research support from technology commercialization efforts, beating its previous record in FY21 by nearly $1 million.
"We are setting new performance standards for high-impact translational research between academia and industry and rapidly propelling Vanderbilt on an upward trajectory," said C. Cybele Raver, provost and vice chancellor for academic affairs. "With a focus on industry collaborations and a thriving startup ecosystem in a region whose influence is growing nationally and globally, we are fostering stronger partnerships, accelerating discovery and fueling regional economic growth."
Much of this success can be traced to the launch of the industry collaborations team led by Chris Rowe, also professor of the practice of engineering management. "Relationship building with industry partners across Vanderbilt's research competencies has been our focus this year, resulting in new master agreements with several global companies," Rowe said. "Our partners who seek to further develop and commercialize Vanderbilt technologies, ranging from automotive to pharmaceuticals to defense tech, contributed to the growing industry-sponsored research portfolio."
"These record highs are a testament to our incredibly innovative and productive Vanderbilt faculty as well as to the tireless efforts of Alan Bentley, Chris Rowe and their team members to translate new discoveries and inventions to communities of practice through industry partnerships, licensing, start-ups and more," said Vice Provost for Research and Innovation Padma Raghavan. "Even more exciting, this is just the beginning: With new university investments in faculty-initiated startups and additional programs that we'll be launching later this year, Vanderbilt researchers are poised to drive even greater levels of impact."
CTTC's mission is to provide professional commercialization services to the university and VUMC communities that optimize the flow of innovation to the marketplace and generate revenue that supports future research. CTTC serves as a conduit for the transfer of promising intellectual property to industry, contributes to regional economic development by licensing locally and supporting new venture creation, and encourages greater translational research collaborations between academia and industry.

To enhance support for entrepreneurship on campus and to better position Vanderbilt-related startups to thrive after launch, CTTC's new ventures team enhanced and improved its support services through its Venture Studio program, a series of startup-friendly licensing procedures. A half dozen new ventures have now moved through the refined Venture Studio program using Vanderbilt's new "startup friendly" licensing agreement. Transaction times have markedly improved, as has satisfaction with the faculty experience of engaging with tech transfer to launch new ventures.
Vanderbilt is also building stronger entrepreneurs and better companies at the Wond'ry, Vanderbilt's Innovation Center. Through its Ideator, Builder and Founder programming, mentorship and makerspace offerings, Launch incubator and NSF Innovation Corps Hub programming, the Wond'ry serves members of the entire Vanderbilt community, regardless of what stage of company development they are in.  CTTC's array of Venture Studio services complements the program offerings of the Wond'ry, ensuring that aspiring Vanderbilt entrepreneurs can access broad innovation and entrepreneurship assistance.
"We are incredibly fortunate to have such robust and engaged leadership support for innovators and entrepreneurs at Vanderbilt," said Alan Bentley, CTTC director. "The Wond'ry and CTTC play an important role in providing on-the-ground assistance, helping to remove roadblocks so that our students, staff and faculty researchers can advance their concepts efficiently and effectively to build quality, fundable new ventures.