The Association of American Universities' Task Force on Expanding U.S.-India University Partnerships, which includes Vanderbilt University Vice Provost for Research and Innovation Padma Raghavan, has published an interim report highlighting the commitment of top research universities in the United States and India to strengthening their collaboration.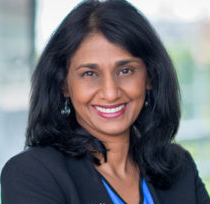 The report—released to coincide with a visit to the U.S. by India Prime Minister Narendra Modi—made nine recommendations, including establishing focused Indo-U.S. Global Challenge Institutes to address themes of vital common interest, enhancing student-based research collaborations, providing more internship opportunities and improving support for faculty-led research.  
The task force's work exemplifies Vanderbilt's ongoing efforts to expand its international connections. In March, Chancellor Daniel Diermeier and Provost C. Cybele Raver established the Global Strategy Committee of faculty from all 10 schools and colleges. The committee's goals are to recruit global talent and to boost Vanderbilt's global reputation and collaboration efforts with initiatives that enhance international engagement and student experience. 
Even before Raghavan's appointment to the task force, Vanderbilt had started building strong collaborations with India. Here are a few key emerging technology projects involving Vanderbilt and its Indian partners: 
A team of Vanderbilt researchers led by

Abhishek Dubey

, assistant professor of electrical engineering and computer science, is developing smart, predictive public transportation solutions for Varanasi, India. With substantial funding from the National Science Foundation and the U.S. Department of Energy, the team is

integrating novel cable car transportation

—referred to in Varanasi as ropeway public transport—with existing services using real-time data and machine learning, potentially revolutionizing urban mobility in Indian cities.

 

The "Modeling Ice-Rock Avalanches Using Computationally Efficient Schemes" (MIRACLES) environmental research project, led by

Ravindra Duddu

, associate professor of civil and environmental engineering, and backed by a

Fulbright-Kalam Climate Fellowship

, is developing advanced computational schemes to study ice-rock avalanches and the vulnerabilities of Himalayan glaciers. This can provide valuable information for climate change mitigation strategies in the U.S. and in India.

 
The work of

Karan Jani

, assistant professor of physics and astronomy, on the international Laser Interferometer Gravitational-Wave Observatory-India (LIGO-India) project underscores Vanderbilt's role in the forefront of global physics research. The international collaboration aims to

detect ripples in space-time known as gravitational waves.

Jani's team provides valuable training opportunities for Indian scholars at Vanderbilt.

 

Vanderbilt's commitment to inclusivity and excellence in diverse fields is evident in the

Women in Optics and Photonics in India Workshop

, which is led by

Anita Mahadevan-Jansen

, Orrin H. Ingram Professor of Engineering. Another standout example is the "Professional Development for Educators in India to Serve Students with Learning Disabilities" project, led by 2023 Peabody College master of education graduate Zara Parekh, which was highlighted during the

Clinton Global Initiative University

held earlier this year at Vanderbilt.

 
"These examples speak to the breadth and depth of collaborations that Vanderbilt researchers have with Indian partner institutions," Raghavan said. "I look forward to supporting the innovative work of Abhishek Dubey, Anita Mahadevan-Jansen, Karan Jani and Ravindra Duddu, among others, as they continue to develop these partnerships."