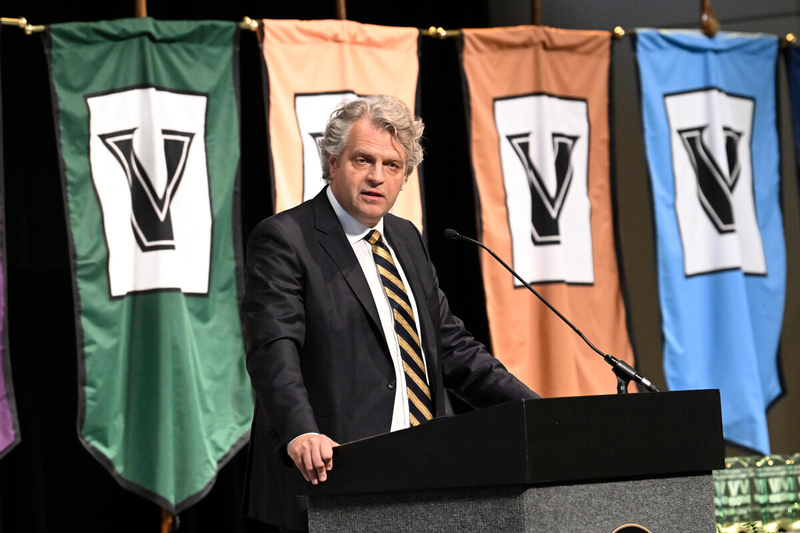 Chancellor Daniel Diermeier lauded university staff and the "milestone achievements" they helped accomplish this semester during the 2023 Spring Staff Assembly.
The event was held in person at the Student Life Center on May 22 as well as livestreamed for a virtual audience.
Watch the full 2023 Spring Staff Assembly. >>
"From CGI U to our Sesquicentennial and Dare to Grow launches, from the Summit on Modern Conflict to our rainy-day feat of a memorable Commencement—this spring we accomplished so much more than perhaps we thought was possible," Diermeier said, "and it was you who accomplished it."
Diermeier placed staff squarely at the center of Vanderbilt's mission.
"Every aspect of our transformative education, our pathbreaking research, our innovation and scholarship—every facet of our campus, from the technology that connects us to the beautiful grounds upon which we walk—all of it is enabled and supported by teams of tireless staff," he said.
Diermeier noted that Vanderbilt staff represent a broad spectrum of individuals working in every type of role, but they are united in a common purpose and their commitment to shared values—what, he said, is often referred to as "the Vanderbilt Way."
"It is a demonstration of our commitment to ongoing improvement—to daring to grow and to the lifelong realization of our potential," he said. "Your bringing our values to life distinguishes Vanderbilt from other universities and helps propel us to heights like those we have achieved this semester. I hope you will all take a moment today to feel pride in what we've done together."
Diermeier said continuing this vital work and upholding these values is as urgent now as it has ever been at any time in Vanderbilt's storied history.
"Vanderbilt was created 150 years ago to make the world a better place," he said. "Today we do that in innumerable ways, sending out ripples of good in all directions. As some of society's problems grow increasingly urgent, the stakes get higher and what we do together here matters even more. Together, we are part of a noble mission—a mission that has never been more important."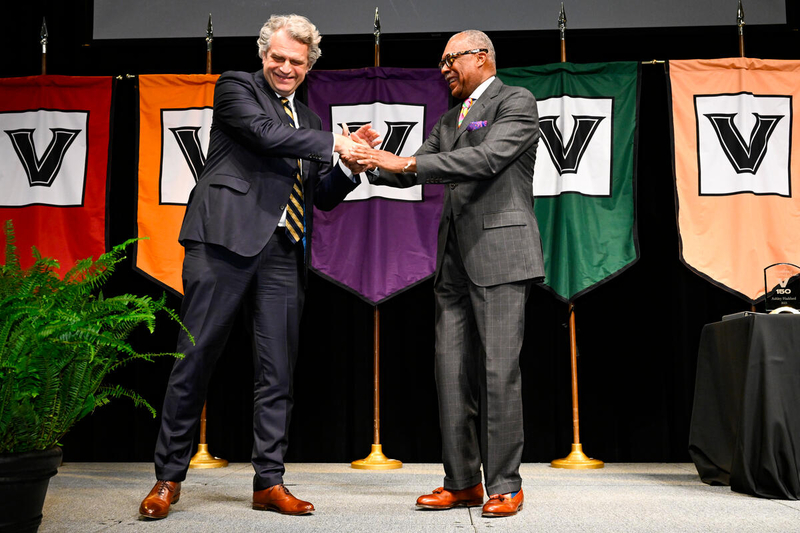 Diermier took a moment to recognize André Churchwell, vice chancellor for outreach, inclusion and belonging and chief diversity officer, who served as emcee of the Spring Staff Assembly. Churchwell will join the chancellor's office on July 1 in a new role as a senior advisor on inclusion and community outreach.
"Throughout his distinguished career, Dr. Churchwell has sought to bridge divides, and he has worked to build a Vanderbilt community in which students, faculty and staff feel supported and connected," Diermeier said. "Dr. Churchwell, I am grateful for all you have done for Vanderbilt, and I look forward to continuing our collaboration."
UNIVERSITY STAFF ADVISORY COUNCIL HIGHLIGHTS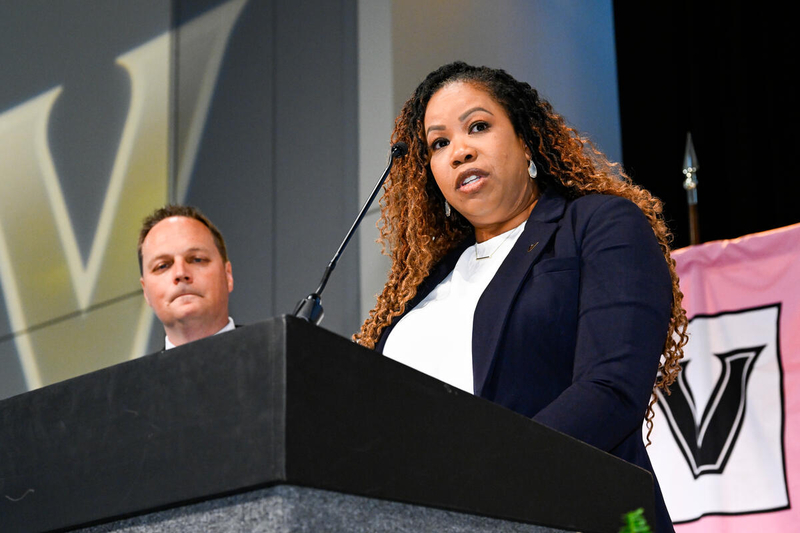 The Spring Staff Assembly included remarks by Adam McKeever-Burgett, president-elect of the University Staff Advisory Council, and Jennifer Bennett, co-chair of USAC's Events Coordination Committee. They highlighted several of USAC's key successes of the past year, including:
The Events Committee worked to foster community among staff through monthly in-person coffee breaks, its annual fundraiser benefiting Second Harvest Food Bank of Middle Tennessee and several volunteer opportunities.
The Staff Life Committee continued to support its Summary of Issues document, where staff can express concerns to leadership on issues that do not require formal proposals; staff discussed compensation and enhancing the employee tuition benefit. Staff Life also partnered with the Human Resources Employee Learning and Engagement team to offer professional development opportunities.
USAC led the Future of Work Hardship Fund Transition Committee to create the Employee Critical Support Fund, which was established with seed funding from Vanderbilt's administration and significantly increases the amount of support available to any full-time employee who is experiencing a temporary hardship.
STAFF AWARDS
The assembly culminated with the presentation of staff awards by Diermeier and Churchwell.
Early Impact Award
The Early Impact Award recognizes staff members who have worked at Vanderbilt for a minimum of one year and less than five years and who have exhibited excellent performance that shows promise of future growth. This year's recipients are Ashley Haddard, program manager for research with the School of Medicine Basic Sciences, and Bryan O'Callahan, a teacher with the Vanderbilt Child and Family Center.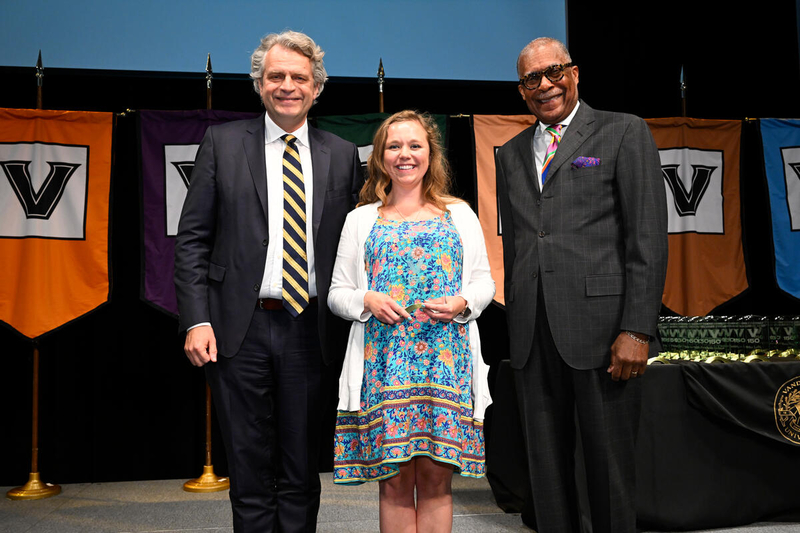 From Haddard's nomination: "She appears to be ubiquitous—which is to say, she is always there when you need her. If you need to get into the lab on the weekend but have misplaced the keys, Ashley is there. If you're launching a new lab … Ashley will help you manage it. She smooths the way for everyone to do their best work—with skill, diligence, infectious optimism and a great sense of humor."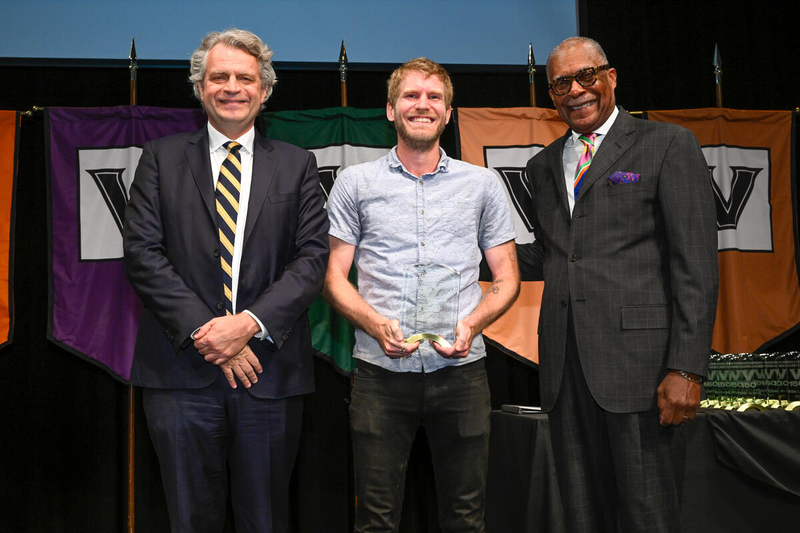 From O'Callahan's nomination: "He creates a classroom where children feel safe, affirmed and inspired, and he transforms a classroom of students into a strong, caring community. He is patient as he works to turn stereotypes and misperceptions into understanding and common ground. Bryan sets a fine example for young children that being caring and compassionate is an important attribute and strength."
Mentorship Excellence Award
The Mentorship Excellence Award goes to a full-time staff member who serves as a role model by inspiring colleagues and promoting professional development. This year's honoree is Angela Eeds, director of the School for Science and Math at Vanderbilt and interim director of the Collaborative for STEM Education and Outreach.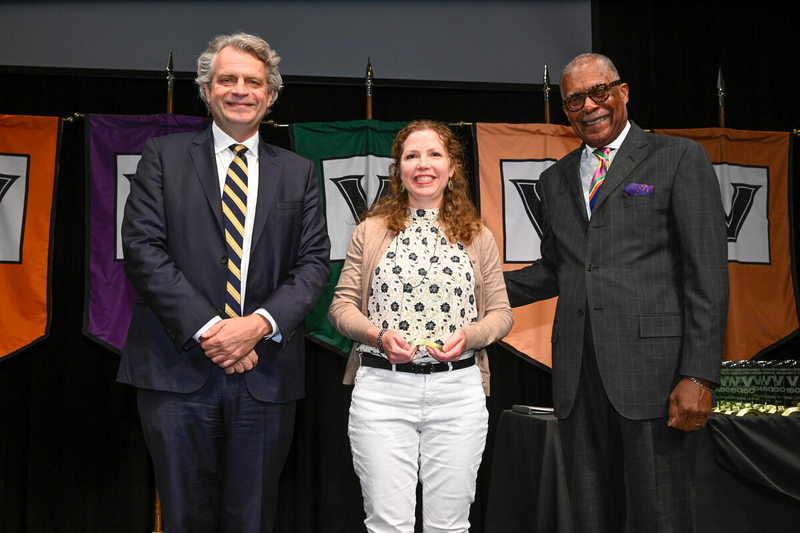 From Eeds' nomination: "We have been given an excellent model of how to be a mentor through Angela's mentorship to us, and in turn, we serve as better mentors to our students. She takes time to meet with her team members, introduces them to her networks and helps them build their own, and helps ensure that all are moving toward their unique career goals. When Angela took on the additional role of interim director of the Collaborative for STEM Education and Outreach in 2021, she gained more responsibilities and more team members, but she has continued to mentor each individual and gives her team the confidence and support to succeed."
One Vanderbilt Excellence Award
The One Vanderbilt Excellence Award recognizes a staff team, department and/or group that has demonstrated collaborative excellence on behalf of the university community. Two teams were recognized this year.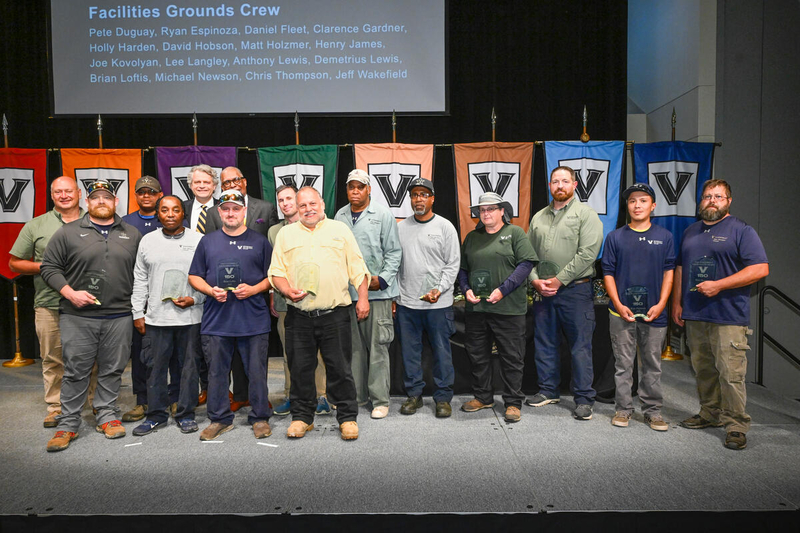 The team members recognized from the Facilities Grounds Crew are:
Pete Duguay
Ryan Espinoza
Daniel Fleet
Clarence Gardner
Holly Harden
David Hobson
Matt Holzmer
Henry James
Joe Kovolyan
Lee Langley
Anthony Lewis
Demetrius Lewis
Brian Loftis
Michael Newson
Chris Thompson
Jeff Wakefield
From the Grounds Crew's nomination: "When a winter storm swept in over winter break in December 2022, bringing brutal cold, dangerous wind chills, ice, snow and power outages, the Vanderbilt campus was mostly deserted, but the Grounds Crew knew there were still some students and staff on campus. So, the team returned to campus and worked to help keep everyone safe. They were cold and tired and, like everyone else, nervous about the extreme weather. We thank them for their dedication and extraordinary efforts that helped keep the campus running and kept people safe."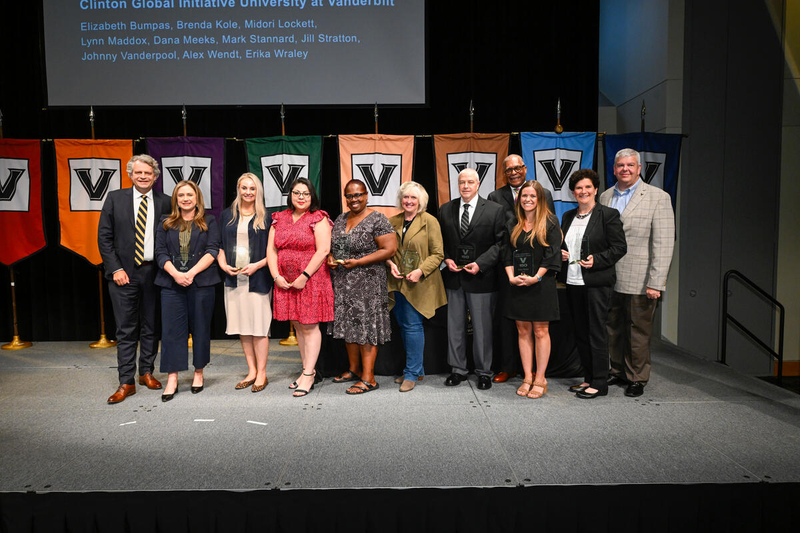 Also recognized were staff members from across campus who were vital to the success of Clinton Global Initiative University at Vanderbilt. They are:
Elizabeth Bumpas, Government and Community Relations
Brenda Kole, Office of the Vice Provost for Undergraduate Education
Midori Lockett, Government and Community Relations
Lynn Maddox, Government and Community Relations
Dana Meeks, Communications and Marketing
Mark Stannard, VU Public Safety
Jill Stratton, Academic Support and Community Engagement
Johnny Vanderpool, VU Public Safety
Alex Wendt, Office of the Chancellor
Erika Wraley, Vanderbilt Catering
From the group's nomination: "The event required coordination and partnership involving hundreds of people across campus, plus community organizations, local law enforcement, elected officials, dozens of vendors and the Clinton Foundation—and all of the team members were also gearing up for other major campus events for the spring. But they came together to create a transformative experience. The event brought Vanderbilt global recognition, strengthened our partnerships, and forged connections between future leaders from around the world and Vanderbilt's students, faculty and staff."
Diversity Leadership Award
The Diversity Leadership Award recognizes staff members who have exhibited an outstanding commitment to equity, diversity and inclusion and have demonstrated exemplary contributions to developing a culturally diverse and welcoming university community. This year's recipients are Jermaine Soto, director of faculty development in the Office of the Provost, and Ally Jacobs, education coordinator in the Department of Psychology and Human Development.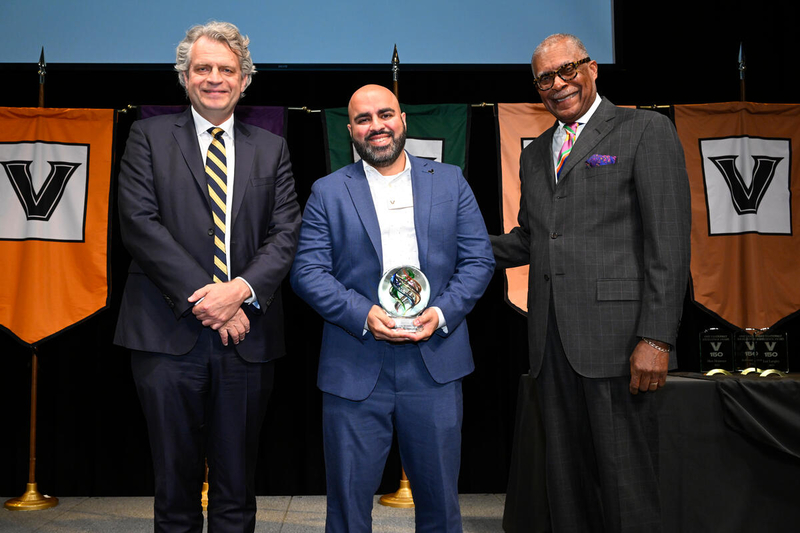 From Soto's nomination: "'Awe-inspiring' is how a colleague describes Jermaine's dedication to inclusiveness at Vanderbilt. As a committee member, a workshop leader or a liaison, Jermaine is the much-needed voice for inclusiveness, the guide for achieving it, and the partner who listens and invites conversation."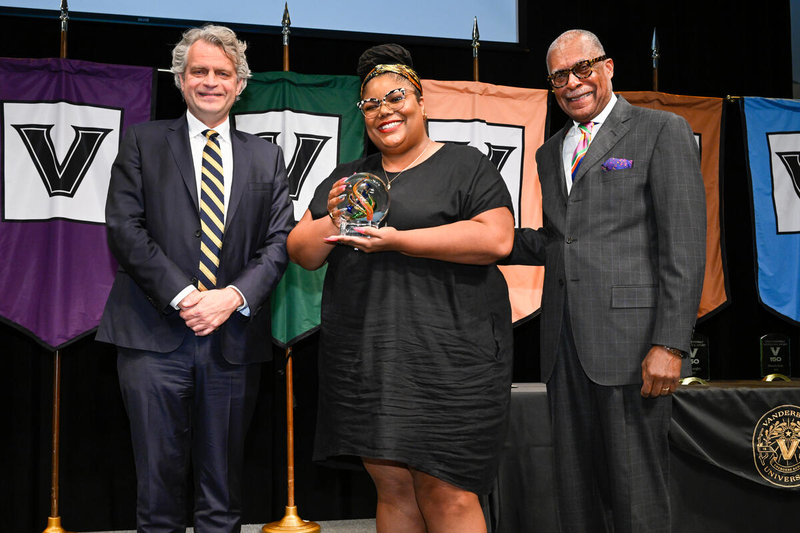 From Jacobs' nomination: "Ally's honesty on race and diversity has enabled conversations, awareness and opportunities to build understanding. With her finger on the pulse of students and staff and with her hallmark cheerful frankness, she is helping make her department an inclusive space for student learning."
Commodore Award
The Commodore Award is given to a staff member who has made significant contributions to Vanderbilt's pursuit of excellence in education, research and community service. This year's recipient is Kathy Smith, associate director of special collections and university archives.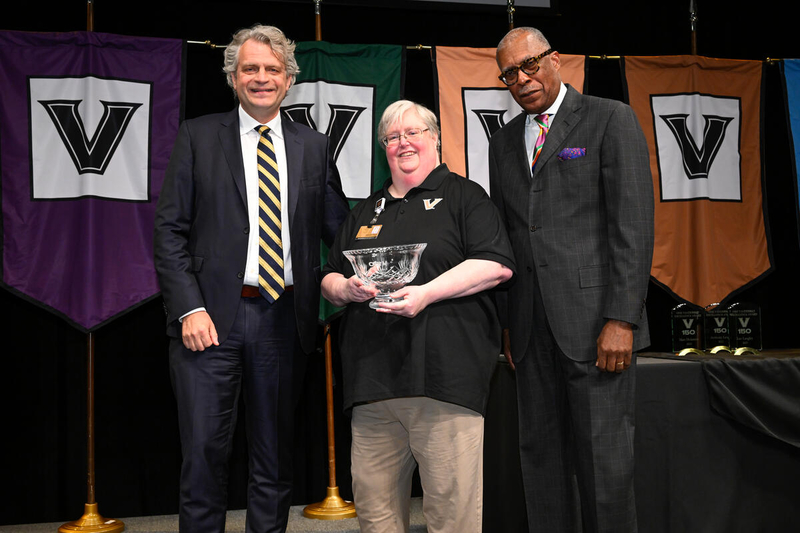 From Smith's nomination: "As our university archivist, Kathy preserves and shares the history of Vanderbilt. During her 25-year career, she has developed a deep knowledge of Vanderbilt's history by processing thousands of boxes of archives, built relationships with many campus partners, and systematically acquired collections that better tell the Vanderbilt story.
"Her efforts have enabled the libraries to maintain a relatively unbroken chain of university history and helped preserve the university's full story—a piece of which has become a centerpiece of our Sesquicentennial celebrations: the university's founding letter from Commodore Cornelius Vanderbilt. We are grateful that we have had Kathy to shape, preserve and connect others to the Vanderbilt story—not just during our Sesquicentennial, but in every year that she has been a vital part of our community."
Award winners will receive a monetary prize and a keepsake honoring their contributions to the university.