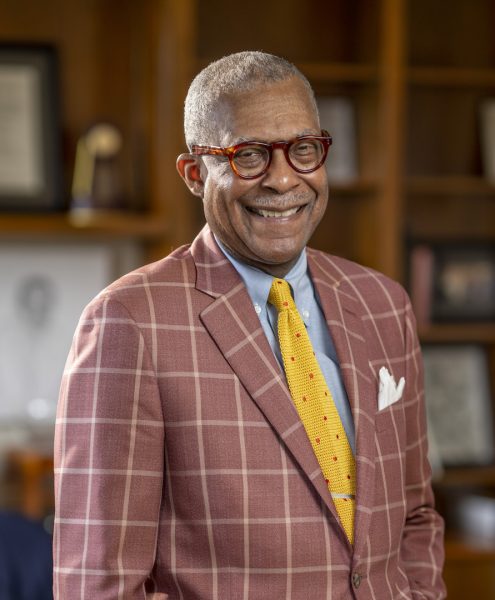 Dr. André L. Churchwell, a renowned cardiologist and health care leader who has advanced equity, diversity and inclusion at both Vanderbilt University and Vanderbilt University Medical Center, will step down as vice chancellor for outreach, inclusion and belonging and chief diversity officer at the university effective June 30, 2023, and transition to a new role within the Office of the Chancellor as senior advisor on inclusion and community outreach. In this new role, Churchwell will draw on his deep experience and personal commitment to diversity and inclusion to advise the chancellor and engage on a range of issues affecting the Vanderbilt and broader Nashville communities.
Churchwell, who holds the Levi Watkins Jr., M.D., Chair and is a professor of medicine, biomedical engineering and radiology and radiological sciences, will continue in his role as a faculty member. He also will continue his responsibilities on the Medical Center's clinical staff, caring for patients of the Vanderbilt Heart and Vascular Institute, as well as his roles on numerous boards and committees both on the Vanderbilt campus and across the nation.
"Vanderbilt is extremely grateful for André's many contributions not only to the university and the Medical Center, but to the practice of medicine, the medical community and the Nashville community at large," Chancellor Daniel Diermeier said. "Throughout his distinguished career, he has championed diversity and inclusion, sought solutions to bridge divides and worked tirelessly to build a community at Vanderbilt in which students, faculty and staff feel supported and connected. I look forward to continuing to work closely with him in his new role.
"We strive to build a diverse, inclusive Vanderbilt in which every member of our university community can thrive and feel they belong," Diermeier said. "We will be reaching out to key stakeholders to gather feedback and insights to continue to accelerate this important work."
Churchwell's career has been dedicated to advancing equity and diversity in medicine and academia. In addition to his work on behalf of the university, he served in various roles to increase VUMC's diversity and inclusion for more than 12 years and served as VUMC's first chief diversity officer from 2015 to 2021. In 2019, he also was named interim vice chancellor for equity, diversity and inclusion and chief diversity officer for Vanderbilt University and was permanently appointed to the position in 2020. A native Nashvillian with deep ties to the community, Churchwell took on an expanded role in 2022 that includes both institutional belonging and community outreach, working with other Vanderbilt leaders and the broader community to advance and support best practices for promoting a culture of inclusivity.
In his role as vice chancellor, Churchwell has helped the university community navigate difficult moments, including the March 2020 tornadoes, the Christmas Day 2020 bombing in downtown Nashville, and most recently, the tragic shooting at The Covenant School in Nashville. In the wake of the murder of George Floyd, Churchwell wrote a powerful essay reflecting on racism and the role that universities, like Vanderbilt, can play in working toward a solution. Churchwell also convened Vanderbilt students, faculty, staff and alumni for virtual panel discussions called "This Moment in America," which touched on issues tied to racial and political divisions, the COVID-19 pandemic, criminal justice reform and more. Panelists shared their personal experiences and engaged in open dialogue about challenging issues. Churchwell will continue leading similar initiatives to engage the Vanderbilt community, as well as the broader Nashville community, as senior advisor.
Churchwell graduated magna cum laude from Vanderbilt University with a bachelor of science in biomedical engineering in 1975. He then earned his doctor of medicine from Harvard Medical School and completed his internship, residency and cardiology fellowship at Emory University. In 1984, he became the first African American chief resident of medicine at Grady Memorial Hospital.
After completing his training, he joined the faculty at Emory, where he served as the first director of diversity for the medical school from 1985 to 1991. In 1986, he received a Harold Amos/Robert Wood Johnson Foundation Minority Medical Faculty Development Award, a postdoctoral research award offered to historically disadvantaged medical professionals who are committed to developing careers in academic medicine and serving as role models for those of similar background.
Churchwell came to Vanderbilt in 1991. As associate dean for diversity in graduate medical education and faculty affairs, Churchwell worked to significantly increase the percentage of underrepresented-in-medicine applicants to graduate medical education, which in turn resulted in a dramatic increase in first-year underrepresented-in-medicine interns in the School of Medicine.
In 2011, Churchwell was named dean of diversity for undergraduate medical education in addition to his GME and faculty affairs roles. Churchwell and his team's work, building on that of prior associate deans for diversity, resulted in more diverse Vanderbilt University School of Medicine classes.
In 2015, he was appointed to the Chancellor's Diversity, Inclusion and Community Committee, which in 2016 researched and presented to the chancellor recommendations for making Vanderbilt a more diverse and inclusive community. He also served on the COACHE Faculty Working Group, charged with analyzing and assessing the results of the 2016 faculty survey.
Churchwell has been widely recognized throughout his career for his leadership and contributions to advancing inclusion in the medical field. In 2005, he was named the Walter R. Murray Jr. Distinguished Alumnus by the Association of Vanderbilt Black Alumni, and in 2010 he was awarded the Distinguished Alumnus Award by Vanderbilt University School of Engineering.
In 2011, along with his physician brothers, twins Keith and Kevin, he received the nationally recognized Trumpet Award for Medicine. In 2022, Churchwell and his brothers were named among "75 Black Health Care Leaders to Know" for 2022 by Becker's Hospital Review. The three Churchwell brothers all share deep Vanderbilt ties. Keith Churchwell served as executive director and chief medical officer for the Vanderbilt Heart and Vascular Institute before assuming the role of executive director and senior vice president for heart and vascular services at Yale New Haven Health in 2014. Kevin Churchwell, an alumnus of Vanderbilt School of Medicine, served as CEO and executive director of the Monroe Carell Jr. Children's Hospital at Vanderbilt. He is now president and chief executive officer of Boston Children's Hospital.
In 2012 and 2013, the Vanderbilt University Organization of Black Graduate and Professional Students honored Churchwell with one of the organization's first Distinguished Faculty Awards. He also was recognized with an American Registry Most Compassionate Doctor Award. From 2010 to 2013, he was awarded the Professional Research Consultants' Five-Star Excellence Award—Top 10 Percent Nationally for "excellent" responses for medical specialty services and overall quality. In 2014, he was honored as one of the "Top 15 Most Influential African American Medical Educators" by Black Health Magazine.
In 2016 he was named to the American Institute for Medical and Biological Engineering for his work in biomedical engineering education, and in 2017 he received the Vanderbilt University Pioneer in Diversity Award. Churchwell was recognized by Modern Healthcare as among the top 25 diversity leaders for 2022.
Churchwell was nominated by the leadership of the National Academies of Sciences, Engineering and Medicine to serve as a member of the new Roundtable on Black Women and Men in Science, Engineering and Medicine. This initiative has been established to examine the range of barriers facing Black men and Black women in pursuit of careers in science, engineering and medicine, with the goal of proposing actionable solutions that remove those barriers and create the type of systemic change necessary for Black men and Black women to thrive in those fields.
Churchwell serves on numerous boards and is active in several national organizations. From 2013 to 2015, he served on the Biomedical Engineering Society Diversity Committee, where he and his colleagues focused on work force diversity and the importance of recruiting a diverse class to enhance learning. In 2012, he was elected to serve as the Southern representative for the Group on Diversity and Inclusion for the Association of American Medical Colleges. As a member of the group, he was involved in creating a best practices manual for all diversity deans in medical schools to use as they build their programs.
Churchwell was born and raised in Nashville. In 2022, he was recognized as a distinguished alumnus of Metro Nashville Public Schools and named to the Nashville Public Education Foundation's Public Schools Hall of Fame. He was recently honored with a Diamond Award for lifetime achievement in advancing diversity and inclusion by the Not Alone Foundation. In addition, a new Diamond Award for diversity and inclusion has been named in honor of Churchwell and Cynthia W. Turner, who is the assistant dean and chief diversity officer for Ohio State University's Fisher School of Business.
Churchwell's father, Robert Churchwell, broke the color barrier at the Nashville Banner when he became the first full-time African American journalist hired by a Southern newspaper in 1955.
"I have appreciated and benefitted from the support of Vanderbilt leadership during my tenure as chief diversity officer, from Dr. Jeff Balser during my time at the School of Medicine and VUMC, and more recently, from Chancellor Daniel Diermeier while serving our beloved Vanderbilt University," Churchwell said. "I have been fortunate to be of service to leaders who are deeply committed to furthering equity, diversity, inclusion and belonging. I look forward to continuing to assist our chancellor and university in building deep connections between our university and the growing and diverse community that makes up our city, Nashville, Tennessee."
More details about this transition will be announced at a later date.