Vanderbilt's Division of Finance and Office of the Vice Provost for Research and Innovation co-hosted a research administration training in mid-April facilitated by the Society of Research Administrators International. The two-day training was attended by more than 100 Vanderbilt staff members who work with faculty and student researchers on all the administrative- and compliance-related components of grants.
Grants and contracts are Vanderbilt's second-largest source of revenue as an institution. With initiatives like Discovery Vanderbilt aimed at supporting faculty in bringing research to campus, Dalana Robertson, associate vice chancellor for finance and controller, expressed how important it is that research administration staff keep up with industry requirements and best practices. She emphasized the importance of knowing what they're doing and why to ensure a seamless transition between administrators throughout a grant's life cycle. This allows faculty to focus on conducting pathbreaking research.
The training, akin to "Research Administration 101," was attended by research grant administrators representing every academic department and school of the university. Other participants included members of the sponsored programs administration team in the Office of Research and Innovation; members of the research finance team led by Jana Blick, senior director of research finance in the Office of Finance and the Controller; and staff interested in learning more about grant administration.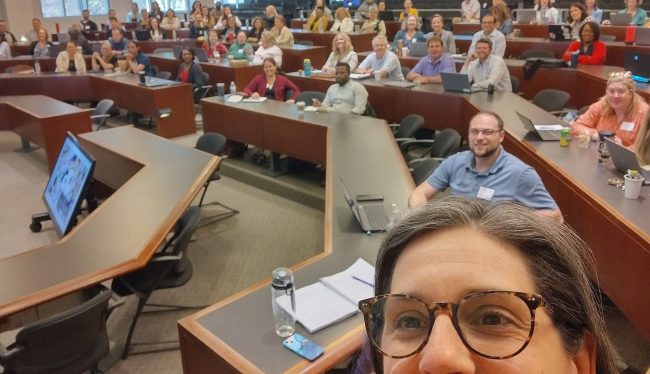 "How we all interact and support each other throughout the process of managing a grant requires radical collaboration," Robertson said.
Every grant, from local and private foundations to state- and federal-level sponsors, has unique agreements and terms that require adherence. The training covered topics from writing grant proposals and considerations when developing a research budget to ensuring the best terms for the university and the primary investigator in funding agreements, through monitoring how the grant is spent and proper documentation for financial reporting at a grant's conclusion.
"Managing and administrating research is a robust, evolving profession that requires continual investment in professional development to keep up with federal requirements, regulations and the increasingly complex projects developed by our amazing researchers," said Evan Roberts, executive director of SRAI. "Vanderbilt's commitment to its team and research community as evidenced by this and future training initiatives is a testament to the university's vision and leadership, and SRAI has been honored to be a partner in that journey. We have no doubt that our combined efforts will yield lasting results in the form of happier investigators, improved quality of submissions and the successful management of active awards."
The first standalone careers in research administration came with compliance legislation introduced in the 1990s. A nascent specialty at that time has today become a dwindling workforce as many in the field are beginning to retire.
"I am thrilled to see Vanderbilt University's commitment to investing in research administration at the central and departmental levels. The recent workshop provided an excellent opportunity for over 100 staff members to enhance their skills and knowledge while also fostering valuable connections with colleagues across campus," said Gay Nell Krauss, assistant director of the Center for Research Development and Scholarship in the Vanderbilt University School of Nursing. "This training offered a unique perspective on the project life cycle, which will undoubtedly support seamless grant administration and ultimately benefit faculty and student researchers."