Vanderbilt University wasn't on Savannah Childress' radar when the Columbus, Ohio, native started to consider which college to attend several years ago.
She'd heard of the school in Tennessee and knew of its great reputation for academics, but initially Childress thought she would play sports in college—an idea that kept her focused on considering athletics opportunities.
After some soul-searching, Childress switched gears. She realized she wanted to pursue interests outside of sports, a moment of truth that left her researching universities she previously hadn't thought much about.  Vanderbilt, with warmer weather and a beautiful campus, won out.
"When I came to visit, I absolutely loved everything I saw," said Childress, who graduates this spring with a degree in human and organizational development from Peabody College. "The student I spoke to, the professor I spoke to … people were honest. I've loved my time here and wouldn't want to trade it for anything."
Some of Childress' most memorable moments as a student came in part because of a Vanderbilt requirement to take part in an experiential learning opportunity through an academic degree requirement called Immersion Vanderbilt.
Developed by Vanderbilt administrators to find ways for students to develop better critical thinking skills and a stronger ability to navigate a changing world, the program steered Childress toward researching and volunteering with the Nashville Food Project.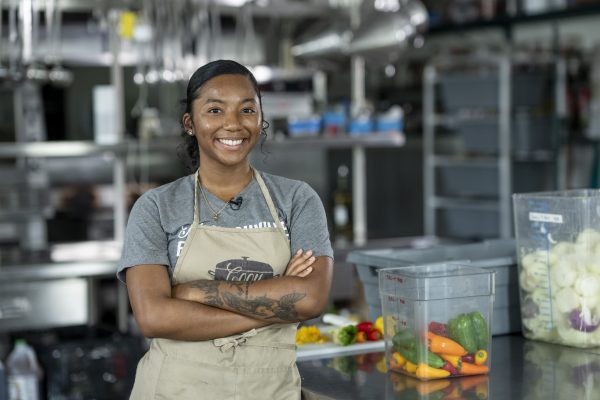 Childress worked on projects with her faculty adviser Megan Saylor, professor of psychology and human development, engaging in activities that promote food justice and sustainability in Nashville.
She served with Vanderbilt Volunteers for Health, where she taught nutrition and wellness lessons to elementary students enrolled in Metro Nashville Public Schools. She later joined the Social Ventures Think Tank through the Wond'ry, Vanderbilt's Innovation Center, where her team designed a resource aggregator to serve as a one-stop shop for Davidson County residents to learn more about food resources such as food pantries, produce boxes and how to access government subsidy programs like SNAP and WIC.
Childress also worked with the Urban Green Lab, where she assisted on a project to create awareness on how people can use their homes, businesses and schools to eliminate food waste.  Along with local artists, she helped design a web page for food waste reduction murals that will be painted across Nashville.
She also worked on the Nashville Food Project meals team, where she helped out in the kitchen and community garden to support the organization's mission of helping people who face obstacles in finding fresh, healthy meals.
The work has inspired Childress to volunteer with organizations that pledge to eliminate inequities after she moves to Charlotte, North Carolina, after graduation.
Stories like Childress' are exactly why Vanderbilt University broadened its approach to undergraduate education when developing Immersion Vanderbilt. Designed to be an intensive learning experience, the program brings students beyond the classroom and into a hands-on project.
The Class of 2023 is the first graduating class that was required to complete an Immersion Vanderbilt project. Each of these students has engaged in hands-on training and self-discovery, and they've brought value to the community in the process.
Childress said her experiences through Immersion Vanderbilt will stick with her.
Childress encouraged future Vanderbilt students to think carefully about immersion opportunities to explore: Immersion is "a tool to explore your interests while you're well supported by all of the resources here at Vanderbilt, because you can definitely do a lot. Immersion Vanderbilt definitely helped me realize some interests and passions I had outside of the classroom. I learned how to use my strengths and learned what skills that I wanted to develop to better support people with community resources," she said.