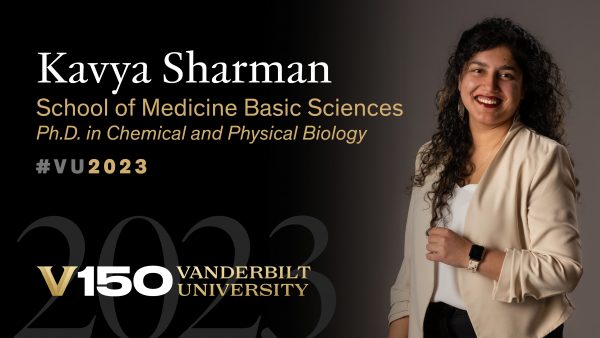 By Amy Wolf
When Kavya Sharman talks about the rich experiences and connections she's cultivated as an undergraduate and graduate student at Vanderbilt, she said it's more analogous to the flourishing branches of a tree. 
"Every turn, every connection is like a branch, opening up a whole wealth of opportunities," said the Ph.D. candidate in chemical and physical biology in the School of Medicine Basic Sciences. "And the amazing thing is, I keep connecting with people who support and inspire me in new directions."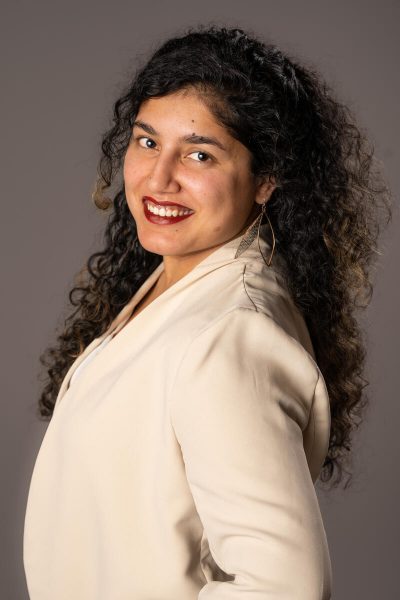 She continues to branch out into biotechnology research, business development and even Wall Street, by cofounding a science-focused investment fund. 
"When I came to Vanderbilt as an undergrad neuroscience major, I thought I had a very clear idea of what I wanted to do: be a radiologist. Spoiler alert, I'm not a radiologist," Sharman said, laughing. "My passions are now in the intersection of academia and industry." 
Sharman credits the strong support from Vanderbilt's Biomedical Research Education and Training Program for understanding her vision. 
"They are specifically interested in learning who you are and where you want to go, and they'll help you get there," she said. 
BIOINFORMATICS
Sharman started working in the bioinformatics lab of emeritus professor Dr. Mark Frisse at the Vanderbilt University Medical Center as an undergrad after hearing him give a speech on his research.  
She then worked for two years at a startup company after graduation, where she "fell in love with coding" using MATLAB. That's when she wanted to take her expertise to the next level, and she came back to Vanderbilt to earn a Ph.D., doing her research in the labs of Richard Caprioli and Jeffrey Spraggins.
"What I'm excited about is bringing in different types of data and leveraging the power of computation to derive new findings—new biological hypotheses that we haven't seen before," she said. 
In general terms, Sharman's research involves layering massive amounts of tissue images along with chemical data to give unique insight into a medical condition. The method generates information that could make a dramatic impact on how diseases are treated. 
"Humans are really good at thinking in a few dimensions, but what a computer and data analysis allow us to do is find relationships among hundreds of thousands, even millions of different data points," she said. 
INSPIRED BEGINNINGS 
Sharman grew up in a small town in Arkansas, with a mother who has a Ph.D. in food microbiology and an entrepreneur father. So she's not surprised that she has an interest in both fields.  
She also credits Vanderbilt business professor Joe Rando and two of his classes on the foundations of management and entrepreneurship with sparking a fire in her to look beyond the lab. 
"One of the biggest touchpoints was a management class I took freshman year. I thought I had no real interest in business, I just wanted to fill my schedule. It ended up being one of the most transformative classes I've ever taken because it taught me just how operations work," she said.  
"Whenever you have a group of people working together, whether you're in a lab or at a company, there's a lot of people with a lot of ideas. And how you wrangle all of that together is a huge skill."
IMMERSION AND MENTORSHIP
Rando, who now leads the Hoogland Undergraduate Business Program, still mentors Sharman, even though it's been almost a decade since she took his first class. 
She used those management skills, along with her love of science, to co-found the Scientific Immersion and Mentorship program as an undergraduate. The program is still running today. 
"That was one of those moments where I realized I liked building something new. We saw a need, we built a solution and we accomplished it. And that's the philosophy I'm living by today," she said. 
THREE QUESTIONS…
HOW HAVE YOU GROWN AND EVOLVED AT VANDERBILT?
"I've learned that I like to build. I like to find the problems and solve them. I've also learned that it's not critical to always have that long-term mission. I think we put a lot of pressure on ourselves to have a vision—what do you want to do in 10 or 15 years? I think it's difficult to have that answer without limiting yourself to potential opportunities." 
SEND-OFF MESSAGE TO THE VANDERBILT COMMUNITY?
"I think my big message is to be happy in the entropy, be happy in the chaos and know that the skills that you've built over these last few years are going to take you to the next step. You should be confident about how you got to where you are and open to all of the possibilities in front of you." 
VANDERBILT IS…
"Vanderbilt is a runway. You have all of these different people coming in from all different parts of the country and the world. And once they fly off from Vanderbilt, they have the ability to go anywhere."