Media Inquiries
Latest Stories
Chef Brian Cochrane took notes quickly as students from Vanderbilt's South Asian Cultural Exchange met with him last fall to suggest ideas for bringing some of their favorite foods from home into campus dining halls during the annual South Asia Week.  
As students named dishes from home to add to the menu, Cochrane needed a minute to catch up. 
"Students were talking about a lot of food from home that I hadn't heard of before, and I asked someone if they could type the names in the meeting minutes because I was unfamiliar with the recipes," Cochrane recalled. 
It didn't take long for Elliott McCarter, a senior lecturer in Asian Studies who collaborates with SACE, to jump in with a solution for how Cochrane could get up to speed outside of the meeting minutes.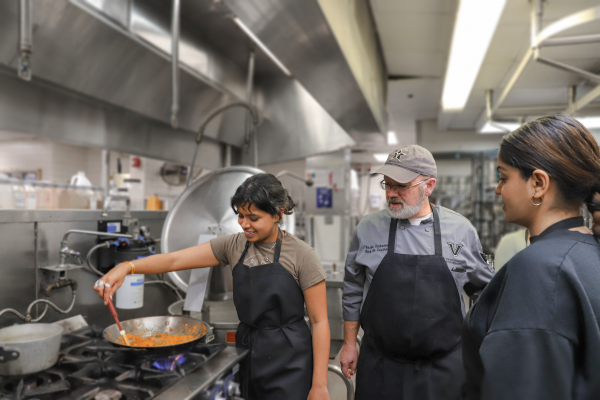 "Well, you just need to go to India with me," McCarter said half-jokingly to the chef.
To McCarter's surprise, Cochrane took the professor up on his offer. In December, the two boarded a plane and flew 8,000 miles from Nashville to India so Cochrane could learn how to bring more Indian flavors into campus dining options. 
Cochrane spent time touring restaurants and observing street vendors prepare traditional Indian dishes while McCarter researched sites for an embedded travel course for Vanderbilt students abroad. The experience helped Cochrane see the recipes and food preparation for the meals Vanderbilt students had told him about. 
The chef returned to Tennessee with fresh ideas to add to Campus Dining's menu, and firsthand knowledge of foods like Kher Sangri (spicy regional beans), Dal batti churma (lentil beans), Puri (sopapillas with potato curry) and others. 
Cochrane, a chef with Vanderbilt Campus Dining, was classically trained under a French chef. With years of experience working in fine dining establishments before moving into kitchens serving K-12 schools and universities, Cochrane believes dining services plays an integral role in students' Vanderbilt experience. Ensuring that all students can connect with meals that remind them of home while on campus is an essential part of cultivating a culture of belonging at Vanderbilt, he said, which is why the trip to India was personally meaningful to him. 
"I feel strongly that when we do a cuisine at Vanderbilt, we should be as authentic as possible," he said.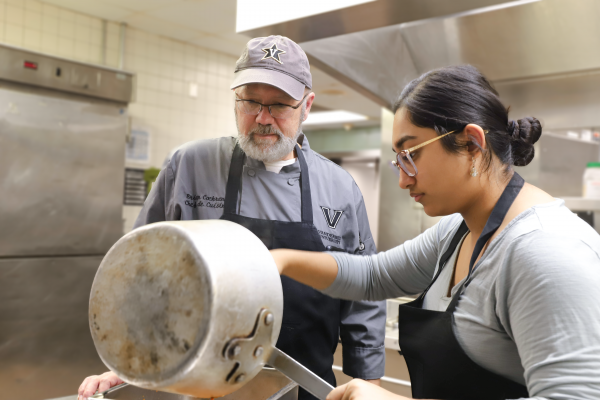 After returning from India, Cochrane met with students planning for South Asia Week, and the group prepared recipes together while finalizing dining hall menus for the week's activities. 
The chef's efforts made an impression on the students.  
"I'm glad that Vanderbilt is opening its dining halls to new foods. Food has been an important part of many students' lives, so offering more diverse, authentic ethnic cuisines on campus allows more students to feel welcome and at home on campus," student Min Kalasikam said.  
She noted that SACE has helped to provide and develop recipes so that authentic South Asian cuisine is available at Vanderbilt. The dining hall food is one aspect of South Asia Week, which features a wide range of activities including a poetry night and an interfaith discussion. A schedule for events is on SACE's Instagram page: @vanderbiltsace.
Student Tri Shriram said cooking with Cochrane reminded her of meals at home.
"When we made pav bhaji in the Rand kitchen, it reminded me of my mom's cooking and how she makes that dish when I come home from school. I find food's ability to create and remind us of memories and moments in our lives so profound and beautiful, and these recent efforts from campus dining in light of South Asia Week make me excited to try what they're cooking up in our dining halls this week," Shriram said.
McCarter said Cochrane's sincerity in wanting to expand global cuisine at Vanderbilt exceeded his expectations of the role of a campus chef. 
"Chef Cochrane's willingness to join the trip added a layer of culinary adventure to the journey," McCarter said. "I think the trip and his experiences have given him insight to an array of South Asian flavors, dining norms and hospitality culture. I am excited to see what he creates as he brings new ideas to Vanderbilt dining." 
"Personally, I love finding food from my own culture when I am abroad, even though it is rarely as good as home," McCarter said. "For me it is not only a comfort, but also an invitation to engage further with chefs who are trying to engage people like me. It's good to be seen but better to be invited, and I know that Chef Cochrane has collaborated with students here to bring forward the best possible menu for South Asia Week." 
To learn more about menu items featured as part of South Asia Week at Vanderbilt, visit the daily menus posted to the Vanderbilt Campus Dining website.