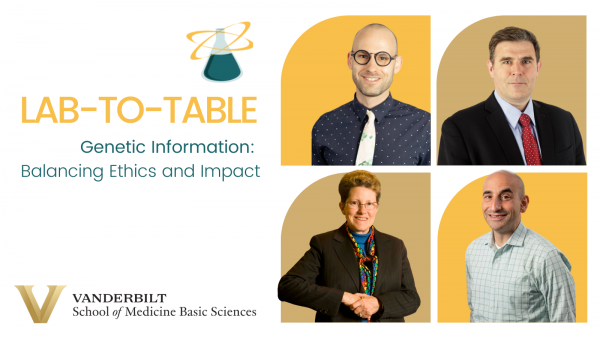 The Human Genome Project took more than 13 years and $2.7 billion to complete the first genetic sequencing of a human. Now, 20 years since its completion, a full genetic sequencing costs hundreds of dollars, takes less than a few weeks and has been integrated into medical care, genealogy and forensics, among other spaces.  
Given the newness of genomic information being integrated into medicine, business, criminal justice and people's lives, many questions exist about how this data can best be used for the good of health and society, as well as the ethics of privacy and the potential problems with availability of one's genomic information.  
Join Aaron Conley, director of external affairs, partnerships and communications, as he explores these questions and more during the next Lab-to-Table Conversation from the Vanderbilt University School of Medicine Basic Sciences. 
The event will take place on Tuesday, March 28, from 11 a.m. to noon CT and will feature the following panelists: 
Ellen Wright Clayton, J.D., M.D

. – Craig-Weaver Professor of Pediatrics, professor of law and health policy, co-founder of the Center for Biomedical Ethics and Society and an international expert in law and genomics;

 

Bradley Malin, Ph.D.

– Accenture Professor of Biomedical Informatics, Biostatistics and Computer Science, vice chair for research affairs in the Department of Biomedical Informatics and co-director of the Center for Genetic Privacy and Identity in Community Settings (GetPreCiSe); and

 

Daniele Podini, Ph.D.

– professor and chair of the Department of Forensic Sciences at George Washington University and an expert in the use of forensic genetics in the criminal justice system.
The event is free, virtual and open to the public. Registration is required.