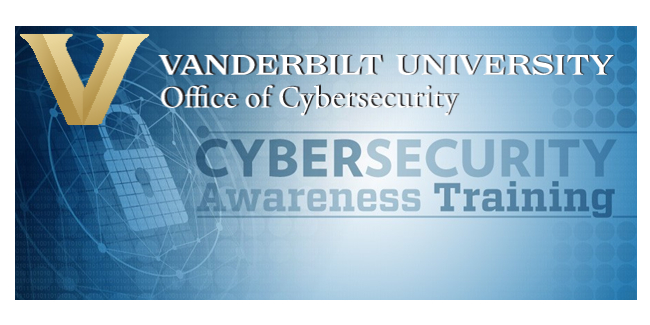 Cybersecurity is a shared responsibility and Vanderbilt University community members are the first line of defense. Training is an important aspect of making sure that all are aware of cyber threats, the risks their actions introduce, and best practices for protecting themselves and the institution.
Foundational cybersecurity training is an annual requirement for staff, and refresher assignments will begin on Feb. 1. Individuals receiving the assignment include staff who have previously completed training more than a year ago and those who have never taken the training, such as new hires. Faculty and postdocs are strongly encouraged to take the training as well.
Staff required to take the training should expect a system-generated email notification from: do-not-reply@training.knowbe4.com.
Trainees can expect an approximately one-hour duration, and completion is due within 30 days. In the past, cybersecurity training was accessed by logging in to Oracle. This year, the Office of Cybersecurity has moved to a new platform, KnowBe4. Log in to the KnowBe4 portal with your VUNetID at: https://training.knowbe4.com/auth/saml/252d8929c43e4. 
The landing page will look like this: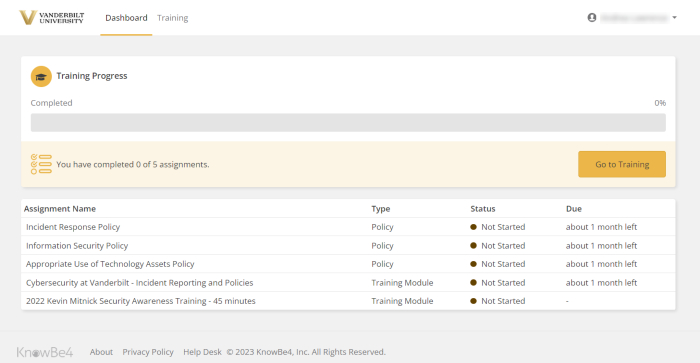 Those who participated in the October Cybersecurity Awareness Month event Cyber Gamemaster and tested out of training have automatically been marked complete on the video section. Game participants must still complete the policy acknowledgement section of the annual training.
If you have questions about access, completion or the training itself, please contact the VUIT Help Desk via any of the methods found at it.vanderbilt.edu.
Related stories: