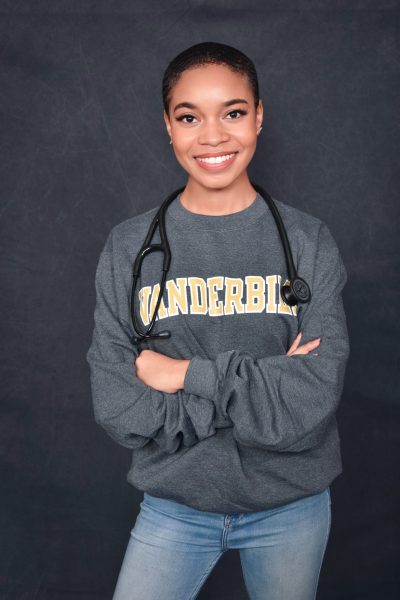 by Amy Wolf

Growing up, Anana Upton, BS'21, spent endless hours in hospitals as her younger brother underwent care. That experience spurred a passionate drive in her to elevate the quality of health care available to underserved communities while also educating them about their medical choices and affording them the dignity they deserve.
The Chicago native is now back in the hospital—and at Vanderbilt—following her dream to become a pediatric nurse.
"Vanderbilt School of Nursing has been quite honestly one of the most fulfilling experiences I have ever had in my life so far," Upton said. "It's such a confirmation of everything I've ever wanted and known was meant for me."
After graduating with a degree in child development from Peabody College of education and human development, Upton enrolled directly in the master of nursing program at the School of Nursing, becoming the youngest in her cohort. Now in the second year of the program, she takes remote classes while doing a clinical rotation in her pediatric specialty in the same Chicago hospital where her brother was treated. She also is president of the school's Global Health and Environmental Justice Club and has joined NurseCorps, which will enable her to work at a hospital with critical shortages after graduation this spring.
Upton often has to balance her studies with caring for her father and admits the classwork and clinical shifts can be mentally and physically challenging. Yet, she takes strength from the community she has found at the school and from the expertise she is building.
"I have had amazing faculty, some who feel more like personal mentors, reminding us why we are there in the first place—which is to help people," she said.
Among all the learning opportunities Upton has had as a nursing student, being able to practice empathy and compassion in a clinical setting has been perhaps the most gratifying of them all.
"I remember in my first week of nursing school we learned how to do bed baths. That was as simple as something we'd learn. Yet, it's a time where you really are able to restore dignity to a person who might be going through one of the most traumatic times of their lives," Upton said. "Things that are so seemingly simple can be such a reflection of humanity, which I think is the core of the nurse I want to be."
WHAT ARE YOUR FAVORITE MEMORIES OF YOUR UNDERGRADUATE EXPERIENCE AT VANDERBILT?
"One of my favorite memories from undergrad is sitting on the lawn at EBI and watching movies with my friends. Moments like that are what really stick out to me now. Vanderbilt is a rigorous institution—there are long nights and times when you have to remind yourself that you can do it because it is doable. But those little moments where we gathered at the faculty head's apartment for house get-togethers or went to a campus festival helped me find a community where I felt welcomed."
WHAT WERE SOME OF YOUR FAVORITE CLASSES?
"I really enjoyed my microbiology courses. I ended up being a teaching assistant for microbiology, and that has also served me well in nursing. I've always wondered how things work on the molecular level. Like how do vaccines work? How does hand sanitizer work? And it answered some of those questions.
"I also really enjoyed my developmental psychology classes and specifically the social and personality development classes I took with Dr. Dunbar at Peabody. She was just such an amazing instructor. I learned so much about how to communicate with people in general and the development of the brain in those classes—and loved it. I'm a science nerd!"
WHAT ADVICE WOULD YOU GIVE TO YOUR YOUNGER SELF?
"Number one is just to believe in yourself. And I know that's easier said than done, but you know you are meant to be here. You are. And don't compare yourself to others. I think that's also easier said than done.
"My other big advice is don't be afraid to ask for help. I think that is super important. I can't tell you how many times I've had anxiety over certain things and tried to figure it out alone. Once I started asking people for help, especially at Vanderbilt, that's when doors really started opening for me. People want you to succeed and will help you succeed if you search for it and just put in that effort."