A family legacy of fighting for civil rights fuels Chicago native Anana Upton, whose mission is creating positive change in underserved communities.
With a major in child development through Peabody College of education and human development and a plan to become a pediatric nurse, Upton aims to bring social justice through delivering quality, affordable health care.
"When I was young, I came to the understanding that other people's emotions and experiences must be valued. If I can help make experiences in someone's life better, that's what I think living is about," she said.
While Black Lives Matter marches in 2020 were an introduction to civil protest for many young people across the nation, Upton already was well-versed in activism. Upton's been involved in the NAACP since childhood, building on the powerful social justice legacy of her grandparents. During the civil rights movement of the 1960s, her grandfather led Chicago's North Side chapter of the Congress for Racial Equality.
"I pulled from my grandparents' strength and the memory of their struggle many times—during the protests this summer and in the work I'm doing with the Vanderbilt NAACP," she said. "I feel proud knowing that I have such a legacy in my family keeping me motivated when things get hard."
Equity in health care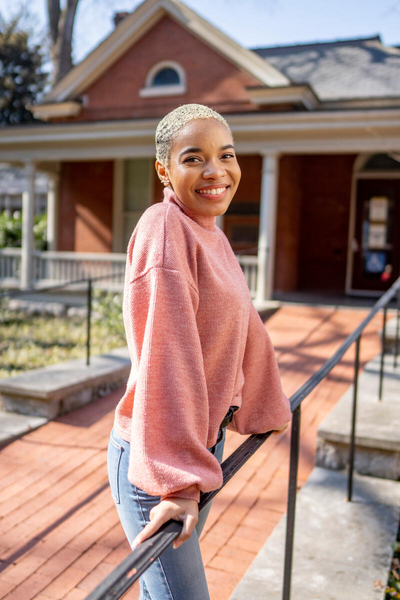 Upton and her brother were homeschooled by their mom, and community service was an essential part of their education. Her brother underwent numerous surgeries, so she experienced firsthand the necessity of quality health care as well as disparities in the system.
"I kind of grew up in hospitals," Upton said. "My parents stressed how lucky we were to have health coverage, but I believe that health care shouldn't be about luck. It's a human right."
In fall 2021, Upton will attend Vanderbilt University School of Nursing with a focus on pediatrics. Her dream is to open a holistic health clinic that becomes the core of an underserved community by providing jobs, a food bank, occupational therapy and even a community garden.
Connecting with children

Upton chose pediatric medicine because she identifies with the optimism and energy of children. She's been helping kids through multiple volunteer organizations such as Volunteers for Health, where she gives nutrition and health lessons to elementary students in Metro Nashville Public Schools.
"We go into elementary schools—virtually, of course, because of COVID—and teach kids in a way that's really fun and engaging and interactive. It's one of my favorite organizations to be a part of," she said.
Upton also received funding to expand long-running research by Associate Professor of Psychology Georgene Troseth and the Early Development Lab at Vanderbilt on the benefits of specially designed interactive e-books. Upton focuses her work on Black women and families, specifically those living in lower-income neighborhoods.
"My study is called 'Including All Voices' because too often study participants are from middle- and upper-income Caucasian families," she said. "When it comes to conducting research, it's important to have someone that looks like you, especially with the Black community where there has been a distrust in research because of historical wrongdoings."
Before the COVID-19 pandemic, Upton worked with underserved families in Peru through Vanderbilt MEDLIFE. And while her junior and senior years at Vanderbilt haven't looked quite as she'd planned, living through the pandemic has only strengthened Upton's resolve to help people who may fall through the cracks of traditional systems.
"COVID only reinforces my dedication and my desire to help those who aren't necessarily able to access medical care in the way that they should be able to," she said. "I wish that I could be a nurse right now, fighting for people and fighting for families."
This profile is part of a series of stories and videos highlighting undergraduate and graduate students in the Class of 2021.