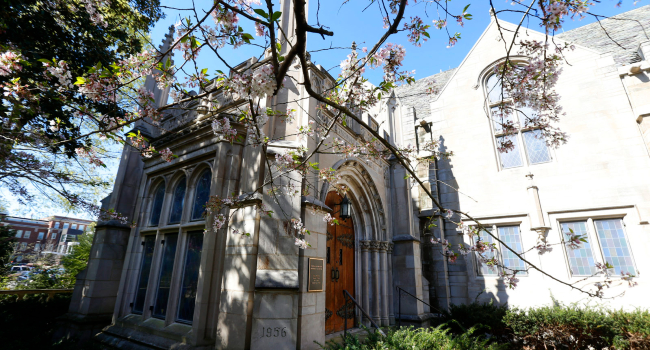 With a focus on community, clarity and communication, the Vanderbilt Faculty Senate has undertaken a number of initiatives this semester—including convening faculty and campus leaders for regular in-person meetings, celebrating both faculty and staff at the respective fall assemblies, and working closely with the administration to advance university priorities.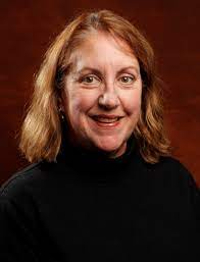 "Vanderbilt has long committed to a model of shared governance, and the Faculty Senate plays a vital role in that. Our mission is to equitably serve as the voice for Vanderbilt faculty," said 2022–23 Faculty Senate Chair Rebecca Swan, professor of pediatrics and assistant dean for graduate medical education, at the Fall Faculty Assembly in early September.
After more than two years of mostly remote meetings due to the COVID-19 pandemic, "we look forward to re-engaging in person," Swan said. "We have an imperative to reinforce our professional and social connections as we continue to build on our work to contribute to the scholarly, research and teaching missions of the university."
Monthly meetings
The Faculty Senate has hosted three well-attended in-person meetings at the Faculty Commons this fall. The final meeting of the semester is scheduled for Thursday, Dec. 8.
At the September meeting, Chancellor Daniel Diermeier and Provost and Vice Chancellor for Academic Affairs C. Cybele Raver discussed the strategy for expanding Vanderbilt's global presence as the university prepares to celebrate its Sesquicentennial in 2023. Elevating Vanderbilt's global reputation is essential to the university's ongoing efforts to strengthen its faculty and research enterprise and to advance graduate education, they said.
In October, Vice Provost for Research and Innovation Padma Raghavan lauded the hundreds of research initiatives taking place in schools and centers across the university. She described Vanderbilt's model for driving impact through research and innovation as bringing end users and researchers together, tackling grand challenges with government and private-sector partners, and testing and launching innovations in the environments and communities they impact.
The focus of the November meeting was supporting student identities. Raver introduced the topic, outlining three primary objectives: enabling students to explore and affirm their identities; offering them opportunities to connect and recharge in supportive environments; and providing a rich and vibrant path to pursue their intellectual inquiry. Vice Chancellor for Outreach, Inclusion and Belonging and Chief Diversity Officer André Churchwell and Vice Provost for Student Affairs and Dean of Students G.L. Black discussed the collaboration taking place among the Office for Equity, Diversity and Inclusion, Student Affairs and the Office of the Provost to strengthen student engagement through various student organizations, identity centers and academic departments and programs.
University initiatives
The Faculty Senate continues to work closely with administrators on issues important to faculty. "This year will bring an emphasis on clarity of the core identity of the Faculty Senate," Swan said at the fall assembly. "Clarity to understand shared governance—where it happens and how it happens—to move the work of the senate forward as we advocate for the faculty in our critical role here."
The senate partnered with the provost on the October launch of Discovery Vanderbilt, with the announcement previewed for senators earlier in the month. Building upon the successes of Opportunity Vanderbilt and Destination Vanderbilt, Discovery Vanderbilt will make targeted investments—totaling more than $50 million in the first year—across Vanderbilt's schools and colleges to support current research efforts while positioning the university to expand and diversify research activities, innovation and entrepreneurial scholarship.
The senate is also partnering with Human Resources on the university's transition to new well-being and employee assistance program services beginning in January 2023. New vendor Lyra will provide preventative, clinical and complex mental health care for all university employees, their spouses and children aged 2 and older. Twelve therapy sessions per person per year are covered, with coverage transferring to Aetna, the employee health insurance provider, after that. In addition, the Virgin Pulse wellness platform will provide tools focused on a holistic approach to well-being, specifically regarding behavior change.
"We want to position the faculty to be present and engaged partners in the exciting initiatives that will continue to enhance the missions of the university both here and within the community, both locally and beyond," Swan said.
Communication and trust
At the Fall Staff Assembly in late September, Swan commended staff for their commitment to teamwork and their many valuable contributions to the university's mission. "The past two and a half years have offered opportunities to collaborate on problems and tough issues. It's forced us to pivot multiple times in many ways. And you, our staff, have demonstrated flexibility with that to levels that I could not have imagined and truly have allowed us to succeed," Swan said.
"As an educator and now an administrator, I rely on the teams that surround me—to share their perspectives and their feedback, to redirect when we get off course, and to energize with novel ideas. … And communication and trust are vital," she said. "The successes that we have had and will continue to have here at Vanderbilt across all of our missions of world-class education, scholarship and discovery—locally, nationally and globally—will continue to require teams that are allowed to dream big, experiment and fail, agree and disagree, collaborate and ask hard questions through open communication and trust."
Swan said communication, along with community and clarity, is a primary charge of the Faculty Senate's efforts this year. She strongly encourages all faculty to be actively engaged in these efforts.
"To be successful in our roles in the senate, we need the faculty to contribute to our conversations, be aware of our ongoing work and provide feedback to optimally be engaged," Swan said. "With your partnership and engagement, we look forward to a productive year."
All faculty are invited to attend the senate's monthly meetings in person or online.