Chancellor Daniel Diermeier paid tribute to the staff's "spirit of continual growth" and their role in advancing the Vanderbilt educational mission during his remarks at the fourth staff assembly.
The event was held in person at the Student Life Center and livestreamed for a virtual audience.
Watch the full 2022 Spring Staff Assembly. >>
Diermeier noted that the Vanderbilt motto, Crescere aude or "dare to grow," is woven into the fabric of the entire university community, including the staff.
"You help to operate the campus—and to create the culture—in which our students belong and in which they thrive," Diermeier said. "That work is complex, and it literally never ends. A college campus is a vast and continually shifting universe. It is its own society—one that is active at all hours of the day and night!
"At Vanderbilt, the impact of staff does not simply support our educational mission," he added. "It is part of our educational mission, through and through. It fundamentally reflects who we are."
Diermeier also talked about the importance of Vanderbilt continuing to be open to diversity of thought among all its members, including staff. "Our work can't happen as it should when debate is stifled, when avenues of exploration are preemptively closed off, when conformity in thought replaces intellectual diversity … when we can't argue," he said. "This is why, at Vanderbilt, we embrace a long tradition of making campus a place where open discourse and free expression thrive."
He emphasized the need for universities to maintain a position of principled neutrality, which means the exercise of intentional restraint on general political and social matters—matters that do not affect their operations.
In conclusion, Diermeier expressed optimism for Vanderbilt's future and for those who carry out the university's mission. "It's an exciting time to be working at Vanderbilt," he said. "We are nearing our 150th anniversary during an era of great momentum, innovation and growth—both for our university and for the region we call home."
UNIVERSITY STAFF ADVISORY COUNCIL HIGHLIGHTS
The Spring Staff Assembly included remarks by Tiffany Lawrence Givens, University Staff Advisory Council president. She highlighted several of USAC's key successes of the past year, including:
The Events Committee has worked to foster community among staff through activities such as monthly coffee breaks and a recent lunch and lacrosse event.
The Staff Life Committee created a document called Summary of Issues, where staff can express concerns to leadership on issues that do not require formal proposals. To date, there have been two summary of issues, one for parking and the other related to staff tuition benefits.
USAC continues to support the Employee Hardship Fund, which is available to any full-time employee who is experiencing a temporary hardship.
STAFF AWARDS
The assembly culminated with the presentation of staff awards by Diermeier and Vice Chancellor for Administration Eric Kopstain.
Early Impact Award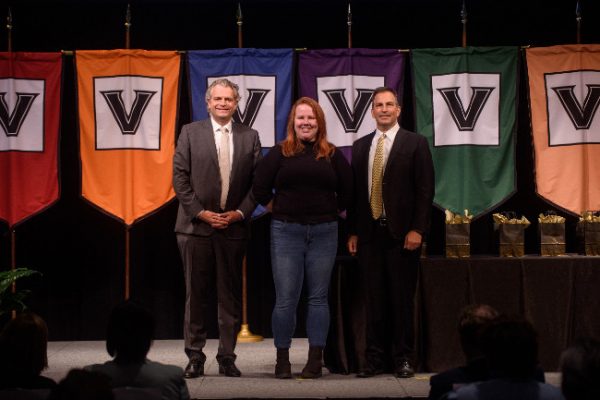 The new Early Impact Award recognizes staff members who have worked at Vanderbilt for a minimum of one year and less than five years and who have exhibited excellent performance that shows promise of future growth. Paige Snay, lead instructional technologist at the Center for Teaching, is this year's recipient.
From the nomination, "As a member of the Brightspace support team, Paige provides frontline technical and pedagogical support for the Vanderbilt teaching community. Paige is the team's go-to person for hard problems and novel challenges, which has created a category of support requests that the team calls 'Paige questions.' She always figures out a way forward. She helps others—whether they are novice or advanced—to understand and implement complex procedures and technologies."
Mentorship Excellence Award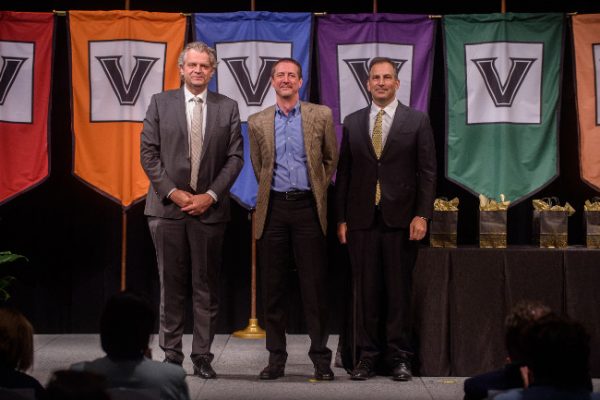 The Mentorship Excellence Award goes to a full-time staff member who serves as a role model by inspiring colleagues and promoting professional development. Trey Beasley, assistant vice chancellor for treasury, received this award.
From the nomination, "Together, Trey and his team help the university fund the growth and capital projects that make it possible for Vanderbilt to provide transformative educational experiences. He supports his team's professional development and growth in many ways, one of which is encouraging team members to earn certification as a treasury professional. He not only guides his team members in the intricacies of the world of higher education finance, he also counsels them on the best ways to approach a colleague for support or to tackle a time-sensitive project. And somehow he finds the perfect balance between verifying his team's work and trusting his employees to do their jobs."
One Vanderbilt Excellence Award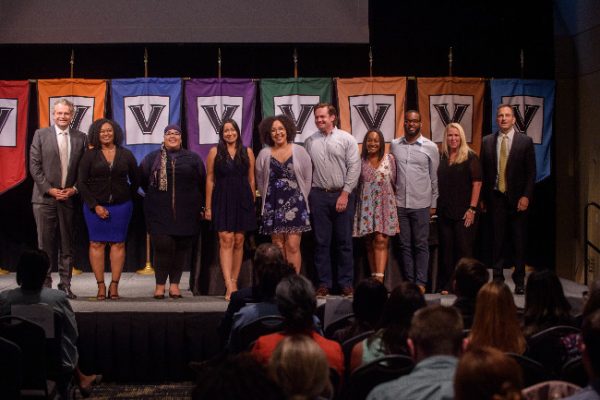 The One Vanderbilt Excellence Award recognizes a staff team, department and/or group that has demonstrated collaborative excellence on behalf of the university community.
This year's winner of the One Vanderbilt Excellence Award is the IgniteVU team, comprising members of the Student Center for Social Justice and Identity and the Office of Greek Life.
Team members from the Student Center for Social Justice and Identity are:
Ashley Brown
Antonella Valdivia
Brittany Pomilee
Kauthar Gaber
Team members from the Office of Greek Life are:
Destiny Savage
Ashton Sawyers
 Cam Alden 
 Kristin Torrey
From the nomination, "The goal of the IgniteVU program is to assist members of Vanderbilt's Greek community in developing intercultural competence—the capability to shift cultural perspective and appropriately adapt behavior to cultural differences and commonalities. The IgniteVU teams worked tirelessly starting in the summer of 2021 to create and adapt curriculum, co-facilitate almost 30 core sessions and assist all the Greek chapters in developing their individual EDI plans."
Diversity Leadership Award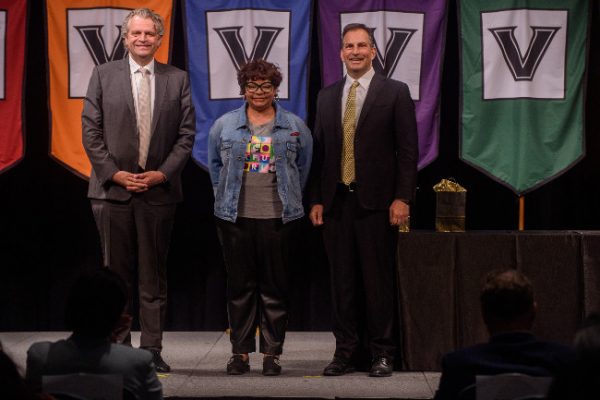 The Diversity Leadership Award recognizes staff members who have exhibited an outstanding commitment to equity, diversity and inclusion and have demonstrated exemplary contributions to developing a culturally diverse and welcoming university community. There are two recipients in this category:
Portlyn Cruise, senior administrative assistant with the Office of Health Sciences Education at the School of Medicine
Denise Johnson, Research Finance team lead
From the nomination for Cruise, "Portlyn's enthusiasm for connecting and nurturing people was evident from the moment she joined the School of Medicine and has been an inspiration to her colleagues ever since. She is always working to support those around her, whether it's by helping other groups who need an extra set of hands, putting together a party for a departing staff member or serving as a member of the work-life connections team."
From the nomination for Johnson, "Denise gladly gives her time to her department, her team members and the university. She co-chairs the Equity, Diversity and Inclusion Committee of the University Staff Advisory Council. And she is a member of Vanderbilt's Association of Black Faculty and Staff. Equity, diversity and inclusion—principles that are crucial to the success and well-being of our Vanderbilt community—are the principles that Denise lives by and that she cultivates and promotes for her colleagues."
 Commodore Award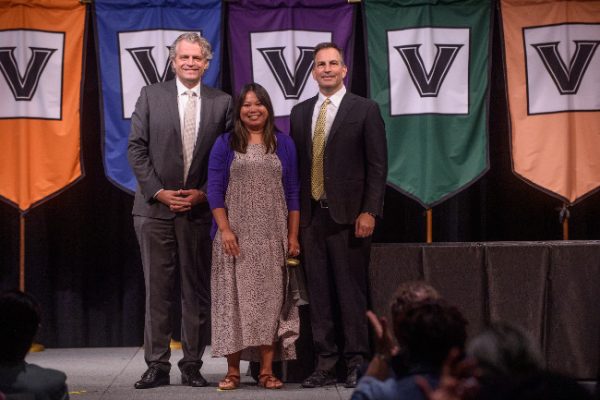 The Commodore Award is given to staff members who have made significant contributions to Vanderbilt's pursuit of excellence in education, research and community service. Two people are being honored with the Commodore Award this year:
Daravanh Weeks, senior administrative assistant in the Office of Undergraduate Medical Education
Donna F. Smith, business operations manager for the Department of Human and Organizational Development
From the nomination for Weeks, "As a key member of the team for the Office of Undergraduate Medical Education, Daravanh navigates the many complexities of work that bridges the university and the medical center. She assists with deans and faculty, special projects and the student worker program. But her value is not defined by her main tasks. In fact, her colleagues say that she is the person you need to know on Day One because her creative thinking will always bring a valuable perspective, and she will give it to you straight. Because you can trust her and rely on her. Because she will seek ways to help, even when you don't ask. And because, as her colleagues say, 'Daravanh is our excellence.'"
From the nomination for Smith, "Over the last three years in particular, she has taken on extraordinary challenges that demonstrated her management and interpersonal skills. First, she coordinated the department's move out of Mayborn during remodeling, into the Sony building temporarily, and then back again to Mayborn. Second, Donna helped manage multiple faculty searches for her department—four searches at the same time, with 10 candidates visiting campus in a two-month period. Donna is unflappable, but managing the moves and the searches, and doing so with care and concern for all the individuals involved, was a herculean task. However, she accomplished this task with her usual aplomb and humor. She knows what needs to be done, makes it happen with accuracy and efficiency, and does it all with a warm, welcoming disposition."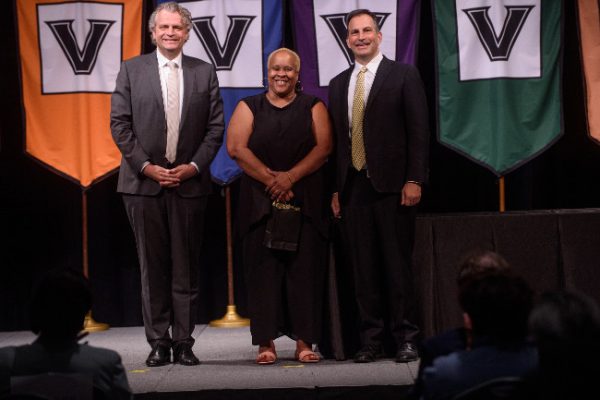 Winners will receive a monetary prize and a keepsake honoring their contribution to the university.