Vanderbilt staff members are engaged in a "noble mission" by virtue of the valuable work they do at the university each day, Chancellor Daniel Diermeier said during his remarks at the 2023 Fall Staff Assembly.
Many attributes make Vanderbilt a desirable workplace—its lush, tree-lined campus, dining amenities, health and wellness benefits and professional development opportunities among them. But the opportunity to do meaningful work while realizing one's full potential is paramount, he said.
"When we contribute our best talents toward our deepest values, we live well," said Diermeier, relaying an idea from the Greek philosopher Aristotle. "We feel intrinsically fulfilled and achieve a state of being that connects us to a higher purpose." At Vanderbilt, that higher purpose is supporting the university's vital missions of transformative education and pathbreaking research, he said.
The fourth annual Fall Staff Assembly was Sept. 21 at the Student Life Center; staff members also had the option to watch the event online. The gathering included the presentation of awards to staff recognizing their many contributions to Vanderbilt's core goals and mission.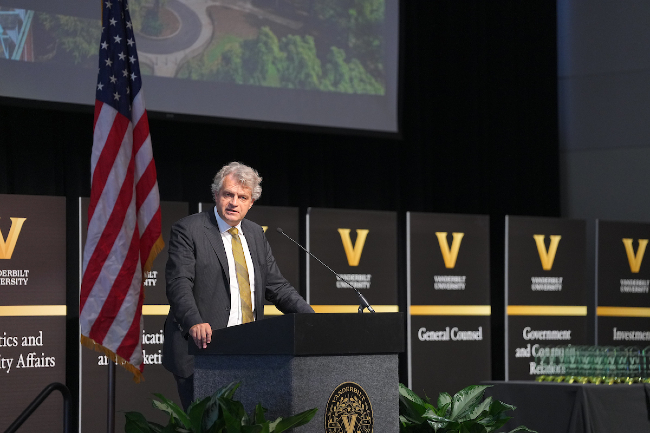 "Our current success and momentum are important because we are living in a time when higher education at large is facing unprecedented challenges and criticism," said Diermeier, who noted that universities are facing disapproval about legacy admissions, philanthropy, how endowments are spent, the future of college athletics and more.
Earlier this week, U.S. News & World Report released its latest Best Colleges rankings, which employed significant changes in methodology from years past. The rankings saw Vanderbilt drop five spots, despite the university being stronger by many measures than at any point in its history.
"At Vanderbilt, we're deeply concerned about the information that students and families rely on to make vital education decisions, and we will work ever harder to track and share the measures that adequately depict our excellence as an institution according to the long-term outcomes of our graduates," Diermeier said.
He also cited the U.S. Supreme Court's ruling in June that race-conscious admissions practices violate the Constitution, saying the decision left him "deeply disappointed" as it makes it more difficult for universities to foster a rich and dynamic campus community.
"A university must be able to enroll the students that allow it to deliver an outstanding educational experience for all—and diversity is essential to dialogue, learning and innovation," he said, adding that Vanderbilt will continue to build diverse incoming classes and create an environment of belonging while complying with the law.
"Diversity, equity and inclusion are also vital priorities in our workplace," Diermeier said. "The broad and varied backgrounds, experiences and perspectives that we enjoy here at Vanderbilt enhance our work and provide avenues of growth for every member of our community."
In June, Vanderbilt launched the search for a new vice chancellor for people, culture and belonging. This expanded role will bring together key operations that affect the staff experience—including hiring, staff development, equal opportunity and access, health and wellness, and more. "It is a commitment by us to create an environment where we are the destination for the most promising staff members, and to create an environment where all of us can realize our fullest potential," Diermeier said.
In addition, Provost and Vice Chancellor for Academic Affairs C. Cybele Raver is working with the schools and colleges to hire more staff to increase EDI touchpoints across campus.
"To that end, I'm pleased to note that Assistant Dean of Residential Colleges and Black Cultural Center Director Rosevelt Noble will become our new associate dean of students for equity, diversity and inclusion beginning Sept. 25," Diermeier said.
Vanderbilt is thriving by every measure, even as higher education on the whole faces significant headwinds. The university is more financially sound than at any point in its history, and 2023 marks its single-largest fundraising year ever. Vanderbilt continues to enroll the most qualified undergraduates and recruit the most accomplished faculty. The university is expanding its presence and impact around the world through increasing global programs and partnerships. And its research enterprises and ability to translate discoveries into real-world applications are flourishing.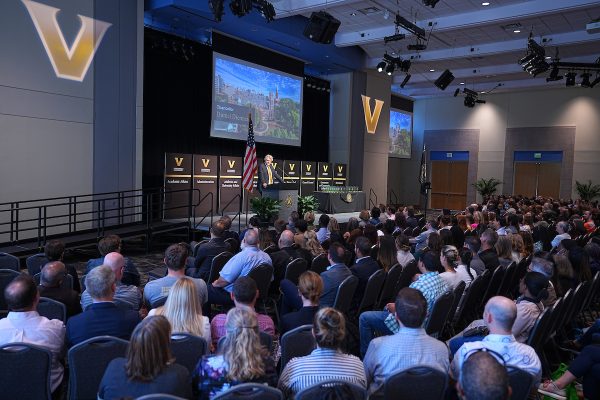 "The criticisms and challenges that higher education is facing … can make our work difficult, but we will not be distracted," he said. "Instead, we are moving forward, living by the courage in our motto, 'dare to grow'—and with utmost faith and commitment in our values, mission and shared purpose. We are steadily heading into a bold new era, and it would not be possible to do what we do so well without our exceptional staff."
Adam McKeever-Burgett, president of the University Staff Advisory Council, moderated the Fall Staff Assembly. The event included remarks from Tamarya Hoyt, vice chair of the Faculty Senate and associate professor of radiology and radiological sciences, and student leader Caleb Boyer, a neuroscience major and member of the Class of 2024. Both offered touching words on how Vanderbilt staff members have contributed to their daily work and lives on campus. Vice Chancellor for Athletics and University Affairs and Athletic Director Candice Storey Lee spoke about how university staff embody teamwork, an essential ingredient in Vanderbilt's success.
The Fall Staff Assembly included Diermeier and Lee presenting a number of awards for staff excellence.
RELATED STORY: Staff excellence recognized at 2023 Fall Staff Assembly