by Jane Sevier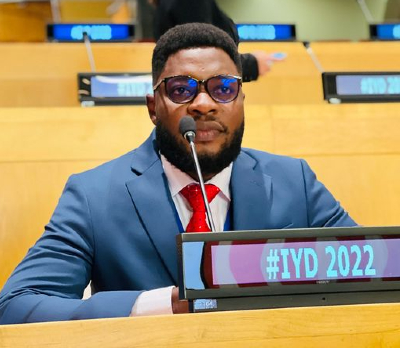 Noel Ifeanyi Alumona, a master's degree student in special education at Vanderbilt's Peabody College of education and human development, is having a banner year. In September, he was one of 26 young leaders from conflict-torn regions who travelled to India to meet with the Dalai Lama. Under the auspices of the United States Institute of Peace Generation Change Program, the group shared their experiences and challenges building peace in their communities.
"As someone who works to end violence against women and girls in Nigeria, I was inspired by meeting His Holiness and these incredible changemakers," Alumona said. "I was reminded that gender-based violence in Nigeria is gender-based violence in Colombia, climate change in Uganda is climate in America, and injustice in Syria and Libya is injustice in South Sudan and Turkey. The hope is that we can use compassion and dialogue to end bloodshed, conflicts, violence and extremism."
In August, Alumona won the AFS Award for Young Global Citizens for his project, Boys Champions, which teaches young boys and men healthy masculinity and how to relate to women respectfully. He is the first African and Nigerian to receive the annual award, which recognizes young people for their commitment to improving the global community. An international nonprofit organization, AFS Intercultural Programs provides intercultural learning opportunities.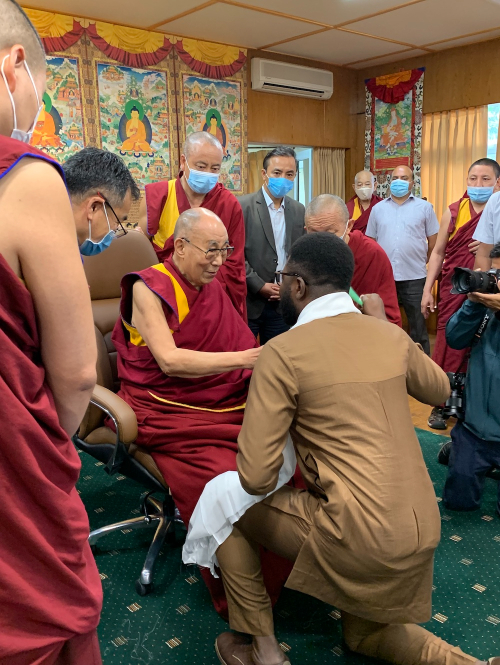 Alumona was presented the award at the 2022 International Youth Day hosted at United Nations headquarters in New York City. The award includes a $10,000 grant to help support Boys Champions.
As an Obama Foundation Fellow in 2018, Alumona says a conversation with President Barack Obama inspired him to found Boys Champions in Nigeria later that year. The organization combats violence against women and girls. Since its inception, Boys Champions has worked with more than 5,200 boys and men through nutrition programs, sports, support groups and volunteer mentors.
At Peabody, Alumona is studying interventions for children and young adults with reading and math disabilities. With government-sponsored support for children with disabilities limited in his home country, he hopes to apply what he's learning to help create resources for those children, to increase professional development for teachers who want to work in special education, and to influence education policy in Nigeria and across Africa.
"Noel's dedication to uplifting marginalized communities in his home country of Nigeria is exemplary," said Joseph Wehby, associate professor of special education and chair of the department. "We are excited that he will be using his Peabody education to improve the lives of children and youth at home."
Alumona's longstanding dedication to helping the vulnerable grew out of his own experiences. He spent his childhood in a Nigerian camp for refugees fleeing the militant insurgents known as Boko Haram's campaign of terror. In the Hausa language, the group's name means "Western education is forbidden." Ten years ago, Alumona founded Hope for African Children to increase access to education for children across Nigeria and the continent. The organization provides books and educational resources to children in rural community schools and internally displaced persons camps, as well as tutoring and literacy support to learning-disadvantaged children.
"Increasing access to equal learning opportunities, resources and teacher development for children with learning, cognitive and physical disabilities is a very important part of what we do at Hope for African Children," Alumona said. "It is a top priority that we must not fail to bring to the attention of policy makers and other leaders."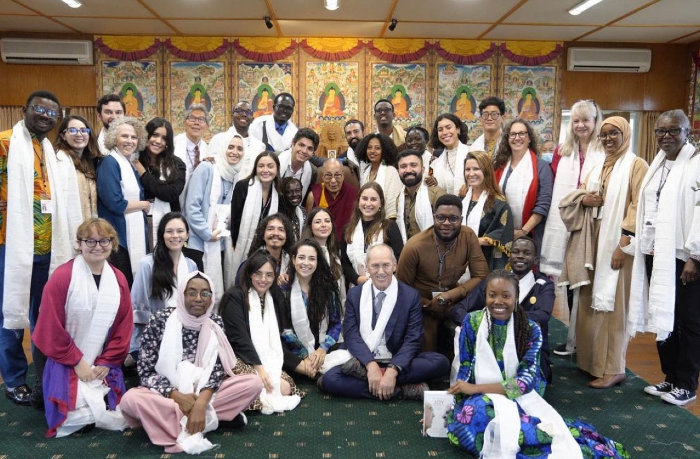 In November, Boys Champions will host an international conference in Eungu State, Nigeria, for young people, leaders and politicians to address the need to increase educational opportunities for Nigerians with learning and physical disabilities. Participants also will discuss youth development and preventing violence against women and girls in his country.
"I come from a very humble background," Alumona said. "I want other people to have the opportunities that I have had. I want to continue to offer my voice to conversations that will inspire change in Nigeria and Africa and across the world. As I always say, Africans will change Africa. I am happy to lead that change from my own community."