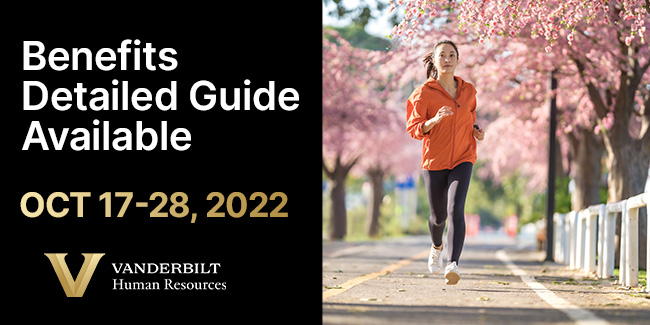 Open Enrollment is your annual opportunity to update or choose the benefits that best meet the needs of you and your family. To ensure enrollment in your desired plans, all benefits-eligible employees must complete Open Enrollment, even if you do not plan to make changes or waive coverage.
Open Enrollment will take place on My VU Benefits between 8 a.m. Oct. 17 and 11:59 p.m. Oct. 28. You can make or change your elections as often as you would like during this time. Keep in mind, elections are saved as you go through each step of the process, even if you do not click all the way through to the confirmation page.
Detailed guide and website available
Get to know your options now in preparation for Open Enrollment. The Open Enrollment website is live with the most up-to-date information for your 2023 benefit options. On the website, you can find helpful information such as:
Consider your choices carefully. Once Open Enrollment ends, changes to your benefits will not be accepted except within 30 days of a qualifying event, such as getting married or having a baby. Benefits selected during the enrollment period will begin Jan. 1, 2023.
What's changed for 2023?
Health Plans
Premiums have increased from 2022.
Please take into account your known pharmacy needs for 2023 while reviewing these plan changes.
Pharmacy
New pharmacy provider: CapitalRx
Participants will be receiving new pharmacy cards.
Well-being 
New vendor Virgin Pulse is an online well-being management and coaching platform with features like:
Supporting meaningful daily interactions;
Offering daily health tips to help members adopt and maintain healthy routines;
Offering reward incentives; and
Motivating members with challenges that drive step increases and/or healthy habit development (members can invite up to 10 people to participate).
Employee Assistance Program
New vendor Lyra, a behavioral health service provider, will expand benefits available to employees.
Lyra includes services for VU employees and adds availability to their spouses and children 2 and older.
The number of EAP sessions provided will increase from four to 12.
After using all available EAP sessions, an employee can continue seeing that provider, as Lyra has agreed to contract with Aetna's network and work with Vanderbilt's insurance plan.
2023 health insurance premiums
2023 monthly health insurance payroll premiums are now available on the Open Enrollment website. If you are paid bi-weekly or weekly, these amounts will be divided equally between your first two or four paychecks of each month. VU's health plan costs for 2023 are projected to increase by 9.5 percent over 2022 due to a number of factors including inflation, utilization changes, new technology/services, the aging of the VU population and more. Providing our employees with affordable benefits is a priority for Vanderbilt. Therefore, instead of requiring employees to share in the 9.5 percent premium increase, the employees' portion will only increase by 3.5 percent over premium costs for 2022, with Vanderbilt covering the remaining premium increase to ensure that sufficient funds are available to pay for 2023 claims costs.
Need help?
Go to vu.edu/oe to learn more about Open Enrollment, review the detailed guides, read the FAQs or schedule a meeting with a representative from the Benefits Team.
Attend the on-campus lab with members of the Benefits Team from 7 a.m. to 5 p.m. Thursday, Oct. 20, in Sarratt, Room 189.
Contact Human Resources 8 a.m.–5 p.m., Monday through Friday, at benefits@vanderbilt.edu or 615-343-4788.