Padma Raghavan has been reappointed in her role as vice provost, and her title has been updated to vice provost for research and innovation, by Provost and Vice Chancellor for Academic Affairs C. Cybele Raver. The addition of "innovation" to Raghavan's title and to the name of the office she leads—now the Office for Research and Innovation—reflects the university's increasing focus on pathbreaking discovery and use-inspired innovation that improves the human condition.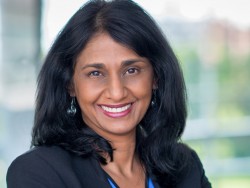 These updates clarify and highlight the university's ongoing efforts to synergize research and innovation, ensuring that faculty- and trainee-led discoveries achieve maximum positive impact in society at large. The newly renamed OVPRI will further support the university's investment in and strategic focus on enhancing its presence, talent and competitiveness for research and innovation funding, as well as in community and private sector engagement and partnerships.
"Vanderbilt will continue our ascent as a global hub of research and innovation, largely because of the exceptional work that Padma is leading," Raver said. "This new title signals her enduring impact as a bold leader who understands the strategic steps required to facilitate highest-caliber innovation and discovery."
Although the title is new, research and innovation have gone hand in hand since Raghavan joined the university in 2016. Along with faculty, OVPRI leadership, the Vanderbilt University Research Council, internal partners including Vanderbilt University Medical Center and external collaborators, Raghavan has advanced multiple groundbreaking partnerships that connect Vanderbilt researchers, scholars and innovators with communities of practice to generate new ideas and launch discoveries in the contexts where they have the greatest impact. Examples include the launch of Ancora Innovation LLC in 2018 with a $65 million commitment from Deerfield Management to support Vanderbilt's cutting-edge biomedical and drug discovery research, as well as an agreement with Army Futures Command to develop a first-of-its-kind model for faculty and trainee researchers to co-innovate solutions to real-world challenges with soldiers.
Research operations and infrastructure that support faculty and trainees across all disciplines also have been strengthened and expanded during Raghavan's tenure through close collaboration with partners across campus. Highlights include the formation of the Ad Hoc Research Ramp-up Working Group to safely bring research back to campus during the COVID-19 pandemic, the implementation of the new Vanderbilt electronic research administration system that supports the submission of approximately 2,000 proposals and acceptance of around 1,000 awards from external sponsors every year and major investments in advanced computing infrastructure for the Advanced Computing Center for Research and Education, the university's premier high-performance computing and storage resource.
"It has been a privilege to advance pioneering research and innovation from our faculty and students over the past several years," Raghavan said. "I look forward to working with our chancellor, provost, deans, VUMC leadership and all our community members and regional partners to take our research and innovation to the next level. Together, we will continue to drive impact with transformative new ideas, products and practices."
The Office of Research and Innovation includes Sponsored Programs Administration, Research Development and Support, the Research Integrity and Compliance Program and ACCRE, as well as the Vanderbilt Brain Institute, the Vanderbilt Data Science Institute, the Vanderbilt Institute of Nanoscale Science and Engineering and the Vanderbilt Institute for Surgery and Engineering. While innovation is an aspect of the entire office, it has pride of place at the Center for Technology Transition and Commercialization and the Wond'ry, Vanderbilt's Innovation Center, which have both seen significant growth since moving into Raghavan's portfolio. The Wond'ry's launched a new incubator space for Vanderbilt-affiliated start-ups, and the CTTC facilitated a quantum leap in material transfer agreements, licensing, new venture development and more.
As an expert in supercomputing, Raghavan also contributes to the advancement of research and innovation as an active member of her field and a thought leader on the national scale. She was named a fellow of the Institute of Electrical and Electronics Engineers in 2013 and currently serves on the Board of Governors of UT-Battelle, as well as advisory groups for the Computing and Information Science and Engineering Directorate and the Office of Advanced Cyberinfrastructure of the National Science Foundation. Raghavan was appointed to the President's Committee on the National Medal of Science in March 2022.
Before joining Vanderbilt in 2016, Raghavan served as the associate vice president for research and strategic initiatives at Pennsylvania State University, where she also was the founding director of the Institute for Computational and Data Sciences and distinguished professor of computer science and engineering.