Cynthia Reinhart-King, Cornelius Vanderbilt Professor of Engineering and professor of biomedical engineering, was among a handful of national experts invited to participate in the White House Summit on Biotechnology and Biomanufacturing on Sept. 14 in Washington, D.C.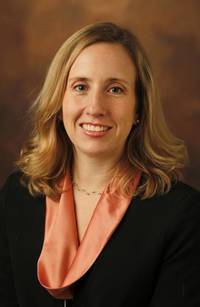 The event, co-led by the National Economic Council, marked the launch of an initiative to develop bio-based solutions to global challenges ranging from food security and climate change to health security and supply chain disruptions. 
Heads of U.S. government agencies and members of Congress, as well as leaders from industry, academic institutions and nongovernmental organizations—representing a range of bio sectors and regions—attended the summit. The panel comes on the heels of two major federal initiatives: the signing of the CHIPS and Science Act of 2022, which provides billions of dollars in new funding to boost domestic research and manufacturing of semiconductors in the U.S.; and the creation of Advanced Research Projects Agency for Health at the National Institutes of Health, which will fund high-risk, high-reward, use-inspired biomedical and biotechnology research.  
"The significant investment this administration is making in biotechnology and the bioeconomy is a landmark and will ensure that the U.S. continues to lead in technological and manufacturing innovation," said Reinhart-King, who is also senior associate dean for research at the School of Engineering. "I look forward to continued discussions and engaging in bio-based research that benefits all Americans and addresses the global issues we face today." 
Reinhart-King, a cellular bioengineer who is president-elect of the Biomedical Engineering Society, has contributed to scientific breakthroughs in understanding tumor formation. She was one of the first to show how the matrix, or the noncellular glue in all tissues and organs, can stiffen when a tumor forms, promote tumor growth and interfere with the effectiveness of cancer treatments.  
Padma Raghavan, Vanderbilt's vice provost for research and innovation, said Reinhart-King's invitation to take part in the summit speaks to her high standing in the field and offers recognition of her pathbreaking research.   
"In the last year alone, Vanderbilt has committed over $60 million dollars to advance bioscience and biotechnology solutions with significant investments on the horizon to drive Vanderbilt's transformative national model for bio-based innovation," Raghavan said. "Vanderbilt's investments demonstrate the power of universities to produce cutting-edge biotech and biomanufacturing research with high economic and social impact, addressing global challenges in health security, national defense and climate change."