Media Inquiries
Latest Stories
Dr. Nancy Carrasco, Joe C. Davis Professor of Biomedical Science and professor and chair of molecular physiology and biophysics, has been named a 2023 Biophysical Society fellow. The Biophysical Society honors members who have demonstrated excellence in science and contributed to the expansion of biophysics.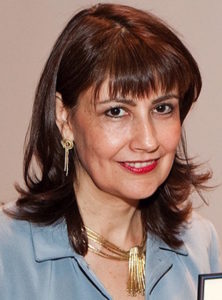 Carrasco is an internationally recognized scientist known for her study of membrane transporters. Carrasco's findings have had a significant impact on molecular endocrinology, gene transfer, diagnostic imaging, cancer therapy and public health.    
Carrasco was honored for her groundbreaking research on the structure, function and regulation of the sodium/iodide symporter (NIS). She was the first to isolate the coding DNA for NIS, the iodide transporter protein that pulls iodide from the bloodstream into the thyroid gland. Iodide is required for the production of thyroid hormones, which regulate metabolism in almost all tissues and are vital in the development and maturation of the nervous system, skeletal muscles and lungs.  
"Nancy Carrasco's election as a Fellow of the Biophysical Society is the latest tribute to the breadth and importance of her scientific contributions," said Lawrence Marnett, dean of the Vanderbilt University School of Medicine Basic Sciences and Mary Geddes Stahlman Professor of Cancer Research. "Her work on the iodide transporter and its role in thyroid function elevates our understanding of membrane biophysics, physiology, medicine and public health. We are so fortunate to have her as a member of the School of Medicine Basic Sciences faculty and as the leader of one of Vanderbilt's premier departments." 
The BPS Fellows will be honored at the BPS' 67th Annual Meeting, which is in San Diego, California, Feb. 18–22, 2023. 
Carrasco has received numerous national and international awards, including the Pew Scholars award in the Biomedical Sciences, an Arnold and Mabel Beckman Foundation award, the Maria Sibylla Merian Prize (Germany), the Merck-Serono Prize from the European Thyroid Association (Poland), the Noun Shavit Award in Life Sciences (Israel), and a Light of Life Foundation award. She has served as president of the Society for Latinoamerican Biophysicists and was elected to the National Academy of Sciences in 2015.  In April 2022, Carrasco was elected to the American Academy of Arts and Sciences. 
Carrasco received her M.D. and master's degree in biochemistry from the National Autonomous University of Mexico and completed her postdoctoral training at the Roche Institute of Molecular Biology. She was a member of the faculty at Albert Einstein College of Medicine and Yale School of Medicine. Carrasco joined Vanderbilt in 2019. 
About the Biophysical Society
Since 1958, the Biophysical Society has worked to enhance development and dissemination of knowledge in biophysics. The society connects a global community of more than 7,500 scientists who conduct research to help cure disease, solve biological problems and discover basic scientific insights.