A team of Vanderbilt engineers has completed a collaborative project with the 101st Airborne Division at Fort Campbell to design and test a first-of-its-kind exoskeleton that supports U.S. Army soldiers participating in sustainment and logistics operations. The exoskeleton—the Soldier Assistive Bionic Exosuit for Resupply, or SABER—is being prepared for manufacturing and commercialization by HeroWear and for field use by the Army.
This work is part of the Pathfinder Project, one avenue for advancing the Army Futures Command's modernization goals. The U.S. Army Combat Capabilities Development Command, or DEVCOM, leads the program, which supports the innovation of soldier-inspired, mission-ready and research-based technologies.
Last year, Associate Professor of Mechanical Engineering Karl Zelik received a one-year, $1.2 million investment from DEVCOM and the Civil-Military Innovation Institute Inc. The funding supported collaboration with soldiers of the 101st Airborne Division to develop SABER.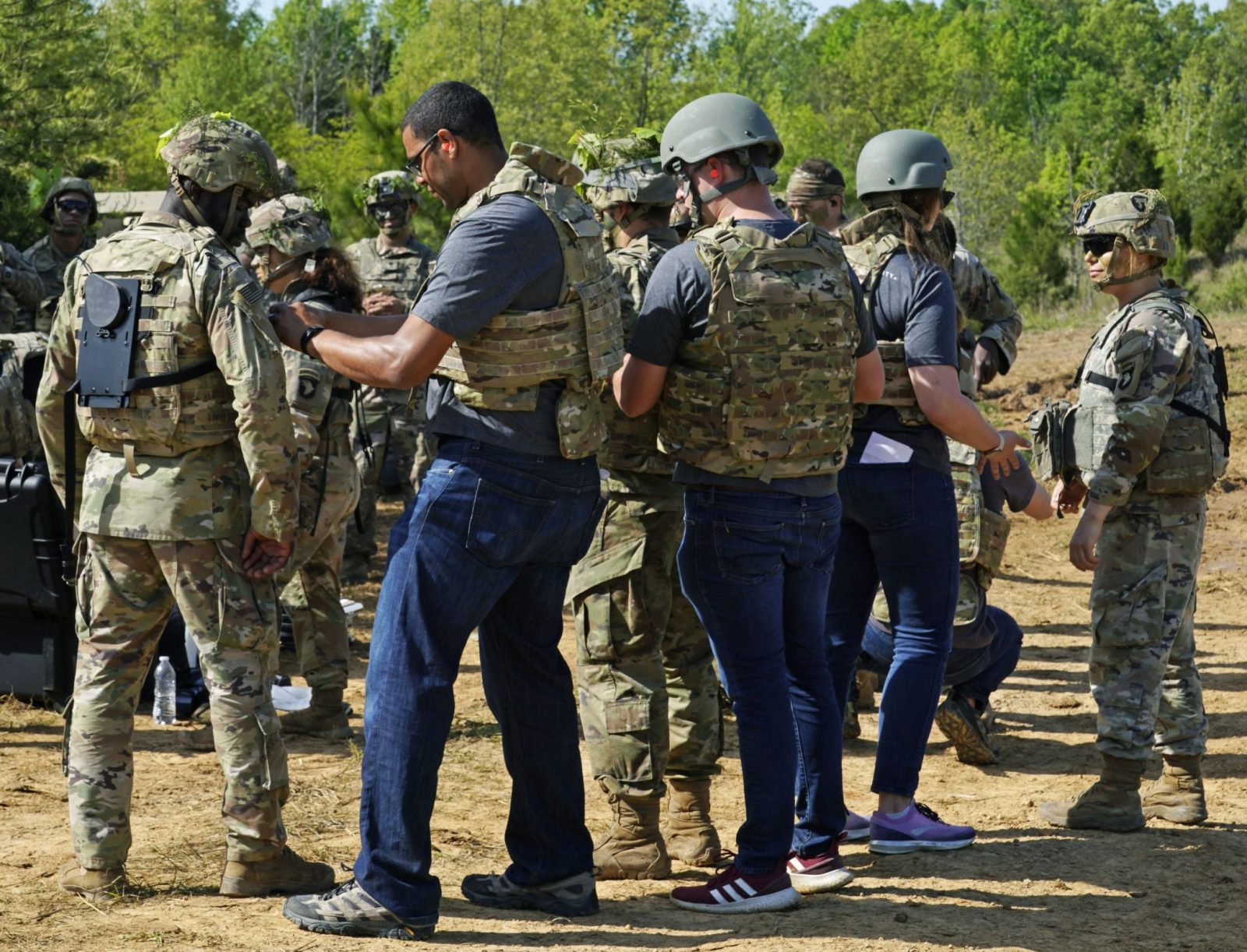 "This bottom-up, soldier-centered approach and the exosuit design itself are huge departures from previous exoskeleton attempts that failed to meet soldier needs or achieve Army adoption," Zelik said. "We spent the first few months focused on interviewing, observing and spending time with soldiers. We didn't try to create Iron Man—a complex, full-body, rigid, unrealistic suit. Instead, we started by deeply understanding soldier needs to develop a lightweight, low-profile, nonpowered wearable tool that helps provide much-needed assistance without slowing soldiers down or interfering with other operational tasks." 
Biomechanical evaluations revealed that the three-pound suit reduced stress on soldiers' backs by more than 100 pounds while lifting. Additionally, most soldiers increased their endurance by over 60 percent while wearing SABER. An overwhelming 90 percent of soldiers surveyed after operational field testing in May 2022 believed the exosuit increased their ability to perform job tasks, and all of them reported that they would be likely to wear it for their job if it were made available to them. 
"We've been out here practicing fire missions, preparing for shooting live rounds, doing multiple emplacements, lifting the howitzer, moving it four to five times per day, and just digging in deep for defense posture," said Sgt. Alfredo Vela, 101st Airborne Division, 3-320th Field Artillery, 13B. "The suits have really been helping, especially on the lower back area with all the heavy lifting we've been doing. I really appreciate it, knowing that there is an exterior force out of the military that is designing this equipment to help us better ourselves and do our job better." 
The exosuit is now being transitioned from research and development at Vanderbilt into manufacturing and commercialization by HeroWear. In May 2022 the DEVCOM SC began funding HeroWear to continue collaborating with soldiers to refine SABER and prepare it for additional field evaluations and mass production. HeroWear, where Zelik serves as chief scientific officer, will build updated prototypes for soldiers later this year. 
"SABER is the perfect example of how Vanderbilt researchers extend our culture of collaboration beyond the university by working with internal and external partners to catalyze new ideas and advance pathbreaking discoveries," said Vice Provost for Research Padma Raghavan. 
Before receiving Pathfinder funding to develop SABER, Zelik's team began working with soldiers in 2019 after Vanderbilt signed the first education partnership agreement with Army Futures Command. Then, as part of Pathfinder, soldiers engaged in frequent interviews, design sprints and field tests, identifying critical problems hindering their daily duties in the field.  
Physical overexertion stood out as a problem in need of a rapid solution. Soldiers worked alongside Vanderbilt researchers, engineers, technology translation experts and other military partners to co-develop and test SABER prototypes. After 12 months of iterative development, Zelik's team completed their first end-of-year evaluations of SABER with about 25 soldiers at three Army bases:  
Fort Campbell for ergonomics and performance testing

 

Fort Sill to demonstrate capabilities for the Long-Range Precision Fires Cross-Functional Team and the Fires and Sustainment Capability Development Integration Directorates, which are each leading a modernization effort of Army field artillery and equipment

 

Fort Knox for operational field testing during live fire exercises with the 3-320th Field Artillery 

 
During the past year, more than 100 soldiers participated in designing and testing the exosuit. Soldier feedback on SABER's efficacy, in combination with prior scientific validation, is encouraging, as Army soldiers are diagnosed with 460 back overuse injuries every day, according to the U.S. Army Public Health Center. Low back injuries result in more than one million lost or limited duty days for soldiers each year. 
"It felt really great. A lot of support, especially on the back," said Spc. Marrero Rivera, 101st Airborne Division, petroleum supply specialist, 92F. "I felt way safer… It will help me prevent future injuries…I'm part of a distribution unit where we move ammo and that kind of stuff. So this is definitely something we could really use, especially for lifting boxes, hoses and all the other heavy equipment that we are constantly moving."
Back injuries are just one concern that the Army is addressing with Vanderbilt researchers. Another is the impact of aircrafts' percussive forces on the performance and health of soldiers, investigated by Tonia Rex, professor of ophthalmology and visual sciences, with support from Pathfinder seed funding. These two projects are the tip of the Pathfinder iceberg at Vanderbilt. Several teams of trans-disciplinary researchers, soldiers and industry partners are collaborating on additional projects to pioneer technologies that could benefit both soldiers and civilians, advancing the complementary missions of Army Futures Command and Vanderbilt to further modernize the U.S. Army and improve the human condition.