Media Inquiries
Latest Stories
The inaugural Tennessee Smart Mobility Expo brought the Vanderbilt Office for the Vice Provost of Research and Innovation, Government and Community Relations and university faculty and students together with transportation policy leaders, manufacturers, representatives from mobility technology and service companies, as well as regional academic research and workforce development institutions.   
The three-day expo, hosted by TennSMART, was a public showcase of the latest technologies and solutions for mobility, secure grids and cyberphysical systems, sustainable infrastructure and automotive materials, smart cities and resilient communities, and innovative workforce development and upskilling being developed, built and deployed in Tennessee. In addition to the three Vanderbilt faculty members who spoke at the event, Vanderbilt faculty, trainees and staff representing diverse disciplines from Civil and Environmental Engineering to Psychology and Human Development were present in force to showcase their cutting-edge mobility, infrastructure, sustainability and resilience innovations for regional growth as well as to connect with public and private sector collaborators from across the state. 
A jump change in traffic on I-24
Dan Work, associate professor of civil and environmental engineering and computer science and the faculty affiliate of the Institute for Software Integrated Systems, spoke about Vanderbilt's leadership in the I-24 MOTION project—the first open road testbed of its kind made possible thanks to significant funding and vision from the Tennessee Department of Transportation and industry collaborators. The goal of this real-world, equitable mobility testbed is to deliver unprecedented levels of data to improve traffic flow along one of the busiest stretches of Interstate 24 in Nashville.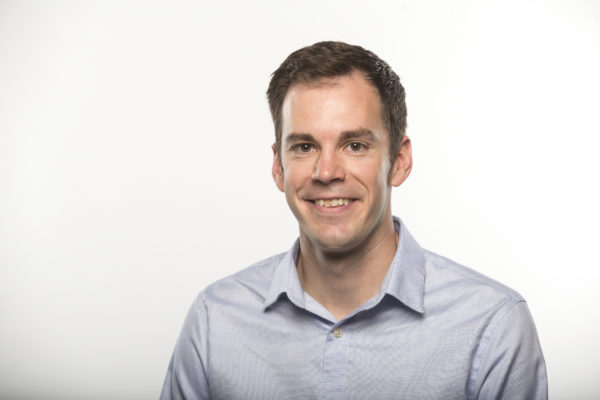 The project uses more than 300 ultra-HD (4K) sensors to anonymously and constantly capture the behavior of all vehicles on the interstate and to measure how drivers and automated vehicles interact on the road, separately and together.  
Among the first users of I-24 MOTION data will be the Congestion Impacts Reduction via CAV-in-the-loop Lagrangian Energy Smoothing (CIRCLES) team co-led by Work. CIRCLES, funded by the U.S. Department of Energy's Office of Energy Efficiency and Renewable Energy, will soon drive a fleet of 100 Nissan vehicles with adaptive cruise control along the interstate to explore the future of rush hour traffic with high-tech vehicles on the road in the largest real-world test of its kind ever undertaken. 
Building a resilient Nashville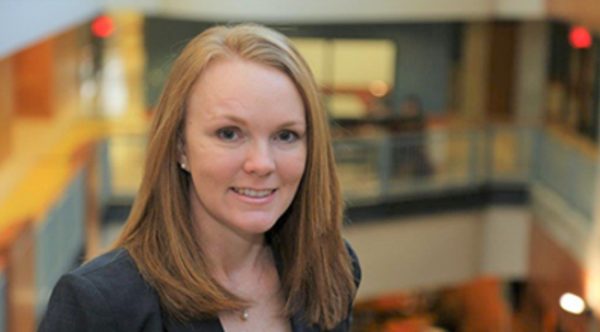 Janey Camp, director of the Vanderbilt Engineering Center for Transportation and Operational Resiliency (VECTOR), gave a presentation that highlighted a selection of mobility, energy, and connected community projects underway at Vanderbilt, many conducted in partnership with entities across the state and region. "We are using the Vanderbilt campus as its own testbed within the city, with the option that projects can be broadened to the greater Nashville area, other cities or campuses, and even large industrial campuses," said Camp, also research professor of civil and environmental engineering. 
Camp's specialty is in planning responses to disruptive events and potential failures in existing infrastructure systems. With new noninvasive infrastructure testing, Vanderbilt researchers can identify weak spots in levees to conduct preventative maintenance. An ongoing Vanderbilt collaboration is looking at inland waterway efficiencies, culminating in a national port resilience guide funded by the Department of Homeland Security Coastal Resilience Center of Excellence. "This work can be transferred to flood and transportation infrastructure, or other systems requiring high-level analysis," Camp said. "Reviewing what infrastructure looks like avoids subjecting people to potential hazards." 
Faculty, representatives from the Office of Research and Innovation and the Office of Government and Community Relations share mobility, smart city, community resiliency, and transit technologies and solutions being developed, built and deployed by Vanderbilt and throughout the region and build connections for future collaborations.
Developing our region together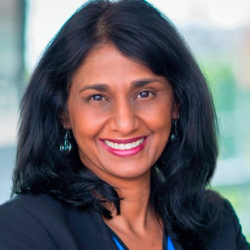 "Radical collaboration not just across disciplines within Vanderbilt but with our partners in the private and public sector from TDOT to University of Tennessee is the key to advancing pathbreaking solutions to critical challenges in mobility," said Padma Raghavan, vice provost for research and innovation. "We're so grateful to all our partners for their deep engagement, and so excited to continue working together to generate tangible societal and economic benefits for Tennesseans."
Raghavan participated in the panel "A Roadmap for Tennessee" with colleagues from University of Tennessee, Oak Ridge National Laboratory and TennSmart, the Tennessee Valley Authority, and Launch Tennessee, during which she shared Vanderbilt's role in creating a workforce development pipeline and research innovations to support the future of mobility and related industries in the state. Raghavan articulated not only how Vanderbilt faculty and the Office for Research and Innovation work to establish and contribute to research partnerships that add value across the mobility, resilience and sustainability spaces, but also highlighted the importance of continuing to develop strong innovation partnerships across the state and region at this unique moment in time, when our community faces once-in-a-lifetime challenges as well as opportunities.