Dan Work, associate professor of civil and environmental engineering, leads the technical element in collaboration with Vanderbilt, the Tennessee Department of Transportation, and transportation consulting firm Gresham Smith to build the smartest roadway in the world along a six-mile stretch of I-24.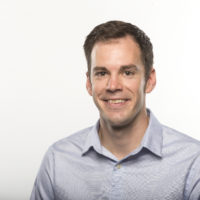 The project, called I-24 MOTION, will use over 300 ultra-HD (4K) cameras to anonymously capture every minute behavior of all vehicles on the road.
"We want to measure how drivers and automated vehicles interact on the road, separately and together," said Work, also a 2021 Chancellor Faculty Fellow. "This research will help make the world's roadways smarter and safer, with the initial research conducted right here in Tennessee. Beyond the thrill of participating in this never-before-attempted project, we are confident that this work will attract the attention of automakers and contribute to the region's economy."
Video feeds will be transmitted over a fiber-optic network and processed through custom artificial intelligence trajectory algorithms developed by Work and his team. The algorithms will process vehicle positions at over 30 measurements per second and use 3D image processing to give the most accurate measure of a vehicle's position.
"This groundbreaking understanding of traffic is more important than ever due to the increasing automation capability of individual vehicles, which are beginning to influence traffic flow through their interactions with conventional vehicles," Brad Freeze, director of TDOT's Traffic Operations Division, said in a release. "By unlocking a new understanding of how these vehicles influence traffic, vehicle and infrastructure design can be optimized to reduce traffic concerns in the future to improve safety, air quality, and fuel efficiency."

Installation of the cameras began this summer and is expected to be complete and fully operational by summer 2022. The first testbed user will be the U.S. Department of Energy and National Science Foundation-sponsored research with the CIRCLES Consortium, which will study the possibility of smoothing traffic by introducing vehicles equipped with advanced driver-assist systems. Complementary congestion management technologies are being installed by TDOT along this same section of the interstate as part of the I-24 SMART Corridor project.
The project and its associated research are funded by the National Science Foundation, the U.S. Department of Transportation, the Department of Energy, the Tennessee Department of Transportation, and the Federal Highway Administration.