By Melinda Rogers
For Vanderbilt  scholar Anna Novosad, there is no reprieve from the worry and angst that accompany each passing day in war-torn Ukraine. A Hubert H. Humphrey Fellow who previously served as her country's minister of education and science, Novosad has worked tirelessly to bring her fellow citizens to safety and organize resources for communities trying to survive the Russian invasion. 
All the while, she has seen her own share of terrors—from missiles raining down on Kyiv, where she'd returned to visit her parents and family just days before Russian troops invaded, to the mad scramble to connect with her brother, sister-in-law and their children as they fled to safety at the Polish border before tanks bombarded their city. 
She already has experienced the loss of close friends and colleagues, some who took shelter in areas where Novosad never imagined the Russian military would strike. The list of those whose lives are forever changed by the invasion keeps growing. 
"It still feels very surreal and hard to believe. I cannot cry. I cannot. You feel so stonewalled because your brain cannot grasp the things going on," Novosad said. "Evil has to be named when it happens. If the world does not acknowledge that the war is a cruel genocide, it will happen in another country because that is the evil that war has the potential to be."  
An educational leader caught in the crossfire
It has been more than 100 days since Russian troops invaded Ukraine on Feb. 24, 2022. 
Since then, daily reminders of the atrocities of war come with newly posted headlines and grisly images of civilians and soldiers killed on the front lines of war. 
The Office of the United Nations High Commissioner for Human Rights estimates a total of 4,169 civilian deaths during Russia's military attack on Ukraine as of June 1. The number includes 268 children. 
The invasion has caused Europe's most overwhelming refugee crisis since World War II, with approximately 12.8 million Ukrainians displaced and millions fleeing the country, according to the OHCHR.  
In the lead-up to the invasion, Novosad informed Vanderbilt administrators that she needed to make a trip home to connect with family as threats from Russia kept Ukrainians on high alert. Still, she never imagined the scenes she'd witness when Kyiv became under siege. 
"No one really believed that the attacks on the capital were possible," she said. "But that morning, we woke up and the missile attacks were all over the place. At that point, we thought, 'This is beyond our wildest dreams.' And since then, thousands of Ukrainians have been killed by Russians in the most gruesome and violent ways." 
Previous humanitarian work experience prepared Novosad for navigating how to procure emergency supplies in the early days of the war, allowing her skills in community organizing to find a positive outlet as Ukraine defended itself. She worked connections both in and out of Ukraine to funnel supplies to people in need. Tracking down food, diapers, medicine, hygiene products, and fuel for those stuck in hourslong traffic jams trying to reach the border for safety were common demands. She also assisted in coordinating the evacuation of people who didn't know how to leave dangerous areas or where to go.  
The days were grueling and unpredictable. The outcomes of her efforts meant the difference between life and death for many. 
"Day by day, we'd sit and reach out to whoever in the region could contact us and ask what they needed. Someone would need a generator—and we would reach out and buy it and coordinate a way to get it to them. Others would need help getting evacuated from a city under artillery fire," Novosad said. "And we'd say, 'OK, we can try to get you out of there.' We would try to arrange shelter. We were procuring thousands of mattresses a week and sleeping bags for people so they could have a place to sleep." 
Novosad eventually turned her efforts from the basics of survival to finding education opportunities for students who abruptly stopped attending school because of the attacks. She created learning rooms in areas where students could convene safely, giving students a space outside of huddling in a bomb shelter all day. 
Building continuing sources for education in Ukraine as the country battles to regain its infrastructure is her new goal. She is determined to find a path forward for the people in Ukraine who need an education as the country fights to maintain its independence. 
One day students surviving this dark chapter of Ukraine's history will want to educate others on how to never repeat current events, she said. And within that painful reality there is hope for brighter days. 
A chance to help from Vanderbilt's campus
Novosad returned to Vanderbilt this spring with mixed feelings about leaving Ukraine. She'd spent February, March and April with a front-row seat to the war, staying months past the original two-week visit home that she'd planned.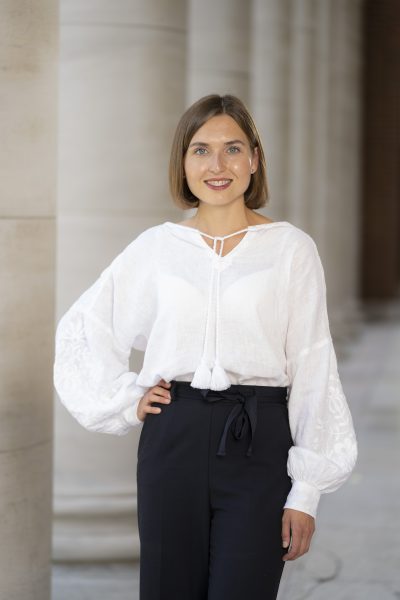 Although she didn't want to leave those who needed her aid, she saw an opportunity to assist in rebuilding efforts from afar by returning as part of the cohort selected for the Hubert H. Humphrey Fellowship Program at Peabody College of education and human development.  
As days working on the resistance turned into weeks, Novosad realized the war would not be over soon. She gave herself permission to return to the U.S. and work on supporting Ukraine from Vanderbilt's campus. 
"I'm going to return to the U.S.," Novosad told herself in the spring, "to finish my program, but also to try to mobilize the resources that are available here to help the situation, including the renovation and rebuilding of the country."
Now her emphasis is on finding donors for scholarships and working to rebuild an education system that will help Ukraine get its students back on track. She's sharing her personal story with others as a way to bring awareness to the brutality of the war and the many challenges that Ukrainians will face while recovering.  
The transition back to campus wasn't easy for Novosad at first. As other Humphrey Fellows celebrated the end of an academic year and embarked on summer adventures, Novosad's heart felt heavy. She thought of those back home who wouldn't get the opportunity to observe normal milestones or enjoy a gathering with friends. 
Turning her sadness into action at Vanderbilt helped to keep her going. Novosad's courage is admirable and her contribution to the Peabody community highly valued, said Xiu Cravens, associate dean for international students and affairs at Peabody. 
Cravens noted that prior to returning home and delivering humanitarian aid in a war zone this past semester, Novosad joined courses and participated in campus events, sharing her experiences with faculty, students and her Humphrey cohort at Vanderbilt.  
"We appreciated her insight, her perspective and her critical thinking," Cravens said. "Her experiences are helpful for all of us. She is a great example of what educational leaders who are selected as Hubert H. Humphrey fellows bring to the university."  
A fellowship that opens doors for international students
The Hubert H. Humphrey Fellowship, a Fulbright exchange program, brings accomplished educational leaders from developing nations and emerging democracies to the United States for an academic year to study, gain related professional experience, build their leadership capacity and foster mutual understanding. Humphrey Fellows are selected based on their potential for leadership and their commitment to public service in either the public or private sector. 
Novosad came to Vanderbilt in fall 2021 with experience working on international projects, including leading school inspection reform in the Canada-funded project Support to Ukraine's Reforms for Governance. In addition to her former role as Ukraine's minister of education and science, she has served as head of the strategic planning directorate and head of international cooperation and European integration within the country's education and science ministry.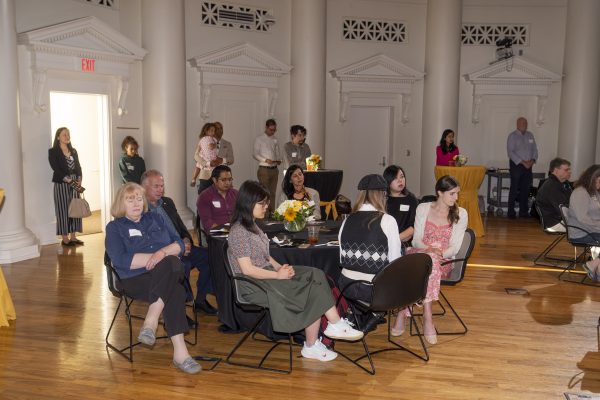 She earned a master's degree in analyzing Europe from Maastricht University , funded by the Open Society Foundation Scholarship, and a bachelor's degree in political science from the National University of Kyiv-Mohyla Academy . She was selected to participate in the Canada-Ukraine Parliamentary Program , the International Visitor Leadership Program , funded by the U.S. State Department, and to attend the Aspen Institute Central Europe in 2020. She also was awarded the "30 under 30" award by the Kyiv Post in 2019, which honors the top 30 young Ukrainian leaders. 
Her research passions include closing the achievement gap between socioeconomic groups and the rural/urban divide. Finding ways to diminish social inequalities that impact education and discovering responses that work toward equity, as well as learning about effective policies that can be used to establish a network of innovative, high-quality private schools in Ukraine, were her top priorities when arriving at Vanderbilt. 
Novosad's story of navigating war in her home country while trying to complete a fellowship is somewhat unique to the program, although other fellows also come from countries where there is a history of turbulence, leaving them to navigate difficult personal circumstances while focusing on their research abroad, Cravens said. 
Vanderbilt takes special care to address each case of its scholars and students, offering resources as needed, which the university did with Novosad during her time in Ukraine. Nancy Dickson, program director for the Hubert H. Humphrey Fellowship Program at Vanderbilt, regularly corresponded with Novosad to track her challenges and offer support. 
"I think especially in today's geopolitical landscape, so much is happening and there is lots of instability," Cravens said. "Long term, as much as possible, if we can create dialogues, create conversations and have a deeper understanding of the history and the common challenges we face, the more likely we can be a part of the solution." 
An uncertain future
Novosad has returned to Ukraine after completing her fellowship year. Exactly what awaits her is unknown. 
Bringing curriculum ideas will be part of the solution. Rebuilding schools, many of which Novosad learned were ransacked by Russian soldiers who stole desks and other classroom materials as a way to dismantle communities, will take more time.  
There's also managing the grief. 
Novosad's research partner, Mark, was killed in a small town near Kyiv while Novosad was still in Ukraine. The loss of her friend, who was a trusted colleague in her education research initiatives, has been devastating.  
"We managed to recover the bodies and had a funeral," Novosad said. She paused, considering the work the two left unfinished that they'd both aspired to accomplish before the invasion began. 
She wants to complete the vision they started together to improve education in Ukraine. 
"We will do whatever it takes to renew access to education quickly," Novosad said. "To make sure we don't have a lost generation of children." 
Learn more
Vanderbilt Peabody College of education and human development will host a conversation with Anna Novosad, a 2021-22 Hubert H. Humphrey Fellow at Vanderbilt and former minister of education and science in Ukraine, on June 23, at 11 a.m. CDT via Zoom.
The Vanderbilt and broader Nashville community is invited to learn about Novosad's experiences assisting in Ukraine's resistance against Russia and mobilizing resources to rebuild the education system. To register, RSVP here.