Luis A. Leyva, assistant professor of mathematics education at Vanderbilt Peabody College of education and human development, has been recognized by Out to Innovate as the 2022 LGBTQ+ Educator of the Year. 
Leyva's significant impact on STEM students through teaching, counseling, advocacy and role modeling earned him the award from Out to Innovate, a professional society for LGBTQ+ people working in science, technology, mathematics and engineering, formerly known as the National Organization of Gay and Lesbian Scientists and Professionals.
"It's exciting to see Luis Leyva honored for his impact on LGBTQ+ students in STEM," said Camilla P. Benbow, Patricia and Rodes Hart Dean of Education and Human Development. "Professor Leyva's mentoring and research, which addresses sexuality and gender, as well as race, is opening avenues into the STEM disciplines for long marginalized groups. This recognition is well deserved."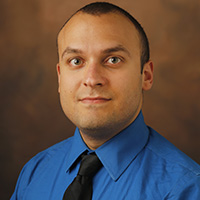 Leyva's continued impact on his mentees, colleagues and the broader research community was reflected in his letters of nomination for the award, the organization stated. One student said of Leyva: He "demonstrates humanizing and empowering support for LGBTQ+ students in STEM that has changed my understanding of what mentorship can be."  
Leyva's research explores narratives of oppression and resistance from historically marginalized student populations in undergraduate STEM across intersections of racial, gender and sexual identities. His research aims to inform educational practices that promote equitable learning opportunities and underrepresented populations' persistence in STEM.  
His recent research explores the lived experiences of LGBTQ+ students of color in STEM majors across historically white and minority-serving universities. In a forthcoming article to appear in the American Educational Research Journal, Leyva and his research team present findings from a study about the experiences of oppression and agency among undergraduate Black queer students in STEM majors. This study evolved from a larger project about LGBTQ+ college students of color in STEM funded by the Peabody Small Grants for Research initiative. His latest article published in the Journal of Women and Minorities in Science and Engineering proposes a research agenda in STEM higher education to better understand and inform inclusive practices for LGBTQ+ students of color through curriculum, instruction and student support.  
Leyva, who came to Vanderbilt in 2016, is the director of the PRISM (Power, Resistance and Identity in STEM Education) Research Lab at Peabody College. The lab's research holds an "intersectional prism" up to historically marginalized populations' narratives of experience to both illuminate and disrupt multidimensional forms of oppression in undergraduate STEM education. He is a member of the Vanderbilt LGBT Policy Lab, one of six interdisciplinary programs awarded funding from the university's Trans-Institutional Programs initiative for 2020. Leyva has served for multiple years as the faculty facilitator for LatinQ, an affinity group through the Office of LGBTQI Life at Vanderbilt that brings together queer Latinx members of the university community to share resources, build community and further explore intersectional identities. 
Leyva was named a 2020 Postdoctoral Fellow by the National Academy of Education/Spencer Foundation and received the 2018 Early Career Publication Award from the Research in Mathematics Education special interest group of the American Educational Research Association. With funding support from the National Science Foundation and Spencer Foundation, Leyva also conducts research examining issues of racial and gender equity in classroom instruction to disrupt the role of undergraduate calculus as a gatekeeper to STEM majors for historically marginalized student populations. His research has been published in Cognition and Instruction, Harvard Educational Review, The Journal of Higher Education and Journal for Research in Mathematics Education. 
Before joining the Peabody faculty, Leyva was certified as a K-12 mathematics teacher in New Jersey. His professional experience includes six years in higher education programs, including STEM living-learning communities and the Upward Bound Math and Science summer bridge program, which is designed to foster STEM success among historically underrepresented groups. He earned a bachelor's degree in mathematics and master's and doctoral degrees in mathematics education from Rutgers University.