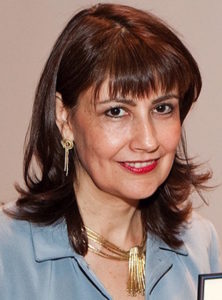 The American Academy of Arts and Sciences announced today that Dr. Nancy Carrasco, Joe C. Davis Professor of Biomedical Science and professor and chair of molecular physiology and biophysics, has been elected as one of its new members. Carrasco was elected to the National Academy of Sciences in 2015 and to the National Academy of Medicine in 2020.
Carrasco is an internationally recognized scientist known for her study of membrane transporters. Her pioneering research has had a significant impact on numerous fields, including molecular endocrinology, gene transfer, diagnostic imaging, cancer therapy and public health.  
"I offer my warmest congratulations to Professor Carrasco on this prestigious and much deserved honor," Chancellor Daniel Diermeier said. "In making extraordinary contributions toward the study of membrane transporters and how they affect public health, she has advanced the good of both our university and society as a whole. Vanderbilt is fortunate to have her as an ambassador." 
Carrasco was the first to isolate the coding DNA for NIS, the iodide transporter protein that pulls iodide from the bloodstream into the thyroid gland. Iodide (a form of the element iodine) is required for the production of thyroid hormones, which regulate metabolism in almost all tissues and play crucial roles in the development and maturation of the nervous system, skeletal muscles and lungs. Infants who do not have the correct levels of thyroid hormones may have impaired cognitive development and intellectual disability. 
Carrasco's findings also include key mechanistic details about how the protein works, that it actively transports the pollutant perchlorate, and that it is functionally expressed in lactating breast tissue and in breast cancer. Her studies have suggested that NIS-mediated transport of radioactive iodide—a mainstay in the treatment of thyroid cancer—might be a useful therapy for breast cancer. 
"I am delighted that Professor Carrasco has earned this important recognition," said C. Cybele Raver, provost and vice chancellor for academic affairs. "Her election attests to our collective excellence as a university and research institution as the number of Vanderbilt faculty in the American Academy of Arts and Sciences continues to grow across disciplines." 
Carrasco is among AAA&S's 261 new members in 2022. She joins 17 current or former Vanderbilt faculty members who have been elected in the past. 
Founded in 1780 by John Adams, John Hancock and other leading figures of the American Revolution, AAA&S is one of the country's oldest and most distinguished honorary societies. In addition to recognizing the scholarly work of its members, it serves as an independent research center, convening leaders from across disciplines to address significant challenges.  
"This is a great tribute to the impact of Dr. Carrasco's research contributions," said Lawrence Marnett, dean of the Vanderbilt University School of Medicine Basic Sciences and Mary Geddes Stahlman Professor of Cancer Research. "She not only elucidated how iodine is transported across biological membranes in precise molecular detail, she also discovered that certain environmental pollutants block the transport. Since iodine is critical for thyroid hormone formation, her discoveries have profound physiological and pathophysiological significance. She is a wonderful colleague, and we are very fortunate to have her as a member of our faculty."   
Carrasco has received numerous national and international awards, including a Pew Award in the Biomedical Sciences, the Beckman Young Investigators Award from the Arnold and Mabel Beckman Foundation, the Maria Sibylla Merian Prize (Germany), the European Thyroid Association's Merck-Serono Prize, the Noun Shavit Award in Life Sciences (Israel), and a Light of Life Foundation award. She also has served as president of the Society of Latin American Biophysicists. 
Carrasco received her M.D. and master's degree in biochemistry from the National Autonomous University of Mexico in her native Mexico City and completed her postdoctoral training at the Roche Institute of Molecular Biology. Before joining Vanderbilt in 2019, she was a member of the faculty at Albert Einstein College of Medicine and Yale School of Medicine.