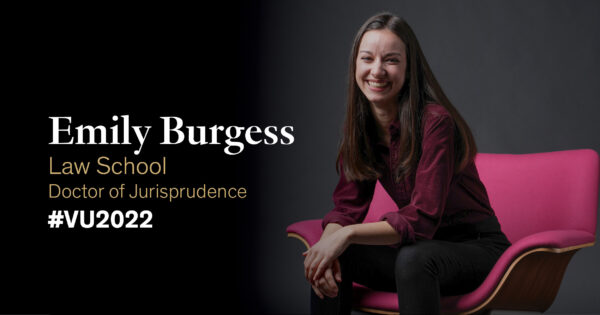 by Amy Wolf
Whether giving legal support to survivors of sexual assault, immigrants or inmates on Tennessee's death row, Emily Burgess is on a mission to be an advocate for those in need.
Burgess started collaborating with Nashville-area organizations in advocacy work while double-majoring in human and organizational development, and history and economics at Vanderbilt. Her internship with the Jean Crow Advocacy Center, serving survivors of domestic violence, inspired her plan for law school.
"I realized that I couldn't do the work that I thought I was capable of doing to help others without a law degree. So that really inspired me to continue at Vanderbilt Law School," Burgess said.
Burgess has received multiple Vanderbilt Scholastic Excellence Awards at the law school for having the top grades in courses on immigration law, juvenile justice, actual innocence and mass incarceration. She also has completed several public interest internships.
"I think something that has become more important to me as I've gone through law school is this idea of the democratization of the law," she said. "Legal expertise should not be something that's kept by the privileged few, so it's been a priority for me to not just serve others through my knowledge of the law, but also to share that knowledge."