by Amy Wolf

The intersection of science and society is the foundation of a multi-institutional collaboration of students and faculty in a virtual and physical art exhibit at Vanderbilt University titled Nested Knowledge: Disentangling History, Truth, and Race in STEM Experiences.
The Nested Knowledge exhibit can be experienced online and at the Wond'ry, Vanderbilt's Innovation Center through February 2022 in honor of Black History Month. The exhibit is the culmination of a 10-week fellowship with STEM, humanities and social sciences faculty and students from Vanderbilt, Fisk University, Tennessee State University, Berea College and Tougaloo College. It was funded by Mellon Partners for the Humanities Education Collaboration Grant awarded by the College of Arts and Science.
Vanderbilt medicine, health and society major Janet Mariadoss was one of the student fellows.
"I have been so inspired by this project, and I think it showed me the importance of identity and the role that it plays, especially as a woman in STEM," said Mariadoss, who plans to have a future in science and attend medical school.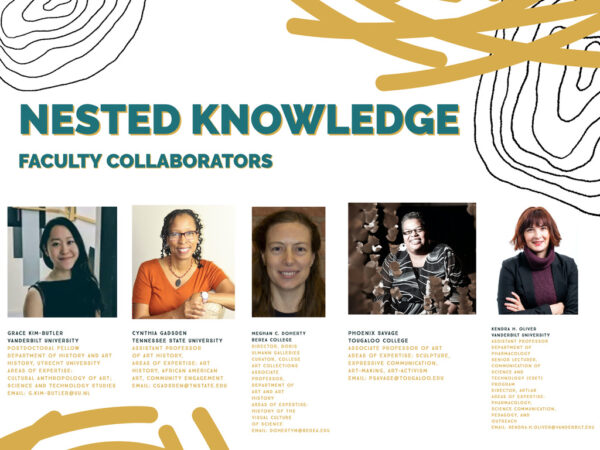 "Our collaboration sought to engage young scholars in multidisciplinary teachings on matters of scientific truth, the construction of race and current manifestations of institutional racism in STEM," said Kendra H. Oliver, assistant professor of pharmacology with a secondary appointment in communication of science and technology.
Oliver is also the founder and director of Vanderbilt's ArtLab, which examines science communication at the convergence of art, technology and outreach.
ARTISTIC REPRESENTATION
Each of the students presented art pieces based on prompts given in reaction to discussions with the faculty and student fellows.
For one piece, students responded to a prompt asking them to create something that showcased their identity. Fellowship participant April Lacey, a fine arts major from Fisk University, painted a portrait of her mom and youngest sibling.
"My identity includes me being the oldest sibling, so while I'm the big sister, there are other times where I'm seen as 'mom 2.0,'" Lacey said.
Another prompt asked for a piece reflective of social culture. For this prompt, Mariadoss created a portrait of Henrietta Lacks, a Black woman whose cervical cancer cells (named "HeLa cells" in her honor) were used without her permission for scientific research. Her cells were used extensively to study the effects of drugs, toxins and viruses on cancer cells.
"I'm thinking back to one of the lectures that we had where we talked about how social culture can impact science, the scientific process of data collection and how we interpret it. I just began to realize how some of the basic scientific understandings that we have were created by people with a very specific ideology during their time," Mariadoss said.
"This was a great forum for us to talk about what was going on, both within a scholarly context and then a personal context," Oliver said. "Without having these interdisciplinary conversations, it's hard to make the necessary changes."
IMMERSION VANDERBILT PROJECT
Mariadoss was so inspired by the fellowship that she expanded her work into an Immersion Vanderbilt project. She and Oliver are examining the impact of other exhibits in museums and universities that focus on the intersection of STEM and art.
"I've always been drawn toward the intersection of science and the arts, so I was really drawn to ArtLab and the work Dr. Oliver is doing," Mariadoss said. "I think it really emboldened me as a student to think more deeply about continuing these conversations."