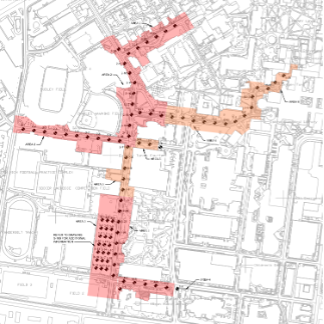 As part of a multi-year Central Utility Infrastructure project, geotechnical company TTL Inc., under the direction of the Campus Planning and Construction office, will conduct exploratory soil testing and boring on campus starting Feb. 8. This work will involve drilling equipment, typically affixed to large trucks, that will drill to varying depths to assess soil type and the presence/depth of rock before installing buried utilities.   
The work is estimated to take two weeks, and it will begin at Vanderbilt Place and work toward 25th Avenue to Highland Avenue. This crew will then move to Garland Avenue near the Stevenson Center to 25th Avenue, and then complete the borings going south to Jess Neely and completing their work on Children's Way.   
A second crew will be at the recreation field on 25th Avenue and Children's Way, adjacent to the Rec Center, for the entire two weeks. Their work will include a deeper bore for geothermal conductivity testing.  
There will be some temporary lane closures as the crew drills along the roadways. Flaggers will be present to assist traffic and pedestrians.  
Work will occur daily from 9 a.m. to 3 p.m., and noise is expected to be minimal.  
Anyone with questions or concerns can email constr_alerts@vanderbilt.edu.