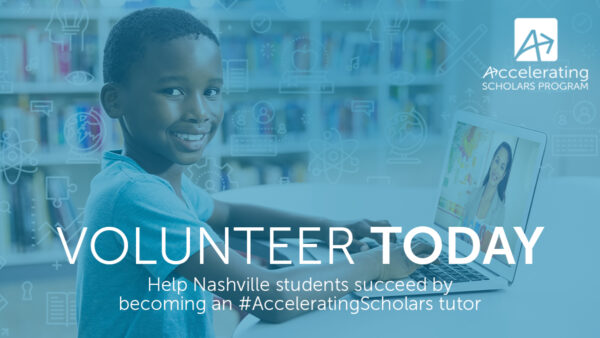 Vanderbilt community members looking for a way to share the gift of learning with children in Metro Nashville Public Schools are invited to join the more than 150 Vanderbilt students, faculty and staff who are already part of the "Accelerating Scholars" online tutoring program. Sign-ups to volunteer are open now through Jan. 17.
Volunteers are needed to help tutor up to 7,000 MNPS students with extra one-on-one help in elementary reading or middle school and high school math.
Mentors will be matched with students, based on the volunteer's availability, to provide support in three, 30-minute-long virtual tutoring sessions each week for 10 weeks during the spring semester. Session times will take place during the regular school day or during structured before- or after-school programming.
"My favorite part of tutoring MNPS students has been realizing I could have such a large impact relative to the amount of time spent with my student," said Luke Cobrin, a cognitive studies major from Jacksonville, Florida. "After meeting for just under two hours a week, I felt immediately motivated by getting to know my student, confronting challenges, and working toward achievable goals over the course of the semester."
APPLY HERE TO BE AN ACCELERATING SCHOLARS TUTOR. Please include your Vanderbilt affiliation in the application.
"As I've worked with my student, he has become more confident and eager during our lessons. His progress is an inspiration to us both, and I look forward to continuing our work together this spring," said Noah de Comarmond, a human and organizational development major from Raleigh, North Carolina.
IMPORTANT DATES
The deadline to sign up is Jan. 17.
Online training begins Jan. 10.
Volunteers will be matched with students by Jan. 21.
Tutoring starts Jan. 31.
Training is provided on content, the virtual tutoring platform, and how to structure a virtual learning session. In addition, the Tutor Nashville team offers optional weekly support sessions for tutors seeking ideas or assistance.
VANDERBILT PARTNERSHIP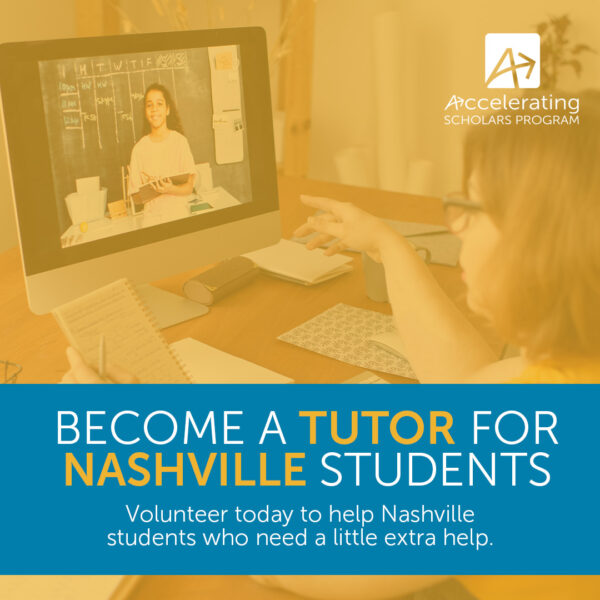 Vanderbilt launched the Tutor Nashville program last spring with support from the chancellor, provost and the dean of Vanderbilt Peabody College of education and human development as a way for Vanderbilt students to support learning amid a largely virtual year at MNPS.
"Having a reliable and trusting connection with a caring adult makes a huge difference in student outcomes over time," said Tutor Nashville director Marcy Singer-Gabella, associate chair of the Department of Teaching and Learning at Peabody College. "And tutors not only help students develop academic skills, but also contribute to their excitement about learning."
This year, MNPS is taking a high-impact approach that consists of multiple short tutoring sessions per week. This strategy has been shown to lead to consistent, substantial positive effects in academic and social-emotional learning.
"High-impact, personalized tutoring is proven to be the single most important intervention we can offer to mitigate challenges created by the pandemic, and accelerate learning," said Keri Randolph, executive officer for strategic partnerships at MNPS. "Vanderbilt has been a key partner since we launched tutoring last year, and ongoing collaboration and partnership will be critical to our success as our community works to make sure all students thrive."
APPLY HERE TO BE AN ACCELERATING SCHOLARS TUTOR. Please include your Vanderbilt affiliation in the application.