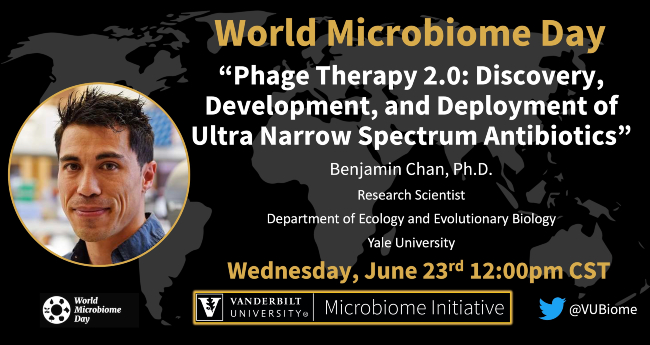 Join the Vanderbilt Microbiome Initiative for a special World Microbiome Day seminar and Q&A session on Wednesday, June 23, featuring Dr. Benjamin Chan from Yale University. World Microbiome Day celebrates the importance of understanding and deploying microbial communities and their products for positive outcomes in a sustainable manner.
Chan's groundbreaking research involves the development of bacterial viruses into new virulence-targeting antibiotics (VTAs) and resistance-targeting antibiotics (RTAs) for the treatment of bacterial infections resistant to traditional antibiotic therapy. His work spans the entire "bench to bedside" spectrum, and his team has successfully isolated, characterized and pioneered bacteriophage-based VTAs and RTAs to treat several antibiotic-resistant infections—with the permission of the FDA—including cystic fibrosis and skin infections.
The June 23 virtual talk, "Phage Therapy 2.0: Discovery, Development and Deployment of Ultra Narrow Spectrum Antibiotics," will begin at noon CT. Register to attend using the form on the Vanderbilt Microbiome Initiative website.