Media Inquiries
Latest Stories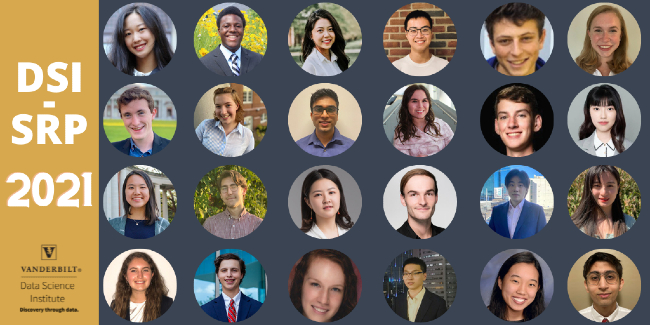 Vanderbilt's Data Science Institute has kicked off the third year of its undergraduate summer research program. The program engages students who are interested in carrying out data science-related research with a Vanderbilt faculty member and integrates them into the institute's community of data science scholars.
This year, the DSI awarded fellowships to 24 undergraduate students with diverse academic backgrounds and research interests. New this summer is the addition of four partner sponsors from across campus to support a number of fellows. These partnerships allow students to work in labs affiliated with their sponsor on projects using data science techniques while simultaneously taking advantage of workshops, demo sessions and curated feedback from the DSI team.
The partner sponsors are as follows:
The undergraduate fellows will engage in 10 weeks of research with their faculty mentor and enhance their data science skills through online workshops led by the data science team with a goal of becoming articulate leaders through weekly demonstrations.
The 2021 fellows come from a wide range of schools, departments and majors across campus, including anthropology, cognitive studies, physics, computer science, neuroscience, psychology, political science, economics, and medicine, health and society.
Learn more about the 2021 fellows.
2021 Fellows
Katharine Cella
Zoe Crawley
Dillon Davey
Andrew Gothard
Jiaxin He
Miya Hugaboom
Chetan Immanneni
Qiaochu Jiang
Rohit Khurana
Hangling Liu
Suiyang Mai
Jessica Mo
Amy Rieth
Joseph Sexton
Elijah Sheridan
Janet Stefanov
Benjamin Van Sleen
Chet Weissberg
Aidan Wells
Qinlian Yang
Yuqin Yang
Xinxin Zhang
Qianhui Zheng
Zheyu Zhu
Director of Undergraduate Research Thomas Palmeri, Chief Data Scientist Jesse Spencer-Smith and Assistant Director Amanda Harding lead the DSI-SRP.