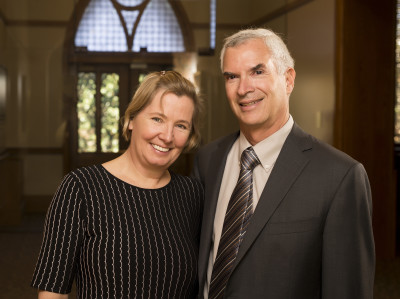 Vanderbilt University's newest residential college will be named Rothschild College in recognition of the transformational $20 million gift that Marieke and Jeff Rothschild, BA'77, MS'79, made in 2016 to accelerate the development of the residential college system. The Rothschilds' generous contribution has helped advance a key pillar of Vanderbilt's academic strategic plan—enhancing the undergraduate residential experience.
Rothschild College is under construction at the corner of West End Avenue and 24th Avenue South and is scheduled to open in the fall of 2022. Vanderbilt's residential colleges provide an intentional living-learning community where students and faculty live alongside one another in a collaborative environment primed for engagement and discovery.
"Marieke and Jeff share Vanderbilt's vision for providing a fully inclusive and empowering education where students are exposed to diverse ideas and experiences," Chancellor Daniel Diermeier said. "Our residential colleges are integral to fostering learning that takes place outside the classroom and a campus culture that encourages students to flourish as scholars, as leaders and as human beings."
The Rothschilds were the first donors to the current expansion of the residential colleges project; their contribution reflects their strong commitment to bringing students from a variety of backgrounds together to grow and learn from each other in a dynamic setting.
"We believe that everyone benefits from interacting with people from all walks of life," Marieke Rothschild said. "It is imperative to Vanderbilt and to our society to have creative discourse and a meaningful exchange of ideas with others in our everyday lives. We must always keep learning from one another and expanding our understanding of the world."
The couple's contributions have been pivotal in ensuring that qualified students are able to attend Vanderbilt, regardless of their financial circumstances. In 2013, they established two Jeff and Marieke Rothschild Scholarships, providing financial aid for incoming students at Vanderbilt's School of Engineering and College of Arts and Science.
"Marieke and I want every student at Vanderbilt to have the resources they need to excel," Jeff Rothschild said. "We have both benefited from the generosity of others at different points in our lives and are committed to sharing the fruits of our success to help others thrive. We hope everyone who lives in Rothschild College will know they have a community behind them who sees their boundless potential."
Jeff is vice chairman of the Vanderbilt Board of Trust, which he joined in 2014. He serves on the board's development, executive and investment committees, and he has served on the Trustee Campaign Planning Task Force. He has also been involved in the land use planning initiative, FutureVU, as well as the university's work that created a trans-institutional initiative in data science.
Jeff has co-founded several technology and software companies, including Veritas Software, and was vice president of infrastructure engineering at Facebook from 2005 to 2015. He earned a bachelor's degree in psychology and a master's degree in computer science from Vanderbilt.
Marieke Rothschild is a trustee at Colby College, where she advocates for affordable higher education for all qualified students. She grew up in the Netherlands and graduated from UC Santa Cruz with a degree in French and Spanish and a minor in linguistics.
The Rothschilds' many philanthropic endeavors include supporting advancements in medical science, access to health care and environmental conservation. The couple has joined the Giving Pledge Community created by Bill and Melinda Gates and Warren Buffett, demonstrating their commitment to donating most of their wealth.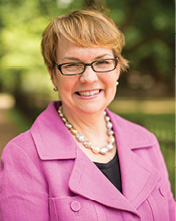 "The Rothschilds' gift will have great impact on our campus, as students tell us our residential colleges create friendships, opportunities for intellectual growth and an enduring sense of community," said Vanessa Beasley, BA'88, vice provost and dean of residential faculty. "This past year has underscored how vital the on-campus, in-person college experience is to Vanderbilt's undergraduate education. The residential colleges are at the heart of that experience, and I look forward to welcoming the first residents of Rothschild College in fall 2022."