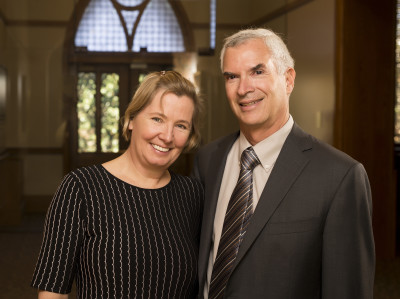 Vanderbilt University has received a transformational $20 million gift from a donor-advised fund of alumnus and Board of Trust Vice Chairman-Elect Jeffrey Rothschild and his wife, Marieke, that will accelerate ongoing development of its residential colleges program, College Halls.
With several new buildings already open—and more to come over the next decade—the living-learning initiative is designed to build community, support student success and extend educational opportunities beyond the classroom.
"What started as a bold vision to house students in a uniquely enriching collegiate-style environment more than 15 years ago continues to grow into a core element of a Vanderbilt education," said Chancellor Nicholas S. Zeppos, who led the earliest College Halls projects as provost. "With their generosity, the Rothschilds have contributed important momentum to the university's efforts to create new opportunities for students and faculty members to discover, teach and lead in the context of the College Halls system."
College Halls launched in 2008 with the opening of what is now The Martha Rivers Ingram Commons, where all first-year Vanderbilt students live alongside faculty mentors who guide the students in developing and participating in an array of educational programming throughout the year. In 2014, Vanderbilt opened Warren and Moore colleges, available to sophomores, juniors and seniors. The Vanderbilt and Barnard colleges are scheduled to open in the fall of 2018. The Rothschilds' support will help fund these latest projects as well as future College Halls.
A technology visionary, Rothschild co-founded Veritas Software and led development of Facebook's infrastructure platform as its founding vice-president of engineering, serving in that role from 2005-2015. He graduated from Vanderbilt with a bachelor's degree in psychology in 1977 and a master's in computer science in 1979.
Marieke Rothschild, who grew up in the Netherlands, is a strong supporter of providing college access to qualified students. In 2013, the couple established two Jeff and Marieke Rothschild Scholarships, one to provide financial aid for incoming students at Vanderbilt's School of Engineering and the other for College of Arts and Science students.
"We owe it to society to have a well-informed population. The College Halls program enables dialogue among a diverse mix of students—along with faculty involvement, which is important," Marieke Rothschild said. "You need to have that cross-pollination among students. And it's not just about gender or race, it goes for majors as well. The College Halls bring engineers together with history majors with artists to live side by side."
Jeff Rothschild, who is engaged in FutureVU, the university's yearlong campus land use planning initiative as a member of the Vanderbilt Board of Trust, recalled his own time as a student in making his decision regarding the College Halls gift.
"We sometimes take it for granted that buildings are always here. They're not. Every building that I enjoyed in my time at Vanderbilt was the result of someone having made a financial commitment to bring it to reality," he said. "Having benefited from others in the past, my wife and I wanted to pass that along to future generations."
Martha Rivers Ingram, a longtime Vanderbilt benefactor who served for 12 years as chair of the Vanderbilt Board of Trust and is now an emerita member, said she welcomed the gift to support College Halls.
"It has been personally heartening to see how the success of the first-year Commons experience is being expanded to include more students across campus," said Ingram, who serves as chair of the Land Use Trustee Working Group that Rothschild sits on. "One of the most important things a college education offers young people is the opportunity to interact with new and different people in meaningful ways, and the Commons has accomplished that goal beyond our highest aspirations. With the extension of College Halls, our goal is to ensure that the rich experience that begins in the Commons extends across all four years of our students' experiences."