Media Inquiries
Latest Stories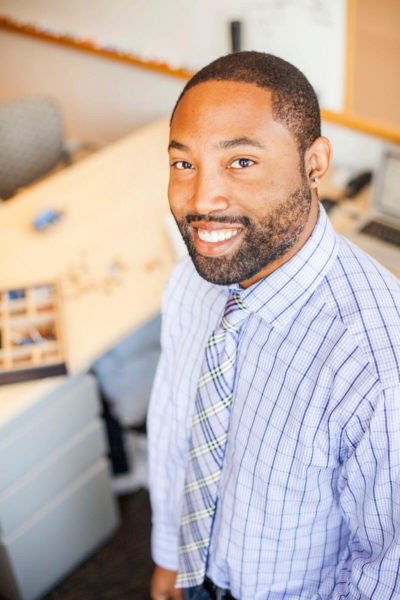 Assistant Professor of Chemistry Steven D. Townsend, PhD'10, has been awarded a 2021 Sloan Research Fellowship, one of the highest honors for young scientists who have the potential to revolutionize their fields of study.
Townsend, who previously received a Chancellor's Research Award for his path-breaking scholarship on the unique carbohydrates found in human milk, is among 128 early career researchers selected for a 2021 Sloan Research Fellowship.
"Steve Townsend is an extraordinary teacher-scholar who embodies our Vanderbilt values of innovation and excellence in a welcoming, inclusive community," said Provost and Vice Chancellor for Academic Affairs Susan R. Wente. "He has a strong commitment to mentoring—driven by his own experience as a first-generation college graduate—and he continues to elevate our undergraduate program."
As part of his dedication to mentoring, Townsend has co-authored five publications with undergraduate students.
"Steve is a gifted and unique scholar who places equal value on his research and his connection to his students," said John G. Geer, Ginny and Conner Searcy Dean of the College of Arts and Science. "He has significantly advanced our understanding of the protective chemical properties of human milk in infant health and development and is also beloved by his students as an accessible, supportive and rigorous teacher."
View College of Arts and Science video on Steven Townsend.
Townsend has received high marks from students in undergraduate organic chemistry, a high-stakes course for many students who want to go to medical school. In 2020, Steve was the recipient of the Jeffrey Nordhaus Award for Excellence in Undergraduate Teaching, the highest honor in the College of Arts and Science for exceptional teaching. He is also an Arts and Science Dean's Faculty Fellow, a selective program that supports promising junior faculty as they work toward tenure.
He previously received an $800,000 National Science Foundation CAREER award for his research on human milk, a $1.5 million grant from the National Institutes of Health to discover new antibiotics, and a place on the Chemical and Engineering News 2019 "Talented 12" list of scientists.
Townsend, who was a postdoctoral fellow at Sloan Kettering Institute, joined the Vanderbilt faculty in 2014. He is deeply proud that the first five doctoral students he has advised have gone on to postdoctoral fellowships at Harvard, Yale and Stanford universities, Scripps Research and the National Cancer Institute.
"It's an honor to be named a fellow of the Alfred P. Sloan Foundation and to be recognized for research that aims to improve maternal and child health," Townsend said. "I would also like to express appreciation for the trainees in my research group, past and present, who work tirelessly to make our discoveries possible."
"A Sloan Research Fellow is a rising star, plain and simple" says Adam F. Falk, president of the Alfred P. Sloan Foundation. "To receive a fellowship is to be told by the scientific community that your achievements as a young scholar are already driving the research frontier."
The Sloan Fellowships are open to scholars in eight scientific and technical fields—chemistry, computational and evolutionary molecular biology, computer science, Earth system science, economics, mathematics, neuroscience and physics. More than 1,000 researchers are nominated each year for 128 fellowship slots. Winners receive a two-year, $75,000 fellowship, which can be spent to advance the fellow's research.