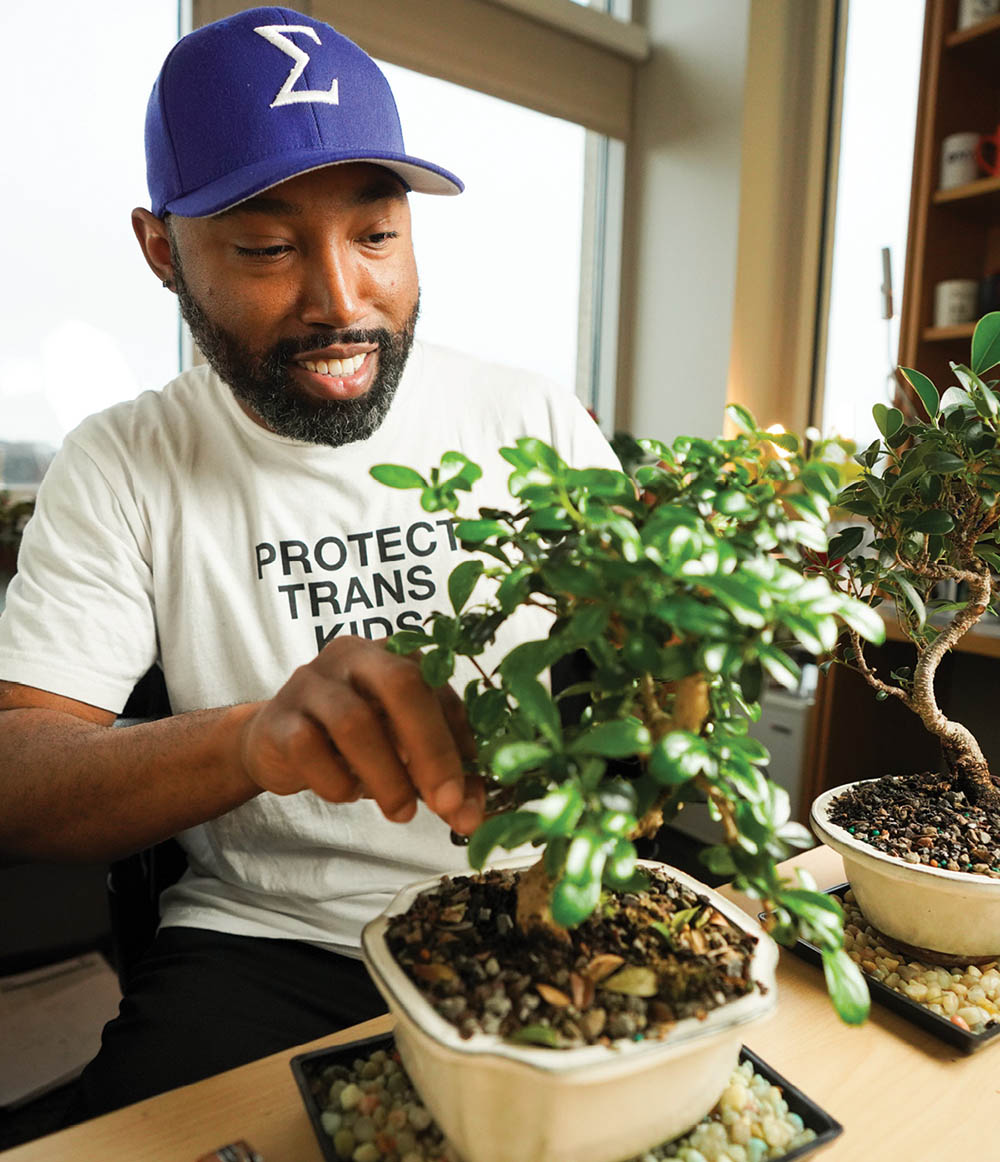 Assistant Professor of Chemistry Steven Townsend, PhD'10, saw his newborn daughter reject a bottle of baby formula after she was placed in intensive care, and her instinctive reaction sparked for Townsend a line of scientific inquiry that has yielded bold new insights.
This year alone, Townsend has earned an $800,000 National Science Foundation CAREER award for his research on the protective properties of human milk, a $1.5 million grant from the National Institutes of Health to discover new antibiotics, a $110,000 award from the American Chemical Society, and a place on the Chemical & Engineering News 2019 "Talented 12" list of scientists. He also was featured in a recent Wall Street Journal article chronicling a corporate "arms race" to develop a better baby formula.
"Shortly after birth, a newborn's collection of microorganisms—their microbiome—begins to develop as a succession of bacteria colonizes their gut," Townsend says. "After that, human milk serves as a primary way more bacteria are introduced to a baby's system, as it can contain up to 700 different species of bacteria."
His research on the molecular intricacies of human milk oligosaccharides and how they maintain the balance of good and bad bacteria in infants' gut flora, has contributed significantly to a field that has made meaningful strides in the past decade. These complex carbohydrates that Townsend's lab studies play an important—and not yet fully understood—role in infant health.
"A few studies had found that these sugars were food for good bacteria, but not the pathogenic ones. It seemed like there must be more to the story. We also knew we'd be able to synthesize in the lab any molecules we identified as important," Townsend says. "Breastfed babies tend to be colonized to a lesser extent by infectious species, meaning they get sick less."
Much like his research, Townsend's work as a teacher and mentor has a personal side. His office, decorated with drawings from his daughters and a wall of coffee mugs to document his travels, is homey, maybe even a bit messy. But that's what Townsend wants—a space that's accessible to his students, where they feel as comfortable talking about their personal struggles as they do wrestling with chemistry problems.
"I always had people looking out for me as a student. I didn't know what I needed to know," Townsend says. "But there were people who filled that gap for me, and on this campus, that's one of the roles I try to fill."
Townsend's willingness to serve as a mentor stems from his own journey. Raised in Detroit, he was the first person in his family to go to college, and he had very little formal scientific training before enrolling at Oakland University as an undergraduate. It's a journey he openly shares with his own students.
Townsend's passion for mentoring is evident in his work with Kelly Craft, PhD'19, who published 10 scientific papers as a graduate student—all of them co-authored with Townsend—before going on to a postdoctoral research position in the Department of Chemistry at Harvard University.
"In addition to learning so much from him, I also enjoyed how much Steve made everything feel like a collaboration between himself and his students," Craft says. "It never felt like a boss giving you orders. It felt like you were a team, whether you were a first-year or a fifth-year."
—ADRIENNE BURNS
---