By Jenna Somers
Vanderbilt researchers are prolific and resolute in their pursuit of transformative research and innovation. During the Research Ramp-up process, more than 3,000 Vanderbilt research personnel have returned to in-person research activities, while many others have continued remotely through perseverance and ingenuity. On campus and at home, they are making discoveries that advance knowledge and improve lives. 
The following stories are part of a series highlighting the impact of the Research Ramp-down and Ramp-up processes and the various ways Vanderbilt researchers and their teams have persisted in their work throughout the COVID-19 pandemic.   
Charles Sanders, School of Medicine Basic Sciences: Cracking the code of SARS-CoV-2
During the Research Ramp-down period, Associate Dean for Research and Professor of Biochemistry Charles Sanders challenged his lab to use the downtime to conceptualize SARS-CoV-2 projects. Graduate student James Hutchison studied the novel coronavirus and proposed what sounded like a promising research project targeting the SARS-CoV-2 E membrane protein.
When on-campus research activities restarted in May, Hutchison worked with Sanders Lab manager Arina Hadziselimovic to clone, overexpress and purify the E protein. With the assistance of Ricardo Capone, another lab member, they then showed that the purified E protein could be delivered to living cells without harming them, and that it could be trafficked from the cell surface to intracellular compartments that are the same or close to those believed to be the primary location of SARS-CoV-2 assembly in human cells.
That observation raises the possibility that the recombinant E protein could be chemically tagged with a chemical "warhead" and then delivered—Trojan horse-like—to cells containing replicating coronavirus that would take up the armed E protein and incorporate it into nascent viral particles. At that point, the warhead would be triggered to destroy the nascent virus particles.
The Sanders Lab team has reached out to establish collaborations with investigators at Arizona State University, with whom they have submitted an NIH grant proposal.
"James used the challenging time of Safer at Home to devise a new plan of attack in coronavirus research that was later realized in the lab, including the establishment of critical partnerships, laying the foundation for what we hope will be a compelling NIH proposal," Sanders said. "This is an extraordinary accomplishment for a graduate student."
Jeremy Wilson, Vanderbilt Blair School of Music: Perfecting musical performance in a virtual world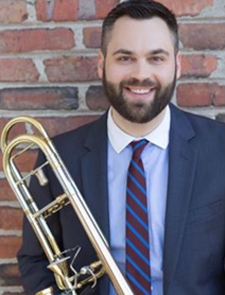 Like many music instructors and performing artists, Jeremy Wilson, associate professor of trombone and chair of the brass and percussion department, continues to adapt his teaching and performance during the COVID-19 pandemic by implementing creative virtual solutions while overcoming technical hurdles along the way.
Zoom removes the sound of a trombone and similar instruments because the software interprets the loudness of the instrument and the sustaining notes they play as a lawnmower or jet engine that needs to be filtered out. Additionally, according to Wilson, insufficient internet bandwidth can make listening to a phrase of music feel more like a fill-in-the-blank exercise.
These technical difficulties pose challenges to measuring tone, phrasing, dynamic and articulation, making Zoom lessons subpar at best. Wilson now bypasses these pitfalls by having students submit recorded asynchronous performances, including hour-long practice sessions, before their synchronous lessons, where he provides feedback on the recordings.
"Before the pandemic, it never occurred to me to watch a recording of a student and then give feedback on the structure and effectiveness of their fundamental routine, their practice habits and problem-solving tactics," Wilson said. "I plan to continue this practice in the future, even when we return fully to more traditional classroom instruction."
Wilson's willingness to adapt also has served him well as a performer. He has collaborated on several asynchronous recordings with other musicians, including David Rodgers, BMus'17. Most of these recordings are what Wilson describes as "floating-head overdub videos," now popularized on social media as a way to perform collaboratively during the pandemic.