By Jenna Somers and Jane Hirtle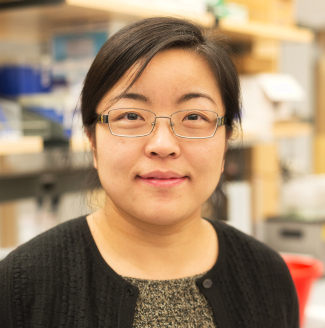 As a structural biologist, Yi Ren, assistant professor of biochemistry in the School of Medicine Basic Sciences, studies the structure of biological molecules at the atomic level to understand fundamental cellular activities that are critical to genome maintenance and cancer therapy. More specifically, Ren's lab conducts research on the process of gene expression, paying close attention to the crucial step of the messenger RNA export.
DNA is transcribed into mRNA in the cell nucleus, which is then exported out of the nucleus and translated into proteins. Because viruses thrive by usurping a host cell's gene expression pathway, understanding how they target cellular activity—particularly the protein machinery that regulates the mRNA export pathway—for their amplification has become a secondary, but essential, focus of Ren's lab, especially during the COVID-19 pandemic.
Ren's team has made several discoveries to illuminate the mechanisms of key host-pathogen interactions involving influenza A virus and VSV (vesicular stomatitis virus). Ren found that the M (matrix) protein of VSV blocks the function of a pair of mRNA export factors: Nup98 and Rae1. As a consequence, the viral M protein sabotages the host cell mRNA export, thereby paving the way for VSV to take over the cell's protein translation machineries.
It turns out that SARS-CoV-2, the virus that causes COVID-19, also targets the Nup98-Rae1 complex. Because of that connection and her expertise in host-pathogen interactions, Ren requested permission to continue working in her on-campus research space after the mid-March ramp-down.
"Oddly enough, the shutdown compelled us to explore new areas of investigation," Ren said. "I received approval on a proposal to remain in the lab to work on COVID-19-related research, and we have continued this line of inquiry as labs have opened back up and my team has been able to return."
Ren was one of a handful of researchers who received special exceptions to advance COVID-19 rapid response research on campus prior to Phase I Research Ramp-up in May. Many of the additional COVID-19 safety precautions that researchers like Ren pioneered during that time, such as limited occupancy in research spaces, ultimately became central to the university's Research Ramp-up plan.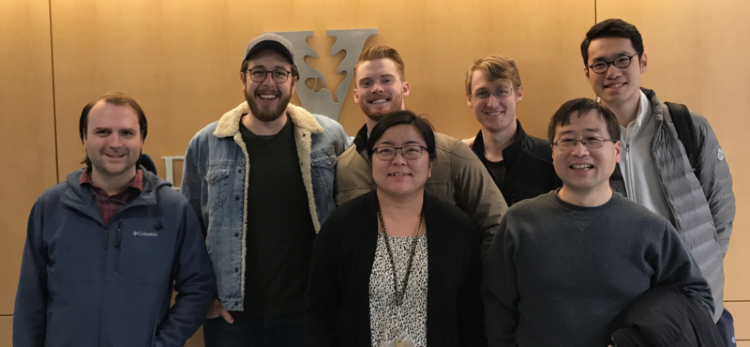 Ren's team currently focuses on understanding how a particular SARS-CoV-2 protein called Orf6 targets the Nup98-Rae1 complex. The Orf6 protein is able to inhibit the interferon-mediated antiviral signaling. The interaction between the SARS-CoV-2 Orf6 protein and the host Nup98-Rae1 complex is pivotal to the virus's ability to suppress human cell immune response.
Since Ren's lab does not work directly on SARS-CoV-2 and instead studies the basic mechanisms of the host-pathogen interaction, she and her team do not need to wear additional personal protective gear beyond face masks and gloves; however, within their personal lives and in the lab, they behave judiciously to the point that, even now, they are less productive in their research than before the pandemic began. That is because Ren remains cautious about using other research facilities on campus.
"Including myself, there are five people working in my lab," she said. "I am prioritizing research that we can complete just within my lab because I don't want to increase contact by needing to use shared research facilities. It means we get less work done, but I take a conservative approach to safety."
Along with extreme caution, the team prioritizes progress on their important research, which Ren considers their primary motivation for returning to the lab in Phase I of Research Ramp-up. Initially, they worked in shifts because labs were restricted to no more than 33 percent occupancy (based on the size of the physical space) during that first phase of bringing research back to campus, but since Phase II began, all five lab members can, theoretically, work together in the lab. However, that rarely occurs since some personnel are caring for young children at home who have not returned to school.
Ren's mindfulness toward safety reflects her concern not only for protecting the research enterprise, but also for her team and their families. "The greatest challenge in returning to the lab is a mental one," she said. "Will you be completely safe, or will you bring the virus home? That's why we always wear our masks and work at our own desks, especially because we are in an open lab. It's a challenge for sure, but one that we work to overcome through vigilance and clear communication with each other."
This story is part of a series highlighting Vanderbilt University researchers who have returned to in-person research activities on or off campus. More than 3,000 Vanderbilt research personnel, including Yi Ren and her team, have returned to in-person research activities through the Research Ramp-up process spearheaded by the Ad-Hoc Research Ramp-up Working Group and the Office of the Vice Provost for Research.