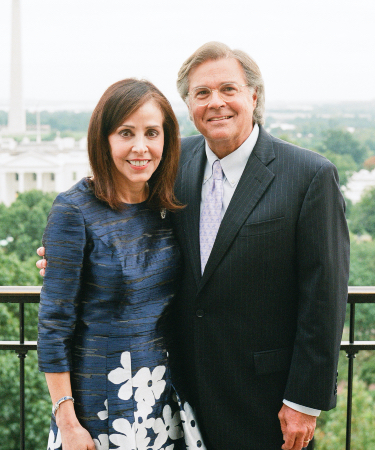 Donna and Jeffrey Eskind, whose generous gifts have advanced Vanderbilt research that is improving lives, have made a new commitment of $2 million to endow a new chair in autism spectrum disorder research in the School of Medicine.
This investment will enable Vanderbilt to recruit or retain a senior expert in an area of research that will help drive innovation for the many individuals with autism spectrum disorder and their families.
According to the U.S. Centers for Disease Control, autism spectrum disorder affects about 1 in 54 children in the United States today.
"We are grateful for the generous commitment of Jeff and Donna Eskind, which will bolster research for greater understanding of the molecular workings of autism spectrum disorder and also improve treatments," said Susan R. Wente, provost and vice chancellor for academic affairs and holder of a Cornelius Vanderbilt Chair. "Their gift helps further strengthen the university's globally renowned expertise in autism spectrum disorder, which spans multiple disciplines."
Initiatives at Vanderbilt focused on autism include the Treatment and Research Institute for Autism Spectrum Disorder at the Vanderbilt Kennedy Center and the Frist Center for Autism and Innovation at the School of Engineering. In addition, Peabody College's Department of Special Education, widely regarded as the leading program in the nation, has a long tradition of preparing teachers, behavior analysts and researchers to work with children with autism. Peabody faculty members have developed a wide range of evidence-based interventions for these children.
"Vanderbilt is doing important research related to autism spectrum disorder," said Dr. Jeffrey Eskind, who completed his residency at Vanderbilt in 1980 and now serves as an associate clinical professor of medicine in the Vanderbilt School of Medicine in addition to practicing internal medicine and gastroenterology at the St. Thomas Medical Group. "We want to help advance these critical discoveries, and we are grateful that we can play a small role in making a difference in the many lives that this disorder touches."
His many leadership roles at the university and Vanderbilt University Medical Center include service on the board of the Vanderbilt Medical Alumni Association and past president of the Canby Robinson Society. He has also served on the boards of the Temple Ohabai Sholom and Planned Parenthood of Middle and Eastern Tennessee.
"This gift builds on our family's longstanding commitment to strengthening our community and our world," said Donna Eskind. "It is an investment in our collective future." She is a community volunteer whose service includes chairing of the Kennedy Center Leadership Council and serving on the boards of WPLN–Public Radio of Nashville, Alive–Hospice, and the advisory board of Monroe Carell Jr. Children's Hospital at Vanderbilt.
The couple's philanthropic ties to Vanderbilt are deep. They have supported programs and initiatives within the School of Medicine, Peabody College, Blair School of Music and School of Nursing, as well as the Annette and Irwin Eskind Biomedical Library Renovation Fund.
The impact of the wider Eskind family's philanthropy can be felt throughout Vanderbilt and the Nashville community. Jeff Eskind's father, the late Irwin B. Eskind, BA'45, MD'48, was on the School of Medicine faculty and the Vanderbilt University Board of Trust. His mother, Annette S. Eskind, served in several leadership positions, including the Ayers Institute Advisory Board and the Kennedy Center Leadership Council. The couple established the Annette and Irwin Eskind Biomedical Library and Learning Center, the Vanderbilt Eskind Diabetes Clinic, and the Annette Schaffer Eskind Chair at the Kennedy Center.
Jeffrey Eskind and his brother, Dr. Steven J. Eskind, who also completed his medical residency at Vanderbilt, founded the Irwin B. Eskind Symposium on Diabetes Care and Research in their father's honor prior to his death. Steven Eskind is an assistant professor of surgery in the School of Medicine.
"This new pledge expands the far-reaching legacy of the Eskind family in the School of Medicine as well as across Vanderbilt's campus," said Dr. Jeff Balser, president and CEO of Vanderbilt University Medical Center and dean of the School of Medicine. "I continue to be thankful for their commitment to Vanderbilt's tradition of excellence in research and discovery, benefitting many generations to come."