The August 2020 opening of Nicholas S. Zeppos College marks a milestone in the transformation of Vanderbilt's West End Neighborhood, while a completed renovation on the Peabody College campus strengthens its learning community.
"It is exciting and gratifying to see significant progress with our Academic Strategic Plan through these building and renovation projects," said Provost and Vice Chancellor for Academic Affairs Susan R. Wente. "I know that our newest residential college as well as the state-of-the-art learning and working spaces at Peabody will benefit our university community for generations to come."
Zeppos College, located at the corner of West End Avenue and 25th Avenue South, is the fourth residential college to open at Vanderbilt for upper-division students. Expansion of Vanderbilt's residential college system builds upon the success of The Martha Rivers Ingram Commons for first-year students, which opened in 2008.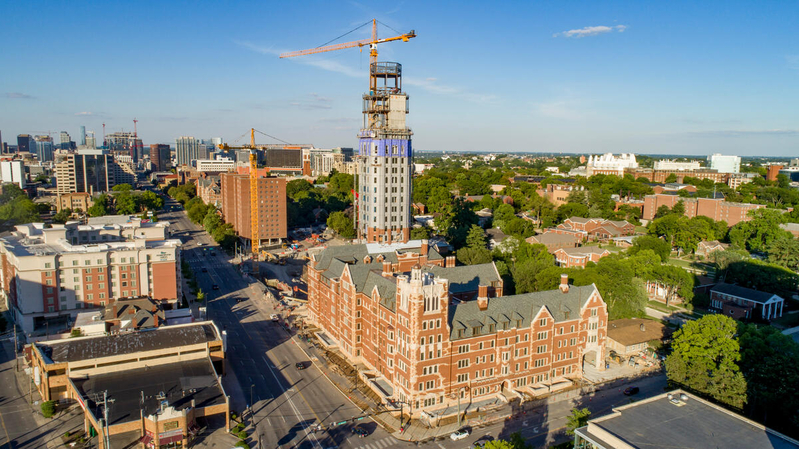 "Residential colleges are vibrant living and learning communities that promote the development of intellect, self-discovery, cultural awareness and much more," said Vanessa Beasley, vice provost for academic affairs and dean of residential faculty. "They have proven to be extraordinarily beneficial for not only our students, but also faculty and staff."
Vanderbilt's newest residential college honors the visionary leadership and legacy of Nicholas S. Zeppos, Cornelius Vanderbilt Chancellor Emeritus and University Distinguished Professor of Law and Political Science. Zeppos has returned to the faculty this year and is teaching civil procedure to first-year law students. "I am excited to watch our newest residential community members thrive as they build connections, develop friendships and support each other during these challenging times and in the many years ahead," Zeppos said.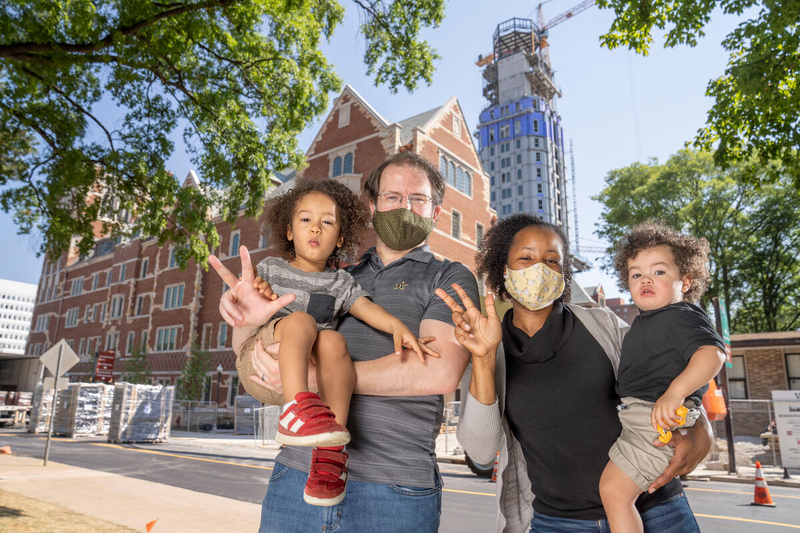 Zeppos College, with its Collegiate Gothic-style architecture, can house up to 335 sophomores, juniors and seniors in four-person suites, double rooms and single rooms. The 242,400-square-foot building features a state-of-the-art dining hall, great room, study lounges and other event spaces.
Audrey Bowden, associate professor of biomedical engineering and Dorothy J. Wingfield Phillips Chancellor's Faculty Fellow, is the inaugural faculty head of Zeppos College and lives there with her family.
"The West End Neighborhood project, anchored on one end by Zeppos College, has reimagined the area in ways that align with FutureVU's guiding principles, including sustainability, connectivity and the preservation and expansion of the campus' historic park-like setting," said Eric Kopstain, vice chancellor for administration. "When fully realized, the West End project will demonstrate the value that Vanderbilt places on extending learning beyond the classroom."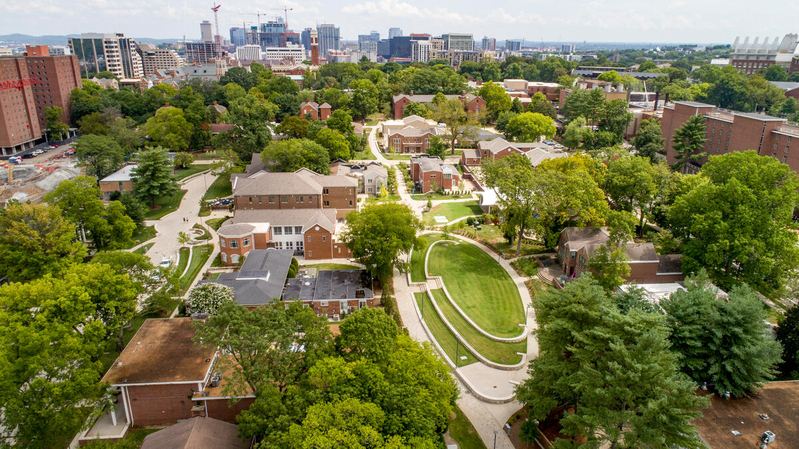 Previous improvements to the West End Neighborhood have included creating pedestrian- and bicycle-friendly paths along former Kensington Place and 24th Avenue South, placing electrical and communication lines underground and adding Greek houses and a multi-purpose building. The neighborhood also now has more green spaces.
Across 21st Avenue South, a renovation of the Home Economics building, which has been renamed 6 Magnolia Circle, and the Mayborn building marks the completion of Phase 1 of the Peabody Neighborhood project. A new connector building that joins the two historic structures, which were both built in 1914, has added 10,000 square feet of space. In accordance with the buildings' interior redesign to better serve the needs of 21st-century learners, the Vanderbilt Board of Trust approved renaming Home Economics to 6 Magnolia Circle.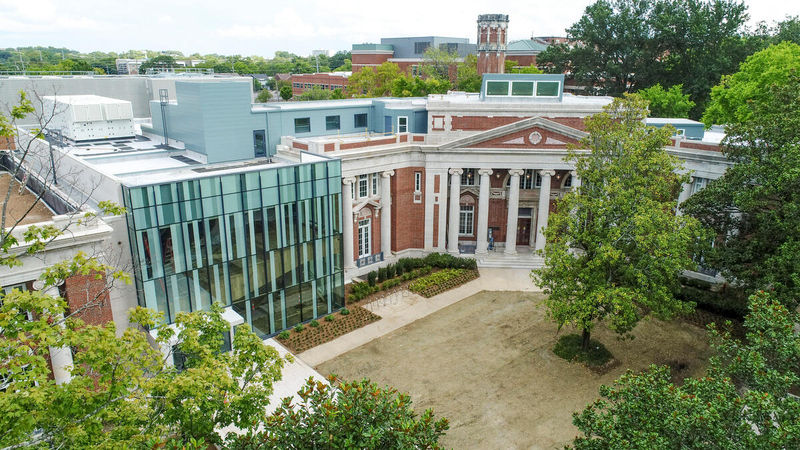 "I am thrilled that we could preserve the external beauty of these historic buildings while making significant improvements to their infrastructures to enhance learning, discovery and community engagement," said Camilla P. Benbow, Patricia and Rodes Hart Dean of Education and Human Development.
Renovations in the renamed 6 Magnolia Circle building include new science classrooms for K-12 programs and for teaching instruction techniques.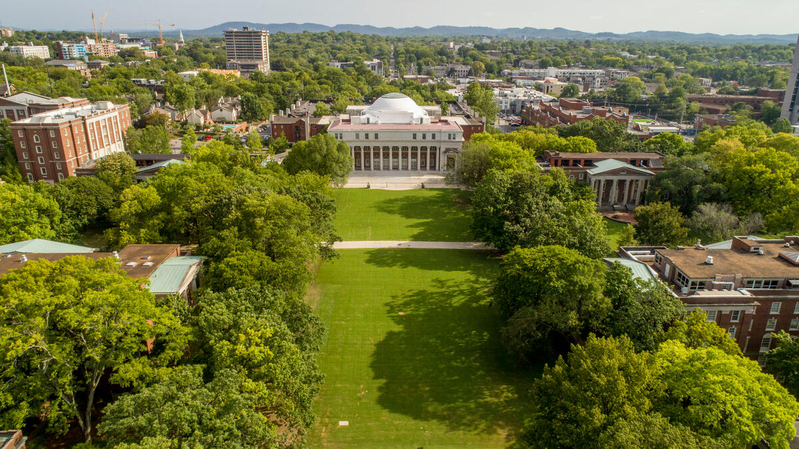 Peabody's Human and Organizational Development program will be housed in the revitalized Mayborn, which now has three active-learning classrooms and two that are configurable. The building also features a new event space designed to facilitate opportunities for students to interact with representatives from local nonprofit organizations and community leaders.
The connector building, in addition to featuring active-learning and configurable classrooms, has an elevator that provides multi-floor access to both Mayborn and 6 Magnolia Circle.
Phase 1 of the Peabody renovation included the conversion of the original underground steam distribution system to hot water and installation of chilled water lines, supporting FutureVU's sustainability goals.
For more about building projects at Vanderbilt, visit FutureVU.