By Jennifer Plant Johnston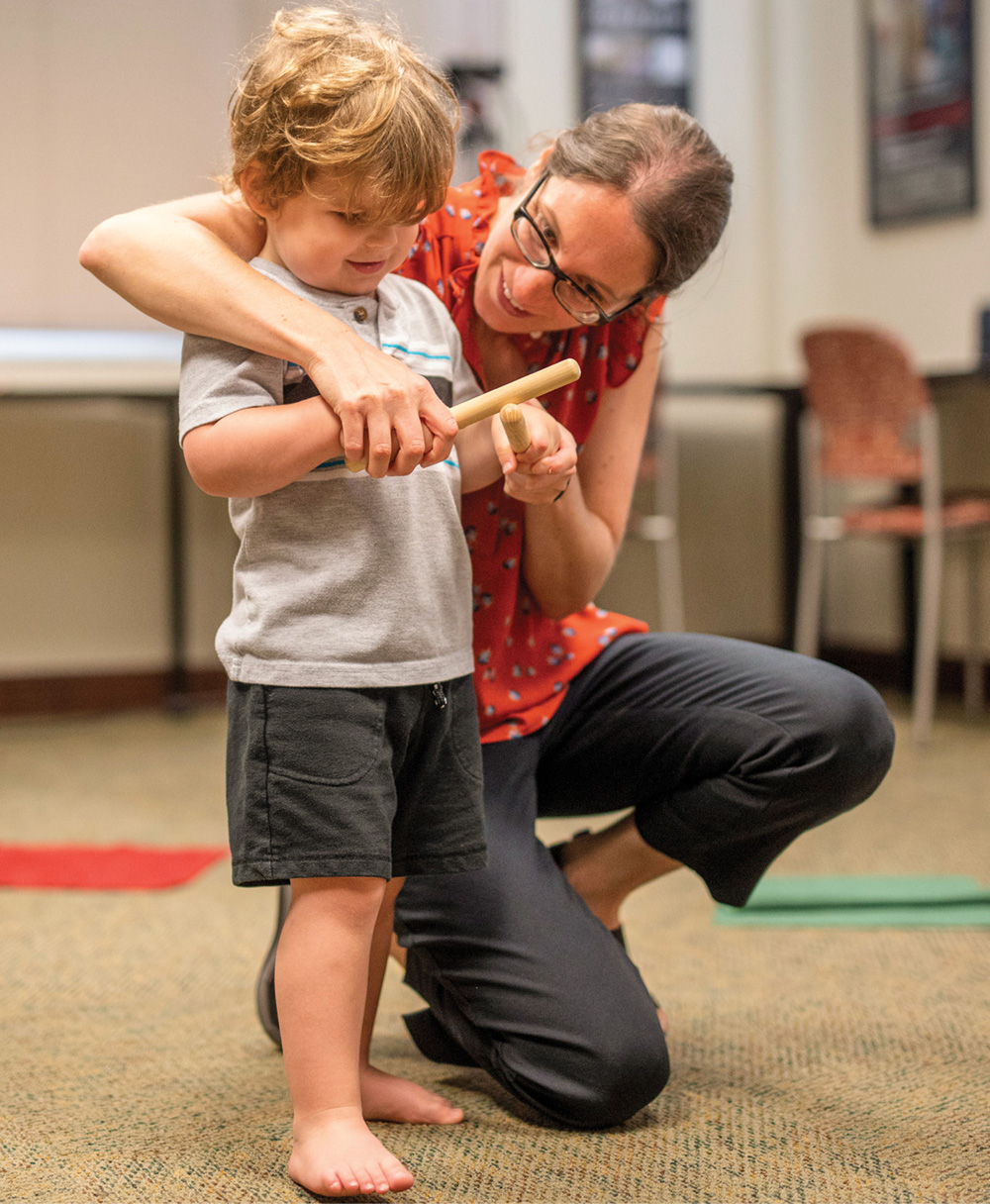 When Amy Ladd first began taking her 5-year-old son, Wesley, to SeRenade, a music class at Vanderbilt providing parent training and peer inclusion for kids with autism spectrum disorder, he had difficulty doing everything from putting on clothes in the morning to
settling down to sleep at night.
But by the end of the 12-week program—a keystone project of the Vanderbilt Music Cognition Lab, supported through an award from the National Endowment for the Arts Research Labs—Ladd had acquired a "musical toolbox of skills" to help Wesley move more easily through the day.
"We could add a song to getting ready, and things would go so much more smoothly," Ladd says. "He would ask to listen to the CD from the class every time we got in the car. When my husband puts him to bed, he still asks for one of the calming songs to be played."
When behavioral challenges did emerge for Wesley, the researchers worked with the family to devise solutions. "We were able to change our goals to be able to use music for him," Ladd says. "Their support was huge for us."
Miriam Lense, MS'10, PhD'14, assistant professor of otolaryngology and psychology at Vanderbilt, and Sara Beck, BS'01, PhD'18, a psychology professor at Randolph College who is also an accomplished singer and songwriter, with input from music therapists, behavior analysts, and caregivers of young children with ASD. In addition to providing parent training, the classes allow researchers to explore the impact of community-based parent–child music programs on families of preschool-aged children with ASD, as well as the ways music intervention could impact children with the disorder.
The positive effects of music training on brain development, especially in children, have been well documented, and scientists in recent years have become increasingly interested in "neural entrainment"—the use of rhythmic activity to stimulate sensory gain. The past decade in particular has been marked by a dramatic increase in music cognition inquiry, as about 100 laboratory groups around the world, including at Vanderbilt, are working across disciplines to understand music's relationship to the brain, behavior and health, and to develop effective intervention strategies.
Lense co-directs Vanderbilt's Music Cognition Lab with Reyna Gordon, a fellow assistant professor of otolaryngology and psychology. Currently housed in Vanderbilt University Medical Center and the Curb Center for Art, Enterprise and Public Policy, as well as a new space on Nashville's famed Music Row, Lense's and Gordon's work is a central part of a campuswide network of music research originally seeded by funding from a Trans-Institutional Programs, or TIPs, grant.
"Music and rhythm are a ubiquitous part of everyday life and are present in cultures around the world," says Lense, pointing out that rhythms also occur through speech and movement. "We're excited to get to study music scientifically to understand the mechanisms by which musical experiences may impact development, as well as to try to harness music through clinical or applied studies."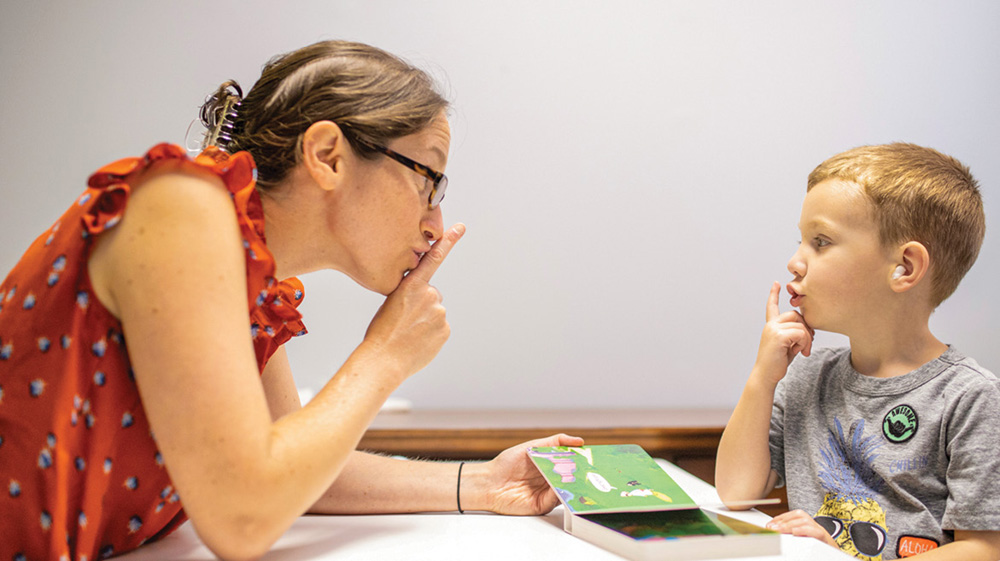 FRIENDS AND COLLABORATORS
Vanderbilt is a natural environment for the music lab, and not just because of its location in Music City. Lense was drawn to graduate school at Vanderbilt by the opportunity to work under the tutelage of Elisabeth Dykens, professor of psychology and human development, pediatrics, and psychiatry and behavioral sciences. Among other areas, Dykens has expertise in the study of Williams syndrome, a rare genetic neurodevelopmental condition often associated with special musical abilities. Lense first became interested in Williams syndrome as a Harvard undergraduate.
Dykens began the annual Academy of Country Music's Lifting Lives Music Camp in partnership with the Vanderbilt Kennedy Center for Research on Human Development, which also hosts the event, for people with Williams syndrome. Each year campers "participate in research and have a really phenomenal music-making experience," Lense says. "They write a song with a Nashville songwriter, record it in the studio, and perform on the Grand Ole Opry within a week of being here."
Lense and Gordon first began collaborating at the Kennedy Center in 2011 when Lense was a clinical psychology Ph.D. student and Gordon was a postdoctoral fellow researching intellectual disabilities. After Gordon joined Vanderbilt's faculty, she helped lure Lense back to the university from a postdoctoral position at Emory University's School of Medicine.
In addition to collaborating in the Music Cognition Lab, Lense and Gordon are good friends who talk every day. And like most of the students in the lab, they both march to a musical beat. Lense studied classical composition, violin and oboe. Gordon is a classically trained singer who majored in music as an undergraduate, with a minor in Italian.
"I have always been interested in music and language and the brain, and it took a few years for me to find a way to combine those interests," says Gordon. She completed her master's-level work in neuroscience at Université de Provence in a French-speaking lab in Marseille doing cutting-edge language and music research using EEG (electroencephalogram) and fMRI (functional magnetic resonance imaging) methods to measure how the brain responds to singing.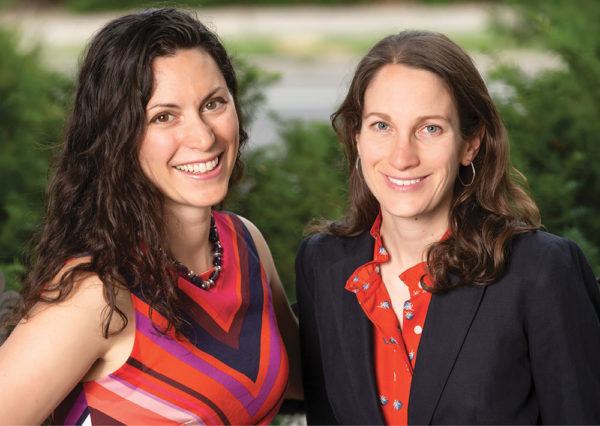 Lense and Gordon continue to draw on their musical training in their daily work. "In both composition and research," Lense says, "you're building upon knowledge and experiences to create something novel and true."
Lense has a special interest in the relationship between music and social communication in individuals with and without developmental disorders. In addition to rhythm in social communication and parent–child musical engagement experiences, she continues to explore her interest in the musical abilities of people with Williams syndrome and studies the potential for musical activities that can scaffold other skills in infants and toddlers with ASD.
"We know that children with autism, for example, have difficulty with eye gaze and also with the timing of social interaction," Lense says. "We conduct studies using rhythm and music to assess how sensitive children are to the timing of social cues. We may then be able to use these rhythmic cues to help support their interactions."
In one such study, the lab has partnered with the Vanderbilt Bill Wilkerson Center for Otolaryngology and Communication Sciences and the Marcus Autism Center at Emory to study musical rhythm synchronization in hopes of developing musical interventions to improve social communication in children with ASD. The study is part of the Sound Health Initiative, a partnership of the National Institutes of Health and the John F. Kennedy Center for the Performing Arts, in association with the National Endowment for the Arts.
Preliminary data suggest that when typically developing infants see videos of someone singing, they are more likely to fixate on the eyes of the singer during predictable, rhythmically important moments. Singers also are particularly expressive during these moments. "This suggests that the rhythm of communication really can be helpful for transferring social information," Lense explains.
Gordon, the recipient of a 2018 National Institutes of Health Director's New Innovator Award (DP2HD098859), leads a research team focused on exploring the relationship between rhythm and grammar skills, especially in children. She utilizes a variety of methods, including genetics, EEG and cognitive–behavioral assessments to understand the biology underlying language and music, with a special interest in populations who face hurdles to learning, such as dyslexia or developmental language disorder.
A new National Science Foundation grant, awarded to the lab in 2019 in partnership with researchers at Middle Tennessee State University, provides funding for a series of studies that looks at the relationship between rhythm and reading skills at behavioral, neural and genetic levels. The grant's main co-investigators are Vanderbilt's Assistant Professor of Biological Sciences Nicole Creanza and Associate Professor of Medicine Piper Below, as well as MTSU's Cyrille Magne.
"We conduct studies using rhythm and music to assess how sensitive children are to the timing of social cues."
"Individuals who have dyslexia are more likely to have poor rhythm sensitivity in both language and music," Gordon says. The research focuses on discerning individual differences in sensitivity to rhythmic and intonational fluctuations in speech and determining how those differences relate to reading skills. The team is hopeful that results of the project eventually could be applied by using rhythm in speech and music to help individuals improve reading proficiency, closing the gap in college readiness among young adults.
Even when outside the lab, Gordon is always attuned to the profound impact that music can have on those listening to it—and to the neuroscientific processes that explain that experience.
"Every time I go to a Nashville Symphony concert, I'm absolutely floored by the incredible skill of the musicians: They are true experts in auditory–motor integration," she says. "But I'm also struck by how our brains as audience members are so good at tracking the beat, predicting what comes next, and processing information on a millisecond time-scale. I'm so fortunate that I get to devote my professional life to studying how and why this occurs."
TEAMING UP WITH STUDENTS
Gordon and Lense believe strongly in creating multidisciplinary teams, particularly when they offer training opportunities for musician–scientists at the undergraduate level. Both undergraduate and graduate students are fully engaged in the lab's work, from chronicling study interactions and conducting literature searches to using sophisticated technology, such as EEG.
For example, on a day at the lab earlier this spring, Mine Muezzinoglu, BA'20, a recent graduate from Istanbul who majored in neuroscience and French, viewed previous SeRenade classes on a computer monitor, taking detailed notes to track how parents and caregivers such as Ladd integrate the tools they learn as part of the music class. She also noted the children's engagement in the class.
Meanwhile, Peyton Boyd, a senior from St. Louis majoring in neuroscience and medicine, health and society, was at work on a project in which adult participants tap along to various stimuli to see how well they do in conditions where the rhythm of the stimuli has been disrupted, with the aim of someday extending this research to other populations, such as to children with ASD. Teaming with Boyd on that project was Brett Koolik, a biomedical engineering major and aspiring musician from Boca Raton, Florida, who runs the nearby recording studio in the Curb Center.
"I just love how collaborative the lab is," says Koolik, who also is working on a study examining the effects of songwriting on caregivers, using the creative process to facilitate coping skills for managing stress and mental health concerns.
The Music Cognition Lab trains students and faculty from across the university and Vanderbilt University Medical Center, encompassing academic disciplines as diverse as auditory processing, childhood language development, music performance, sensory–motor systems, comparative ethology, genomics, developmental psychology, special education and computational modeling. Different perspectives and viewpoints strengthen the outcomes, says Lense. "It challenges you to do really rigorous research."
The close proximity of the university campus to the Medical Center was one reason Anna Kasdan chose Vanderbilt for her neuroscience Ph.D. training. "That doesn't exist in a lot of places," she says.
A trained classical pianist, Kasdan works both with Lense, on a study of individuals with Williams syndrome, and with Gordon and Stephen Wilson, associate professor of hearing and speech sciences, on understanding rhythm processing in individuals with aphasia, an acquired language disorder due to brain injury.
Because of her interest in the social–emotional benefits of music in aphasia, Kasdan received starter funds from the Curb Center to host a music and arts program for individuals with aphasia, ranging from 20 to 70 years old. The program was organized in conjunction with Deborah Levy, a Ph.D. student in hearing and speech sciences, through the Aphasia Group of Middle Tennessee, directed by Dominique Herrington, assistant manager of rehab services for the Vanderbilt Department of Hearing and Speech Sciences' Pi Beta Phi Rehabilitation Institute.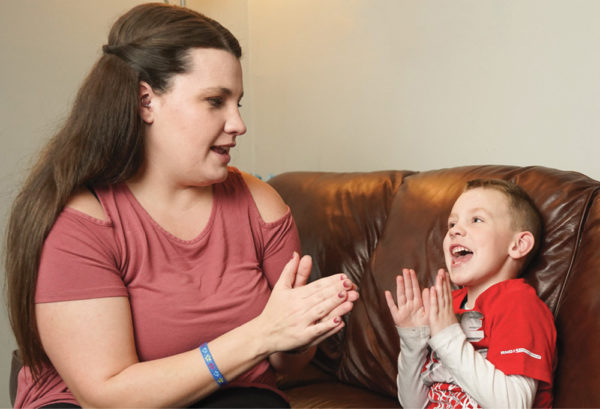 "I did not imagine I would get to be involved with so many different populations so early in my graduate career," says Kasdan, a third-year graduate student in neuroscience. "I'm getting to work with the community and learn several methodologies, including EEG. I got to jump into projects that I'm excited about early on, which are already branching off into other projects."
Such training and community outreach opportunities are needed to provide musician–scientists such as Kasdan the ability to pursue and develop "seemingly disparate interests," the researchers say.
Meanwhile, two years after Ladd and Wesley participated in SeRenade, she continues to draw from her musical toolbox to tackle daily behavioral and learning challenges. Wesley has learned to make up songs when enduring long wait times that used to upend his composure, his mother says.
"He is learning to spell words right now," Ladd says, "and when there is a harder word, like 'purple,' we add a little singing and clapping to help him remember how to spell it. I never realized how useful music could be until we took the class."
Jennifer Plant Johnston is a Nashville-based freelance writer with more than 30 years of experience, many of them writing for Vanderbilt. A former Associated Press reporter, she was executive director of the Vanderbilt Center for Nashville Studies before retiring in 2016 to travel and write.
---
MUSICALLY MINDED: LENSE, BECK DISCUSS MUSIC'S IMPACT ON CHILDHOOD DEVELOPMENT IN NEW WEBINAR SERIES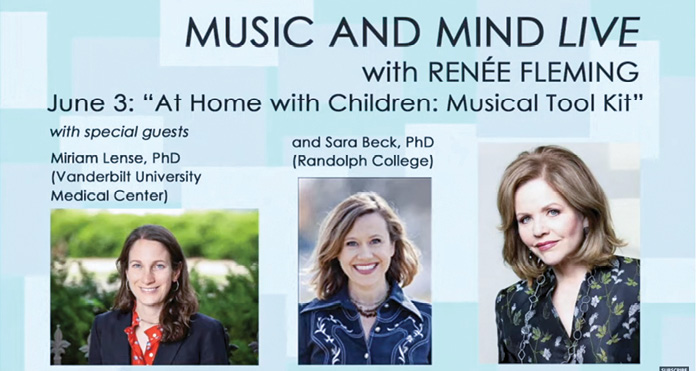 Miriam Lense, MS'10, PhD'14, assistant professor of otolaryngology and psychology at Vanderbilt, and Sara Beck, BS'01, PhD'18, a psychology professor at Randolph College, recently were featured guests on the new webinar series Music and Mind Live with Renée Fleming.
The series, which is hosted by celebrated opera singer Renée Fleming in conjunction with the John F. Kennedy Center for the Performing Arts, explores the intersection of music, health and neuroscience. Lense and Beck appeared on an episode titled "At Home with Children: Musical Toolkit," in which they discussed the SeRenade parent–child music program they co-developed at Vanderbilt.
"Parents naturally develop relationships and patterns with their children that provide meaningful and rewarding social experiences—and one of those ways is through music," Lense said during the interview. "Our social interactions already have a musicality to them. There's a rhythm to them in terms of how we interact with other individuals, and children are very responsive to this."
Added Beck, "As humans we have this history of music-making as this very active, physical thing we do together in a shared space. And it has these qualities—a shared attention and a shared intentionality around it—as well as this quality of moving together. There's a lot of interesting research showing that just moving together acts as a cue for social bonding. It makes us feel closer to one another."
To watch the interview in its entirety, visit vu.edu/fleming-webinar.
—SETH ROBERTSON