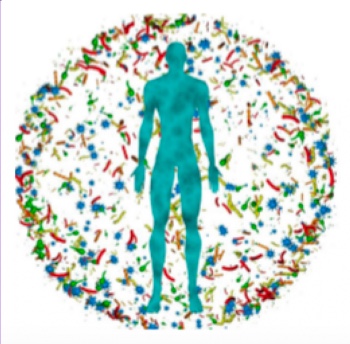 The Vanderbilt Undergraduate Microbiome Society recently made a donation of $1,000 to Second Harvest Food Bank of Middle Tennessee as part of VUMS' efforts to raise awareness about the microbiome and to better the local community.
VUMS started with a single undergraduate's desire to combine science and service. The Vanderbilt Microbiome Initiative created the annual Microbiome Venture Fund to provide funding to interdisciplinary projects that seek to connect the microbiome—the collection of bacteria and other microorganisms in and on our bodies—with diverse topics and people.
After receiving one of the Microbiome Venture Fund grants in partnership with VMI, the Vanderbilt Institute for Infection, Immunology and Inflammation, and the Initiative for Personalized Microbial Discovery and Innovation, biological sciences major Asia Miller chartered VUMS as an official student organization along with undergraduates Kevin Liu, Mahip Kalra, Emily Layton, Cami Westlake and Dena Liu. Next, VUMS contacted several local food banks hoping to partner with them to raise awareness about the microbiome. Second Harvest Food Bank of Middle Tennessee gladly accepted.
According to a 2018 study, 13 percent of Middle Tennessee residents (and 1 in 6 children in communities served by Second Harvest) are food insecure, meaning they lack reliable access to affordable, nutritious food. Fresh foods, especially leafy greens, are important for maintaining a stable gut microbiome, which influences health, digestion and development. An unbalanced microbiome can lead to poor cardiovascular health, issues with immunity and chronic diseases. In short, the microbiome is shown to have a profound influence on human health. However, the microbiome is largely unknown and misunderstood. By encouraging a diverse diet and supporting the efforts of those trying to make such a diet accessible to all, VUMS hopes to shed light on an important aspect of human health.
VUMS began with a single student and has since evolved into a sustainable community of nearly 40 students.The organization is enthusiastically accepting new members for the 2020-21 school year. This year VUMS plans to raise awareness about the microbiome, participate in outreach programs, volunteer at Second Harvest, and host a microbiome journal club. For more information, visit the VUMS webpage on Anchor Link.