Researchers from Vanderbilt University and The Ohio State University are teaming up to develop next-generation robotic technology that can help older adults living with forms of dementia through a grant from the National Institute on Aging (NIA) at the National Institutes of Health (NIH). The five-year grant, totaling $3.13 million, will support research and development of robotic framework and methodologies that encourage social interaction among older adults in long term care (LTC) facilities like nursing homes and independent or assisted living facilities.
Social interaction is known to produce positive health benefits among older adults suffering from cognitive impairments including the progression to Alzheimer's and related dementias. Conversely, without social interaction, older adults may fall victim to apathy and its ripple effects of loneliness, social isolation and cognitive decline, not to mention the stress and frustration experienced by caregivers. The effects of apathy – the lack of feeling or emotion – among the aging also manifest in the decline of physical health. The stress and anxiety that apathy can produce negatively alters heart health and blood pressure, leading to increased mortality.
Currently, 72% of all adults in LTC facilities experience apathy.
While its necessity has been made clear, there are not enough skilled or well-resourced caretakers to facilitate the kind of social interaction that the growing population of aging adults needs to thrive. By 2034, and for the first time in U.S. history, older adults (people age 65 and older) will outnumber children under age 18, presenting an impending reality that will need to be accommodated.
To address a growing population and work around the limits of caretakers and to capitalize on burgeoning technology, Nilanjan Sarkar, David K. Wilson Professor of Engineering, chair of the Department of Mechanical Engineering and professor of mechanical and computer engineering and a multidisciplinary team of engineers, nurses, physicians and health services researchers from Vanderbilt and The Ohio State Universities explore new opportunities in robotics to facilitate social interaction between aging adults.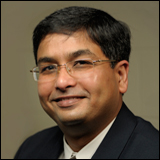 Sarkar's project will be conducted jointly with Lorraine Mion, professor of nursing at The Ohio State University and former Independence Foundation Professor in nursing at the Vanderbilt School of Nursing. It will explore how socially assistive robots (SARs) – a type of assistive robot designed specifically for social interactions and capable of autonomously detecting and meaningfully responding to older adults' attention and behavior – can effectively target and engage older adults with Alzheimer's Disease and related cognitive impairments in LTC environments. Paul Newhouse, Jim Turner Professor of Cognitive Disorders and professor of psychiatry and behavioral sciences, pharmacology, and medicine at Vanderbilt University Medical Center is also a co-Investigator for this project.
"We aim to create a better quality of life for the aging population of our society," said Sarkar, also  Director of the Robotics and Autonomous Systems Lab (RASL). "While there is no cure for dementia at this point, research shows that if we can keep people mentally engaged and active, we can possibly slow the progression of the disease and the deterioration of their overall health. Our research will help us understand how to create robots to act as a coach as well as a peer to facilitate interpersonal connections in a sustainable, meaningful way."
"We know from research that apathy is the most common neuropsychiatric symptom in older adults with dementia and can have dire effects on both the quality of life for the patient and the emotional stability of the caregiver," said Mion. "What we are seeking to understand is how we can improve engagement strategies using advanced-but-user-friendly robotic systems to stave off apathy and improve lives for these older adults in long-term care facilities."
The study builds off Sarkar and Mion's recently concluded Exploratory Research (R21) grant (NIA:1R21AG050483-01A1) during which they created and deployed Adaptive Robot-mediated Intervention Architecture (ARIA) to promote social interaction vis a vis specialized tasks that depend on human interaction and collaboration.
The foundational study will enable the researchers to address three specific aims in their current research: to improve ARIA through additional software development, to measure a reduction in apathy among older adults with cognitive impairments and mild or moderate dementia, and to identify future scalability and sustainability of SAR implementation in LTC settings.