With the advent of COVID-19 and a mission that is itself focused on the study of best practices in education and human development, Peabody College has found itself working in overdrive to continue meeting the needs of students while also supporting the many constituencies that make up a complex college offering undergraduate, graduate, and professional education.
At the same time, Peabody has continued to try to serve the many professionals, families and communities that rely on its expertise to inform their own activities.
Want to learn more about Peabody College's professional and graduate programs?
Request Information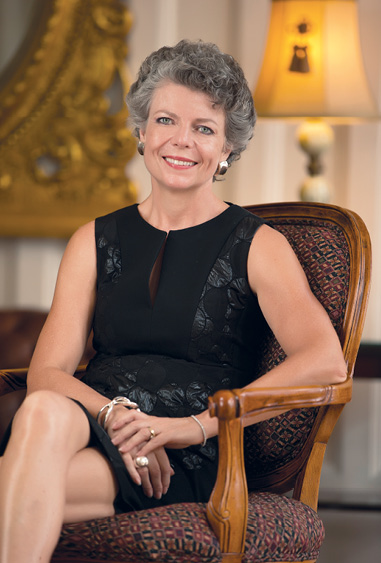 Rapid and Resourceful
"Our first priority was to move swiftly to adopt alternative teaching for a student population learning exclusively online," said Camilla P. Benbow, Patricia and Rodes Hart Dean of Education and Human Development. "We had a week to transition approximately 480 course sections being taught in person to virtual learning spaces using tools like Brightspace and Zoom."
It helped that many Peabody faculty members already have experience in online teaching. Peabody was the first of Vanderbilt's schools and colleges to offer online degrees, and this experience has paid off in moving quickly to teaching courses virtually.
A number of faculty members also volunteered to assist their colleagues in making the transition. Corbette Doyle, senior lecturer in leadership, policy and organizations, jumped in to form a Peabody Peer Support Group drawn from several departments who set up a series of online tutorial sessions and drop-in virtual office hours for faculty to ask questions and receive tips. Doyle also compiled how-to information on a dedicated web page to assist faculty in moving their classes online and learning to use both synchronous and asynchronous techniques and tools to enrich the student experience.
Included in the Peer Support Group were Xiu Cravens, associate dean for international affairs and associate professor of the practice of education policy; Andrew Finch, associate professor of the practice of human and organizational development; Shane Hutton, senior lecturer of psychology and human development; Melissa Gresalfi, dean of the Commons and associate professor of mathematics education; and Elizabeth Self, assistant professor of the practice of teaching and learning. Senior Lecturer Laura Booker, Lecturer Eve Rifkin and Librarians Sarah Stevenson and Leslie Foutch conducted virtual office hours.
It's Still about Relationships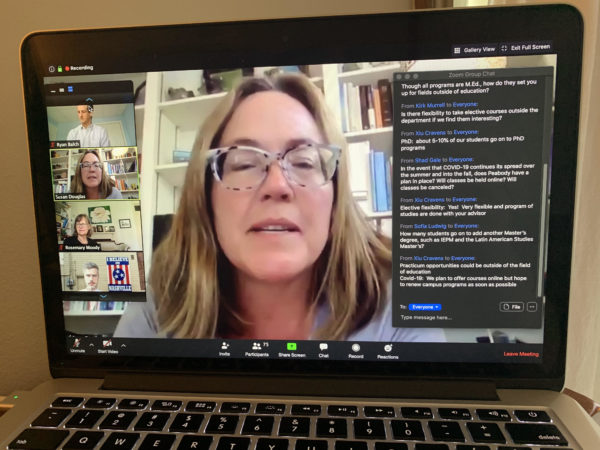 Associate Dean Catherine Gavin Loss was the first faculty member to conduct her class using Zoom video-conferencing technology as a novice on Friday and Saturday, March 13 and 14, when her weekend class of Ed.D. students met remotely. Afterward Loss reassured her colleagues, "What faculty should know, perhaps more than anything, is that the hard work they have already put in to building relationships with their students will carry them through these challenging times. My students were engaged, generous and helpful … and with me every step of the way."
On Monday, March 16, all Vanderbilt classes went online and will remain so through the summer. Reports from Peabody students have been favorable. One tweeted her thanks to Professor Nicole M. Joseph for taking the time during class to have students check in about how they're dealing with the stress of the pandemic and the abrupt pedagogical changes it has necessitated. She was grateful that Joseph encouraged her students to "check in, share fears and support each other."
For Joseph, assistant professor of mathematics and science education, teaching online is still about connecting with her students. "What's important to me is that there is still good engagement," she says. "Because I know my students, I've been with them for a while, I read their body language and I can still read their body language online."
"The circumstances call upon everyone at Peabody to think creatively, work untiringly and show compassion to one another. I'm thankful to be able to say that Peabody people are responding with all these qualities, as they always do."
Dean Camilla P. Benbow
Susan Douglas, associate professor of the practice of human development, is enthusiastic about the online tools at her disposal and says she makes frequent use of breakout rooms, polling or having students work collaboratively on a Google doc. "We use [Zoom's] whiteboard feature like nobody's business. I'm constantly drawing out some ideas as we're talking," she says.
Patrick Schuermann, who directs Peabody's master's degree program in independent school leadership, reported that, "During the past month, each of our seven ISL cohorts has been gathering for weekly 'happy hours,' or as some like to refer to them, 'digital faculty lounges,' to share personal stories and professional resources."
Schuermann also said that "hundreds of student interactions are taking place daily via the GroupMe app, which serves as a hub for instant support and resources for tackling emerging challenges across the independent school world."
Among undergraduates, many Peabody students major in human and organizational development, Vanderbilt' most popular major. A number of them were taking part in their capstone internships at the time of transition. In addition to Nashville, students were in Washington, D.C., New York City, Boca Raton, Fla., and several international cities. Interns transitioned to remote work along with their internship sites and most have been able to complete their capstone requirements remotely in coordination with their employers. A handful are finishing their projects by building on the prior experience and data gathered under the supervision of their capstone instructors.
Expertise That's in Demand
Communicating best practices has always been a hallmark of a Peabody education, and Peabody faculty are playing a role during the pandemic by sharing their expertise with a variety of audiences.
Bethany Rittle-Johnson, Antonio M. and Anita S. Gotto Chair in Child Development, sought to alleviate parents' anxieties about trying to do the work of professional educators. Quoted in The Tennessean, she advised parents to "support kids by following their interests, getting them to explain things to them." Georgene Troseth, associate professor of psychology, counseled parents on young children's screen time in Mashable; Marcy Singer-Gabella, professor of the practice of education, and Justine Bruyère, lecturer in teaching and learning, suggested using the moment to teach children about compassion in The Week; and Autumn Kujawa, assistant professor of psychology and human development, gave tips on managing anxiety in Good Housekeeping. Lisa Fazio, assistant professor of psychology and human and development, was quoted by The Guardian in an article about recognizing false information about "cures" for COVID-19 being marketed on YouTube.
Susan Gray School Zooms into Homes
One disruptive change forced by the coronavirus was the temporary closing of Peabody's Susan Gray School for Children. A national model for inclusive early childhood education, the school ceased in-person instruction in mid-March. "Susan Gray administration and staff have been intentional in providing continued educational opportunities," said Sharon Shields, senior associate dean and the school's acting faculty director. "Teachers are providing remote in-class activities such as circle time, class bingo games, reading times, individual contacts with families, and support for parents in sustaining the child's learning." The school has put together an advisory team of faculty experts to consult on how best to meet children's educational, behavioral, and social-emotional needs at this time of change and transition.
As it was closing its classrooms, the Susan Gray School also donated 25 gallons of milk from its refrigerator to tornado relief in north Nashville. They partnered with First Corinthian Baptist Church, pastored by Rev. Enoch Fuzz and Rev. Eric Croney, who distributed the milk in turn to C.E. McGruder Resource Center and the John Early School.
Supports for Students Continue Creatively
The Peabody Dean's Office staff is typically busy during spring with a range of activities from ongoing support of students to recruiting incoming cohorts of graduate and professional students for the summer and fall semesters. With the decision to send undergraduates home and move classes online, several Peabody administrators have spent time calling graduating seniors and professional students, as well as international students, to check in and listen to their concerns.
Hasina Mohyuddin, director of the Office of Equity, Diversity and Inclusion, facilitated two online Town Halls to solicit professional student feedback on the transition. As might be expected, many expressed concerns about grading under such difficult decisions. Peabody elected to maintain letter grading early on due to concerns about the array of accreditation and licensure standards that affect many program requirements.
The Office of Student Engagement and Well-Being initiated a Well-Being Weekly newsletter for the graduate and professional students it serves.
One major event on the spring calendar was to be Welcome Weekend for admitted professional students on March 27 and 28. With Vanderbilt's decision to cancel all planned events through April, planners had to turn quickly to an alternative. Dean Loss; Kimberly Brazil, graduate and professional admissions director; and a small army of program directors and graduate assistants decided instead to shorten the event and hold it online as a Virtual Welcome Weekend.
"One advantage of hosting the event online was that more admitted students were able to participate," said Brazil. Around 300 prospective students took part in a series of Zoom sessions held by the college, individual departments and programs throughout the afternoon of March 27. Many of the sessions were recorded and continue to be available for admitted students considering professional study at Peabody.
As the end of the term nears, spring can also be a stressful time for Peabody professional students who are searching for their first post-graduation jobs. Peabody Career Services has responded by converting in-person meetings to online calls, a change that has enabled more evening appointment times. Zoom's meeting capabilities also made it possible for planned events like the office's weekly Coffee and Careers counseling sessions to continue, with 14 students having taken advantage in just two weeks. "Student interactions have been very positive and it is nice to meaningfully connect as our students advance their job searches," says Jeff Henley, director of PCS.
Kathleen Rall, PCS associate director, decided to capitalize on so many professionals working from home by posting a message on her LinkedIn page urging Peabody alumni to volunteer to meet with students online for brief informational interviews in their chosen fields. Her post quickly generated more than 200 comments from Peabody alumni and professional students offering and arranging to chat online.
Rall's post, like many of the actions the college has taken since early March, demonstrates the constructive way the Peabody College community is pulling together in a time of uncertainty.
"We are in an unprecedented situation," says Dean Benbow. "The circumstances call upon everyone at Peabody to think creatively, work untiringly and show compassion to one another. I'm thankful to be able to say that Peabody people are responding with all these qualities, as they always do."
By Kurt Brobeck