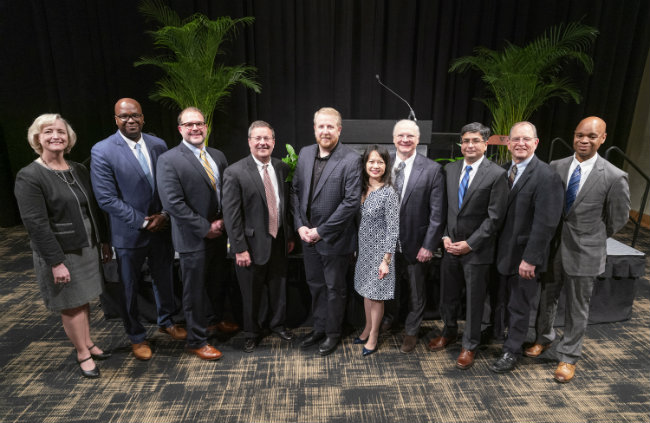 Nine Vanderbilt University faculty members who have been awarded endowed chairs were honored by Interim Chancellor and Provost Susan R. Wente, deans, colleagues and family members on Feb. 25 at the Student Life Center.
Wente noted in her opening remarks that Vanderbilt's first endowed chairs were established in 1918. The university now has a total of 434 endowed chairs as Vanderbilt has stepped up its efforts during the past decade to recruit and retain outstanding scholars.
"At Vanderbilt, endowed chairs are a symbol of commitment—to scholarship, philanthropy and lasting impact," Wente said. "Those being recognized today have taken diverse paths, but their goals are shared—to better the world through their scholarship, and to teach others how to do the same."
The newest chair holders include leading scholars and researchers who have analyzed the coronavirus, improved cancer drugs, and examined the interplay of emotions and anxiety, among many other accomplishments.
"Our faculty are truly leading efforts day in and day out that address significant current and future problems facing our global society," Wente said. During the ceremony, Wente also thanked the philanthropic partners whose generous support has made the research and discovery of the endowed chair holders possible.
The following faculty members were honored: