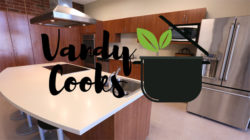 Join Karman Meyer, a registered dietitian/nutritionist and author of the book Eat To Sleep, as she discusses how the food we eat can impact our sleep. Meyer will share two simple recipes featuring sleep-benefiting foods that you should be eating regularly.
The talk is scheduled from 5:30 to 6:30 p.m. Tuesday, Feb. 25, at the David Williams II Recreation and Wellness Center demonstration kitchen.
Whether you experience the occasional night of insomnia or have suffered from restless sleep for years, Eat To Sleep provides information about natural sleep solutions, what to eat, and when to eat it for a good night's sleep. A book signing with Meyer will follow the demonstration. Books will be available for purchase on site or may be purchased in advance online at Barnes & Noble or Amazon.
Meyer has 15 years of experience in the nutrition and food industry and is the founder and recipe creator behind TheNutritionAdventure.com. She has been featured in Woman's Day, U.S. News & World Report and Shape, on the websites FoodNetwork.com and WomensHealthMag.com, and often appears on local television networks. Her passion is sharing the facts about food and nutrition with readers, and she works to encourage others to feel more confident in the kitchen and to enjoy food, not fear it.
This Vandy Cooks has been approved for Design Your VU credit.
Those planning to attend who have food allergies and/or restrictions should contact Marilyn Holmes prior to the event.
Vandy Cooks is provided monthly by the David Williams II Recreation and Wellness Center to support healthy eating through cooking presentations featuring the many aspects of food preparation.