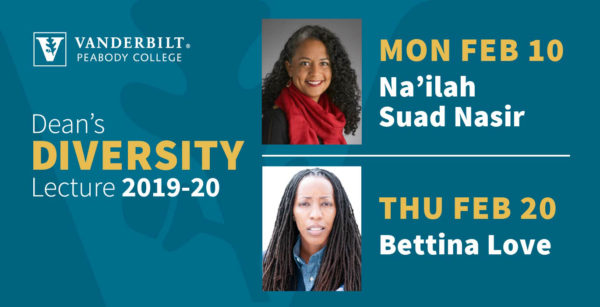 Forging connections between identity and learning will be the focus of the next two installments of the Dean's Diversity Lecture at Vanderbilt Peabody College of education and human development. Both will be held at the Wyatt Center Rotunda, located at 1930 South Drive, Nashville, Tenn.
Na'ilah Suad Nasir, president of the Spencer Foundation, will speak Monday, Feb. 10, 4–5 p.m. on "Pedagogies of Love: Supporting Identities for Learning in an Unjust World."
Nasir will share findings from a study that tested a love-centered approach to teaching Black male students that prioritizes social-emotional needs and disrupts the experience of racialization in schools. Livestreaming and sign language interpretation will be available for this event. RSVP Now.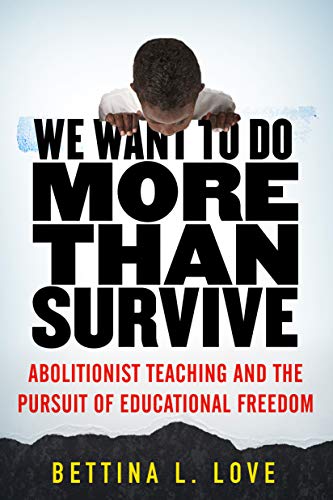 Bettina L. Love, associate professor of educational theory and practice at  the University of Georgia, will deliver a lecture based on her book, "We Want to Do More Than Survive: Abolitionist Teaching and the Pursuit of Educational Freedom," Thursday, Feb. 20, 4–5 p.m.
She will discuss what it means to commit to an abolitionist goal of educational freedom and intersectional justice, so that all students can move beyond what she calls the "educational survival complex." RSVP Now.
A book-signing with Love will take place in the Wyatt Center lobby, where  her book will be available for purchase following her talk. Love will also deliver a keynote address at the midwinter conference of the National Council of Teachers of English Assembly for Research, at Peabody Feb. 21-23. Sign language interpretation will be available for this event.
"We are excited that our next two Dean's Diversity Lectures will deal directly with questions of teaching practice in relation to race," said Camilla P. Benbow, Patricia and Rodes Hart Dean of Education and Human Development at Peabody. "Helping all learners flourish is at the heart of what we strive for as a college."
Both events are free and open to the public, but seats are limited. Attendees should RSVP and print out their confirmation for admission.
RSVP for Na'ilah Suad Nasir talk.
RSVP for Bettina L. Love talk.
For accessibility needs and preferences, contact hasina.a.mohyuddin.1@vanderbilt.edu.