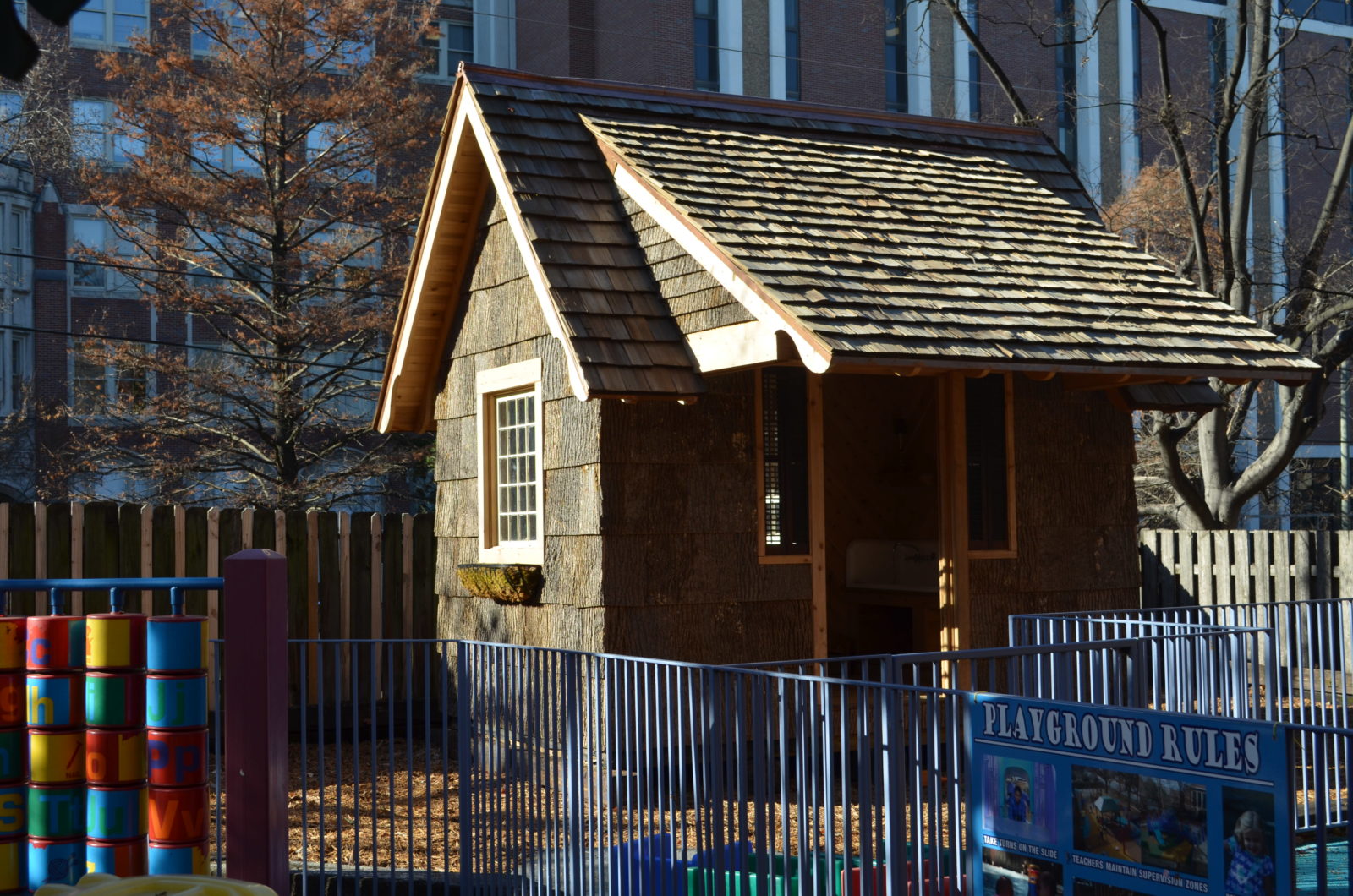 by Shelby Pendowski
A one-of-a-kind playhouse inspired by the Beatrix Potter story The Tale of Peter Rabbit has been installed at The Susan Gray School at Vanderbilt Peabody College. The structure, originally named the Hill Top Garden before acquiring the nickname the Peter Rabbit House, was part of the Storybook Houses exhibit at Cheekwood Estate and Gardens earlier this year.
The Peter Rabbit House was designed as part of a Design as an Immersive Vanderbilt Experience (DIVE) project and created in collaboration with Pfeffer Torode Architecture, Daigh Rick Landscape Architects and Peabody College's Early Childhood and Elementary Education program.
Vanderbilt students in the classes of Kevin Galloway, research assistant professor of mechanical engineering, director of making at the Wond'ry and faculty director of DIVE, and Justine Bruyère, lecturer of teaching and learning, also contributed to the project.
"It was impressive to watch the project grow into something more than just a house," Galloway said. "The students involved developed a greater appreciation for the design process, discovered the importance of pivoting their design directions with new information, and learned the value in collaborating across disciplines."
The Peter Rabbit House offers a hands-on learning experience for Susan Gray students by fostering the potential for early childhood discovery around topics such as food, cooking, elementary science and literary exploration.
"Having personally observed how excited children were to play in and around the Peter Rabbit House at Cheekwood, I am thrilled that we can bring it to the outdoor play area of The Susan Gray School," said Camilla Benbow, Patricia and Rodes Hart Dean of Education and Human Development. "The house originated in a remarkable trans-institutional collaboration, and we are glad that it will continue to offer opportunities for children to learn and play as part of Peabody's storied inclusive preschool."
The Susan Gray School is the nation's first nationally recognized preschool to serve children with developmental disabilities learning alongside typically developing children. The school serves nearly 200 children while also providing a site for training educators and demonstrating best practices in early childhood special education. The school celebrated its 50th anniversary in 2018.
"When the children discovered the Peter Rabbit House on their playground, they were overjoyed, and their families and school staff are enthusiastic about this new opportunity for learning," said Sharon Shields, senior associate dean and co-leader of The Susan Gray School.
The project also embodies the guiding principles of Vanderbilt's FutureVU initiative, with Vanderbilt students collaborating with Nashville community members, and the university contributing to the intellectual and cultural life of the region and promoting sustainable practices by purchasing the structure and reusing it for educational purposes rather than its planned demolition.
"By permanently installing this home at The Susan Gray School, it provides the school with an interactive, fun place to educate its young students," said Mike Perez, associate vice chancellor and chief facilities officer. "The Peter Rabbit House is a good reminder of how our students are connecting with the Nashville community and supporting the university's academic mission and FutureVU initiative."