Interim Vice Chancellor for Equity, Diversity and Inclusion and Chief Diversity Officer Dr. André L. Churchwell has established a new committee charged with helping to foster equity, diversity and inclusion within each functional area at Vanderbilt. The committee was created to support the university's efforts to build a culture of inclusion, respect and belonging across campus.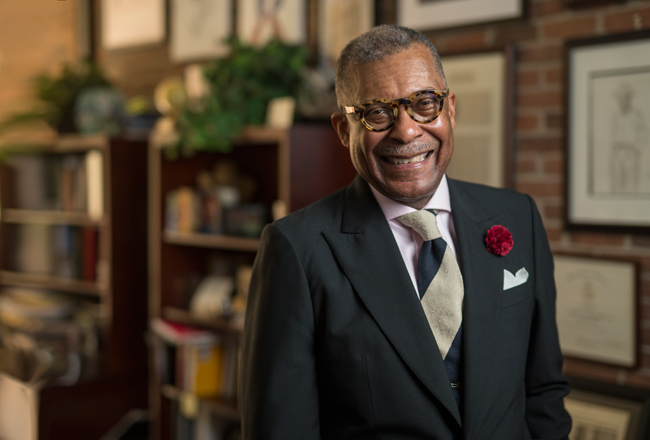 "Vanderbilt has made significant progress in our efforts to become a more diverse and inclusive community. We will continue to expand and elevate those efforts, as you can't do enough to embed diversity and inclusion principles deep into an institution," Churchwell said. "I'm thankful to the committee members for serving our community in this capacity, and I look forward to partnering with each of them as we work to advance inclusive excellence across the university."
The 24-member committee is comprised of staff representatives from the Division of Administration, the Division of Communications, Donor and Alumni Relations, Government and Community Relations, the Office of Investments, Finance, Vanderbilt Athletics, the Office of the General Counsel and Information Technology. Committee members, who were selected by their respective vice chancellors, will partner with Churchwell to more effectively and intentionally embed diversity and inclusion best practices in their areas.
The Diversity Liaison Committee members are:
Donor and Alumni Relations
Meghan Russell, director of development – alumni engagement
Chris Griffin, director of corporate and foundation relations
Anita Wilhelm, associate director of talent management
Information Technology
Kim Mallory, assistant vice chancellor, strategy and business development
Ed Wisdom, director of application development and integrations and business intelligence
Kelsey Anito, senior IT consultant
Government and Community Relations
Alfred Degrafinreid, associate vice chancellor for community relations
Lynn Maddox, special projects director and community liaison 
Division of Administration
Cleo Rucker, senior employee relations advisor
Investments
LeAnne Huber, chief of staff
Mary Amburgey, operations manager
Michael Billings, investment manager
Athletics
Dean McCondichie, SEC network producer
John Williamson, head coach of women's bowling
Kelly Komara, associate head coach of women's basketball
Angie Bess, executive assistant in the Office of the Vice Chancellor
Division of Communications
Lauren Hammond, projects and planning manager for strategic communications
Jalen Blue, communications relationship manager for equity, diversity and inclusion
Catherine Kozak, director of strategic projects and planning
Office of the General Counsel
Lizzie Shilliam, chief of staff and legal operations
Finance
Ausra Speer, assistant treasurer
Racheal Lee, purchasing agent
Heather Slagell, director of finance for VUIT
Amber Taylor, accountant
The Diversity Liaison Committee is just one of several new initiatives Churchwell has launched this academic year. Churchwell partnered with Interim Vice Provost for Strategic Initiatives William H. Robinson to organize a daylong unconscious bias workshop in August for Vanderbilt's senior administrators, including Interim Chancellor and Provost Susan R. Wente, vice chancellors, deans and senior staff.
Additionally, in an effort to further elevate awareness and understanding of unconscious bias across campus, Churchwell and Robinson organized a four-day train-the-trainer workshop in October for 16 faculty and staff members. The training equipped participants with the skillset necessary to facilitate unconscious bias workshops with groups across campus in the coming months.
For more information, visit the Office for Equity, Diversity and Inclusion website.